You are here
Email and Calendaring (Outlook)
Microsoft Outlook is an email and calendaring tool that can be used to provide access to Pitt Email and UPMC email.
View Free/Busy Time Across Organizations
Free/Busy time in Outlook can be used to determine when individuals are available for meetings. The University of Pittsburgh and UPMC recently implemented changes to Microsoft Outlook that enable free/busy time to be visible between the two organizations. This enhancement simplifies the scheduling of meetings between individuals from both Pitt and UPMC.
How to View Free/Busy Time Across Organizations
1. Open Microsoft Outlook, click the Calendar icon, and click the New Meeting button in the toolbar.
2. Enter a Title for your meeting. In the Required field, enter the full email address of the individuals at both organizations who should attend the meeting (email addresses must end with @pitt.edu or @upmc.edu).
3. Click Scheduling Assistant at the top of the window. The Free/Busy time of all participants should display next to their names. Select a date and time when participants are available, then click Send.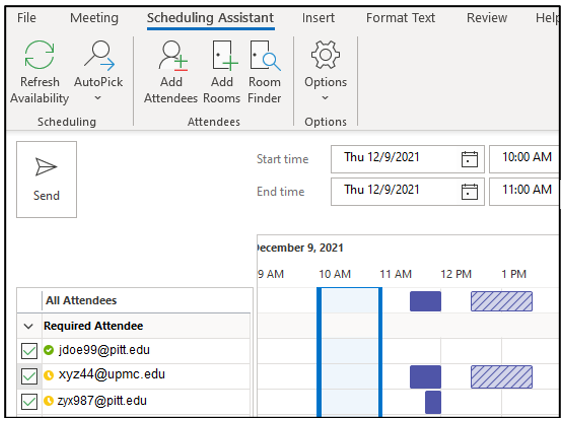 Limitations of Viewing Free/Busy Time
Email aliases that end in domains other than upmc.edu or pitt.edu will not display free/busy time.
Free/busy time will not display if a meeting participant has chosen to keep it private.
If the person whose time you are trying to view has changed the default permissions on their Outlook calendar, their free/busy time may show as unviewable.
Share Mailbox Folders Between Organizations
Important: It is not technically possible to share a mailbox unless the individual with whom you are sharing already has an account with your organization. For example, a Pitt mailbox can only be shared with an individual who has a primary University Computing Account, or with a UPMC staff member who has a sponsored Pitt account (see the Help Desk section for details about sponsored accounts).
If you have a mailbox folder dedicated to a specific project, sharing that folder with your project collaborators will allow them to instantly view all email messages, attachments, and other items contained in the folder. This can simplify the process of sharing information with colleagues.
Although shared folders can be a valuable tool for collaboration, they also carry risks. The items in a shared folder are visible to all individuals who have access to that folder. Therefore, it is critical that access to the folder is carefully curated and maintained to ensure that the data in the folder is appropriate to be shared, and that the only individuals who can access the folder are those who have a legitimate business need to access it.
Guidance for Sharing Mailbox Folders
UPMC: UPMC does not permit the sharing of mailbox folders at this time.
Pitt: If you intend to use shared folders for collaboration, take steps to control what is placed in a shared folder and ensure all data in the shared folder is non-private data that is appropriate for all members of the shared folder. Please also refer to the Data Risk Classification and Compliance page to determine what sensitive data can be safely stored in OneDrive/Sharepoint.
How To Share Mailbox Folders (UPMC)
UPMC does not permit the sharing of mailbox folders at this time.
How To Share Mailbox Folders (Pitt)
If you would like to give a person permission to access a folder in your Office 365 account, it involves giving permission in two places. First, you need to give the person permission to access your Office 365 e-mail account Mailbox (e.g., Mailbox - Doe, Jane) then you need to give the person permission to access each Folder/Subfolder you want to share. The process for sharing your Mailbox and your individual sub-folders is the same.
1. Open Outlook. Right-click on your Mailbox name (e.g., Mailbox-Doe, Jane) and select Folder Permissions.
2. Click the Add button.
3. Search the Global Address List (GAL) for the individual(s) with whom you would like to share the mailbox folder, select their name, and click the Add button.
4. Click the OK button.
5. Click on the person's name and select the appropriate permissions from Permission Level: drop down list.
Tip: Reviewer is a good permission to select at the mailbox level.
6. Click the OK button.
Next, you will need to give permissions to the actual mail subfolder you want to share.
1. Right click on the folder you wish to share.
2. Select Properties or Sharing Permissions (depending on your Outlook version) and click the Permissions tab.
3. Click the Add button.
4. Select the person you wish to give permission to from the address list and click the Add button.
5. Click the OK button.
6. Click on the person's name and select the appropriate permissions from Permission Level: drop-down list (e.g., Owner, Contributor...).
7. Click the OK button.
Now, the person with whom you have shared the folder can access it using the steps below.
1. Choose File | Account Settings.
2. Select your Office 365 account and click the Change button.
3. Click the More Settings button.
4. Click the Advanced button.
5. Under Mailboxes, Open these additional mailboxes: click on the Add button and type the person's name in the window (e.g., Jane Doe), and click the OK button.
6. Click the OK button.
7. Click the Next button.
8. Click the Finish button.
9. The folder will appear at the bottom of your folder list.
View Presence Status from an Email Message
Microsoft Teams presence status provides a simple, color-coded method of determining an individual's real-time availability and status. If an individual's presence status is available, it will display within your email message, as shown below.
How to View Presence Status Across Organizations
It is not currently possible to view presence status across the Pitt and UPMC organizations. However, Microsoft is making changes that will enable this feature in the near future. This page will be updated with more information as it becomes available.
Guidance on Forwarding Email Between Organizations
For individuals who have a dual affiliation with Pitt and UPMC and therefore have two separate email accounts, forwarding email messages to a single account can help to simplify management of email. Please be aware that each organization defines specific limitations and guidelines for email forwarding.
Forwarding from a UPMC Account to a Pitt Account
UPMC does not permit the forwarding of email messages from a UPMC account to a Pitt account. Please refer to the Electronic Mail, Messaging and Texting (HS-IS0147) policy for details (section V, number 7).
Forwarding from a Pitt Account to a UPMC Account
Your University of Pittsburgh email address (username@pitt.edu) is the address used for all official University communication. Pitt Information Technology recommends that you do not forward your email to non-University addresses. The email authentication policies of other organizations can interfere with the delivery of legitimate email messages. For example, U.S. government agencies do not deliver email to forwarded accounts because of a federal directive to implement DMARC policies. If you choose to read your email at another address, you remain responsible for all messages that are sent to your University address. Check your email provider's spam filter regularly to ensure you have not missed any important messages from the University.
How to Forward Your Pitt Email
If, after reviewing the guidelines and limitations above, you decide to forward your Pitt email, you can do so by completing the following steps.
1. Log in to Accounts Self-Service (accounts.pitt.edu).
2. Select Email & Messaging and then Set Email Preferences.
3. Click the Forwarding tab.
4. Click I want to receive my email at another location. Then enter the forwarding address in the text field.
Tip: Select Also keep a copy of my email in My Pitt Email to ensure that you have a copy of your messages available in your Pitt inbox.
5. Click Save Forwarding.