You are here
NotifyU Text Updates
NotifyU is a notification subscription service. It allows University students, faculty, and staff to receive news, updates, and other information provided by University departments in text and/or email format. University departments may use this service to share short, 140-character text updates. Anyone can subscribe through the same system that is used to subscribe to Emergency Notification Service alerts. Departments can request the creation of their own text message list by contacting the 24/7 IT Help Desk.
Join a List
Log in to http://pi.tt/alerts.
Ensure your phone number appears under the Mobile Phones heading. If it does not, click Add and complete the steps to add your number.
Click the Opt-In Lists tab near the top of the page.
Check the Subscribe box next to a list to subscribe to it.
Note: If you subscribe to a NotifyU list, the phone number you subscribe will also receive ENS alerts. There is no cost to subscribe to the service, but subscribers are responsible for any messaging fees from their mobile phone/device provider.
Leave a List
Log in to http://pi.tt/alerts.
Click the Opt-In Lists tab near the top of the page.
Uncheck the Subscribe boxes next to the appropriate lists.
Request Your Own List
Departments can create their own NotifyU list for distributing text updates to subscribers. To request a list, contact the 24/7 IT Help Desk at 412-624-HELP (4357). There is no cost to set up a list.
Note: Lists can be requested only by a full-time faculty or staff member. Student groups may also create a list if a full-time faculty or staff member sponsors their list and submits the request.
Sending Updates through NotifyU (for NotifyU Admins Only)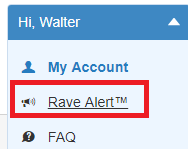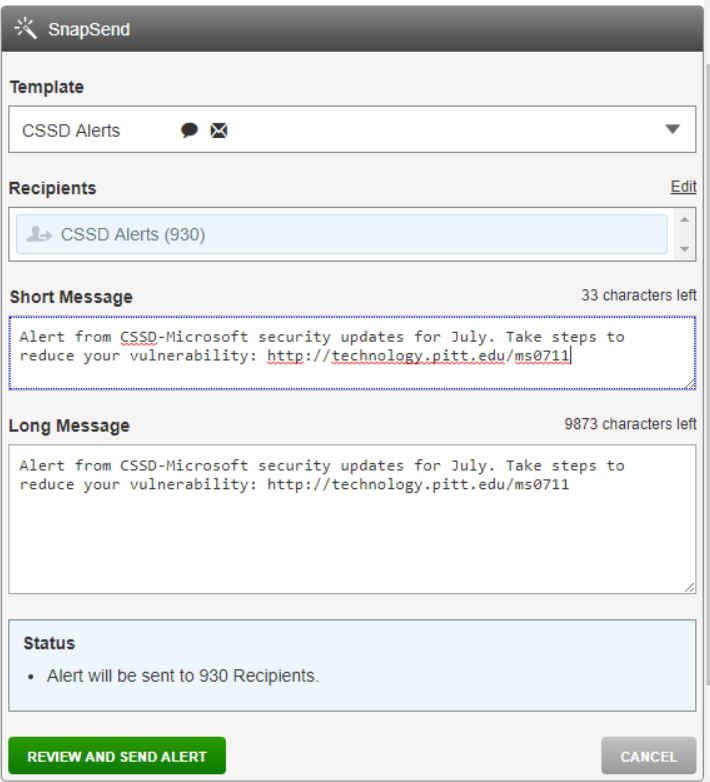 Log in to http://pi.tt/alerts with your University Computing Account.
Click the "Hi, Name" drop-down menu in the upper right-hand corner of the window and select Rave Alert.
Click Choose a Template and select the NotifyU list to which you want to send an alert.
Type your update in the Short Message field (up to 140 characters). The text is duplicated automatically in the Long Message field
Important: Do not delete the short prefix before the text of your alert. This prefix helps identify to recipients why they are receiving the alert and from whom it is being sent. Without the prefix, recipients may interpret your alert as spam.
Optional: You can add more than 140 characters to your message by typing additional text in the Long Message field. This additional text is delivered only via email. It is not include in the text update.
Click Review and Send Alert.
Review the email and text versions of your update. To make changes, click Go Back and Edit. To send the update, click Send This Alert to Recipients.
A confirmation message confirms your update has been sent. Click OK.