My Pitt (my.pitt.edu)
Quick Links: Key Benefits I Getting Started I More How-to
My Pitt (my.pitt.edu) is your personal guide to the Pitt experience! Based on your role, it's a central location for accessing University of Pittsburgh services, such as the Student Information System (PeopleSoft), PeopleSoft Mobile for mobile device access, Pitt Email (Outlook), Software Download Service, CourseWeb (Blackboard Learn), PRISM, and large variety of other enterprise systems. It's a one-stop source for access to online services and resources. Homepages are customized to meet the specific needs of applicants, students, faculty, and staff. Access to key self-services—such as Pitt Email (Outlook), ENS/Notify U, Box, PittPAY, Faculty information System (Elements), Microsoft Office 365, and SharePoint Online productivity tools—is available right on your homepage.
Benefits
A single point of web access to the information that you will use most at the University.
Homepages are customized to meet the specific needs of University applicants, students, faculty, and staff.
Targeted announcements on the My Pitt landing page keep students, faculty, and staff informed about University news, accomplishments, and events.
Three Easy Steps to Get Started Using My Pitt:
Log in to My Pitt (my.pitt.edu) with your University Computing Account username and password.
Note: You may be required to complete the login process with multifactor authentication using Pitt Passport to gain access.
Select a link to view announcement or news, instantly connect or view information about services for which you have access, or click on a tab to view University resource information.
Managing Personal Information
My Pitt Profile
Click the Profile link in the top right corner of the window to visit your My Pitt Profile page. Here you can accomplish the following personal information management tasks:
Manage subscription preferences to the Read Green service
Connect and manage Emergency Notification Service/Notify Updates contact information.
Manage your photo as it will appear in Skype for Business and Pitt Email (Outlook) or Enterprise Exchange.
View and edit your user profile and display options.
Join or unsubscribe from communities.
Connect and manage your University Computing Account and email and messaging preferences.
Access the Enterprise Spam and Virus Filter Service Email Quarantine folder.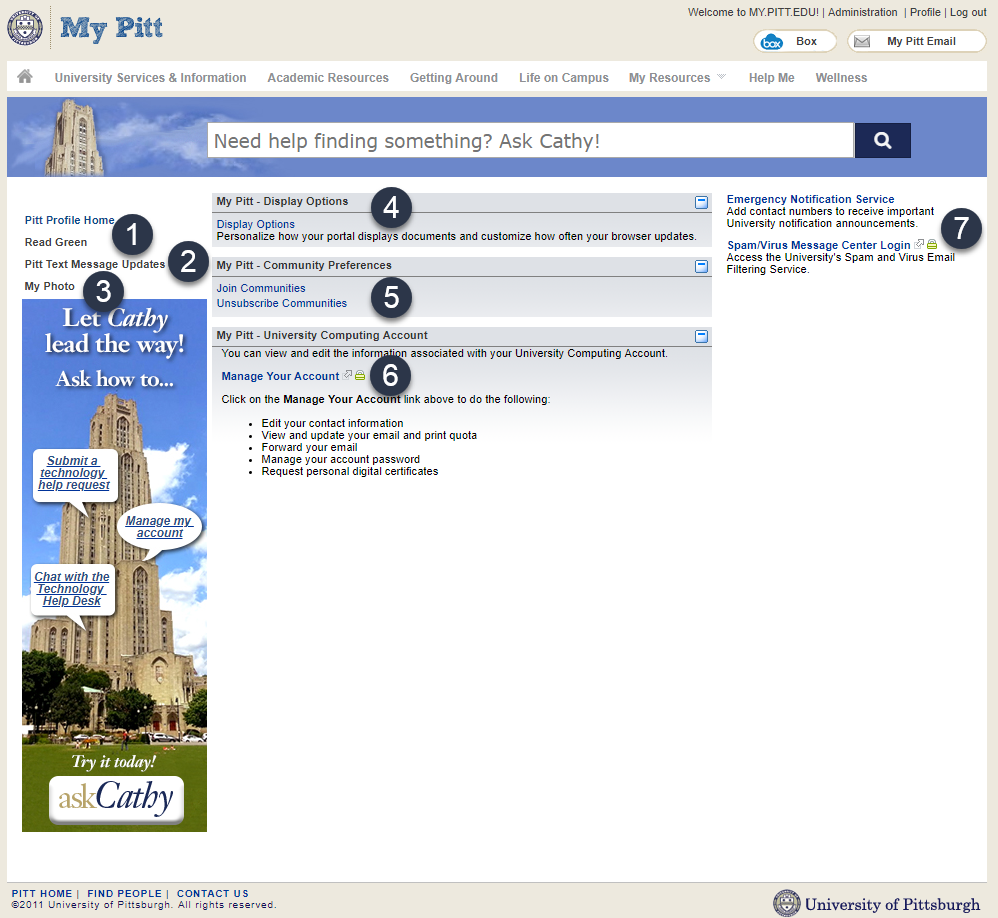 Using My Pitt
Homepage
The first page you will see after logging in to My Pitt is the homepage . At the top of your homepage, you will see a navigation bar. The navigation bar appears on the top of every page at My Pitt. It features various menu items that will take you to other areas of the site. Click a menu item to visit a new section of My Pitt. This page is customized based on your role at the University. Students, faculty, staff, and applicants will each see a unique homepage designed specifically for their needs. Access to key services—such as Pitt Email (Outlook), Student Center, Faculty Center, CourseWeb, and PittPAY—will be available directly from the homepage. You can always return to your homepage by clicking on the home icon.

Navigation Bar Functions
The navigation bar features several other functions:
My Home: Returns you to your homepage (i.e., the page that displays when you first log in).
Profile: Enables you to join new communities, edit your display options, access or manage quarantined spam, bulk or phish messages, and manage your University Computing Account, email, and messaging preferences.
Log Out: Ends your My Pitt session.
Box: Connect you to your University Cloud storage folders.
Pitt Email (Outlook): Your University email appears as an envelope icon in the upper-right corner of every page of My Pitt. Faculty and staff with Enterprise Exchange (on premises) email will also see a Pitt Email envelope. Simply click on the envelope icon to access your email. Connects you to your Microsoft Office 365 or Enterprise Exchange Email via the web.
Help Me: Enables you to quickly and easily find detailed help and documentation about services that can be accessed within My Pitt. You can also chat live with the 24/7 IT Help Desk by clicking the Chat link in the right-hand column.


Additional Navigation Functions
The following is also available to assist with using My Pitt to obtain useful information or connect to a variety of University services.
AskCathy Service Discovery Search: Use the power search bar by including keywords at the top of the page to connect to familiar University services and helps you discover new ones.
AskCathy Service Discovery How To Search: Click on the links within the Cathedral icon to view search results specific to University services specific to those tasks.
Announcements: View University news and event information based on your role.
Browse More Quickly: Text links in the right-hand column are task icons that clearly indicate what service you will be accessing.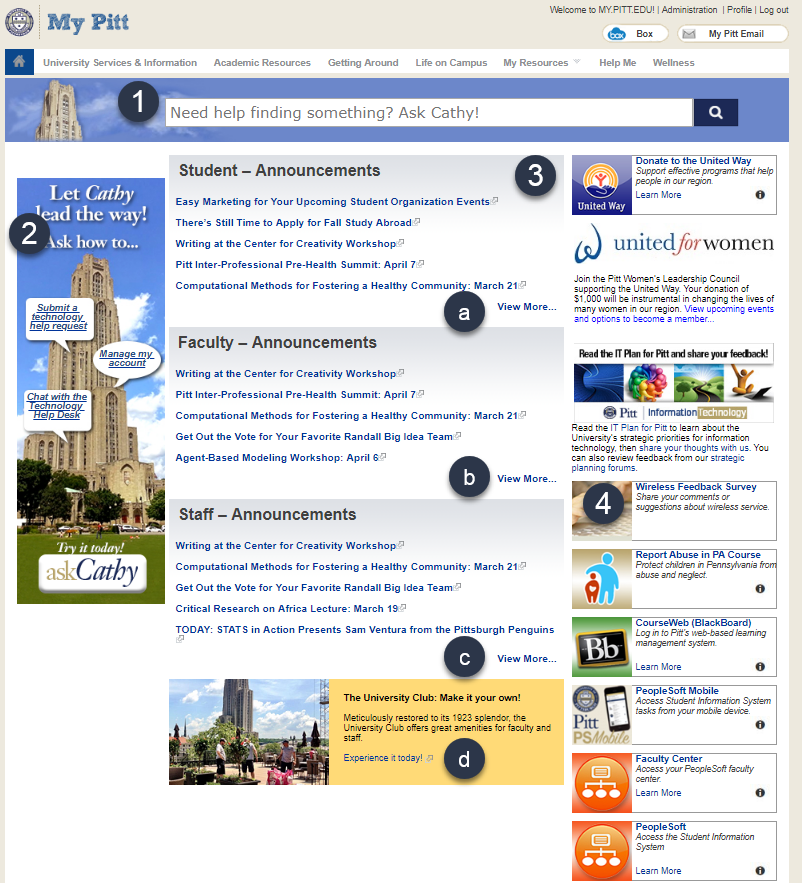 AskCathy Service Discovery Benefits
If you use the My Pitt search bar or click the Cathedral image in the left-hand column, you will be taken to the AskCathy Service Discovery page. AskCathy Service Discovery enables you to find and organize University services and information.University services that are available through AskCathy Service Discovery display as rectangular icons called Tasks. Just click a task to access it. Once you log in to a task, you won't need to log in to access others. We want to hear from you! An AskCathy Service Discovery feedback form can be completed for search concerns, to add a new task, post an announcement, make a suggestion, or provide feedback information. You may also click the Send Feedback image at the top of the page in AskCathy Service Discovery to share your comments with us.
Find it in a flash: Relevant search results populate as you type.
Take it with you: Enjoy an interface that is optimized for your phone or tablet.
Personalize your page: Favorite tasks and move them to the top of your page by clicking the heart icon next to any task.
Discover new services: Click the information icon on a task to view more information about it, including related tasks. You can also click the Browse categories link below the search bar to view groups of related tasks.
Get Help: Click the Sign In drop-down menu and Help at any time to get help with using AskCathy Service Discovery.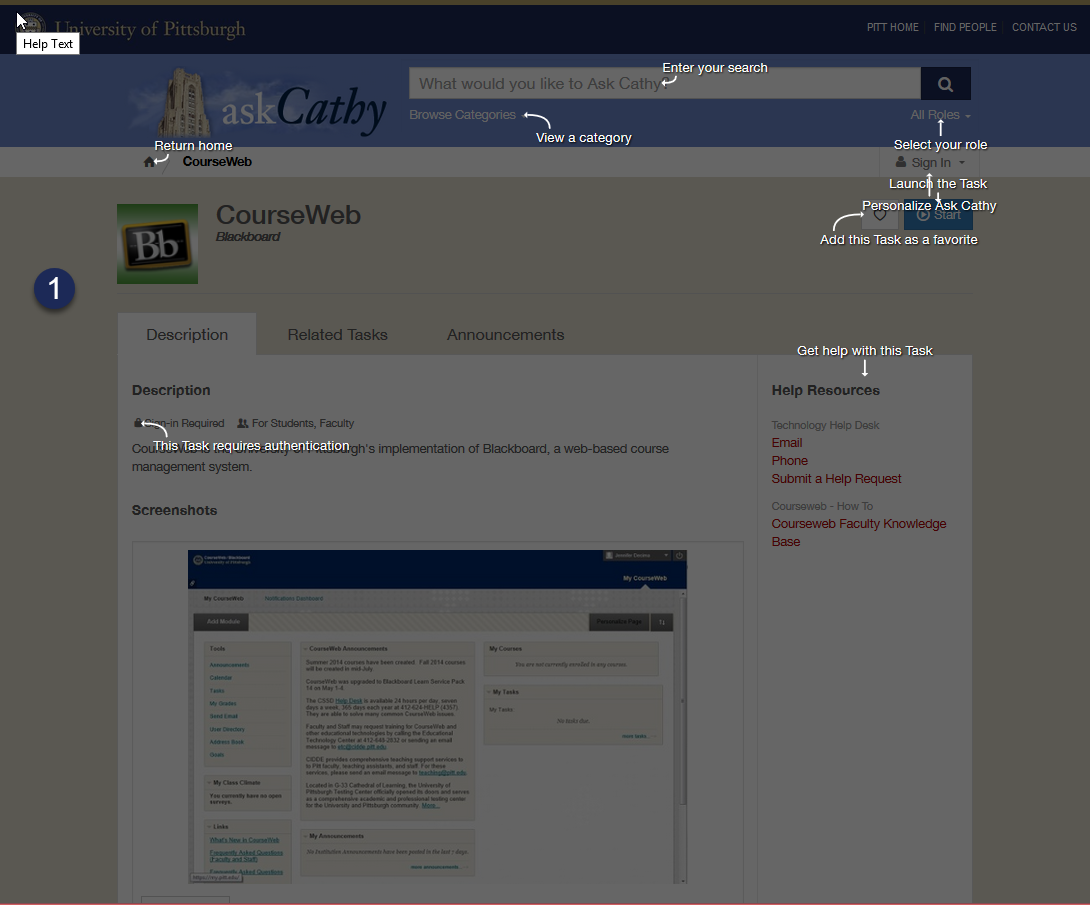 My Pitt Landing Page Announcements
My Pitt news, campus events related information can be requested for posting by a community manager, departmental or unit contact. University affiliate contact(s), department/school or unit, text copy and/or artwork, and intended audience information must be provided for consideration and review prior to posting. All new requests or changes to existing requests must be submitting a request to the 24/7 IT Help Desk. Once posted, My Pitt announcements are not removed or deleted. The five most recently published announcements remain viewable specific to your University affiliation type via the My RSS Feeds site at myrssfeeds.pitt.edu/announcements. To view current and previously posted announcements:
Log in to My Pitt (my.pitt.edu) with your University Computing Account username and password.
Note: You may be required to complete the login process with multifactor authentication using Pitt Passport, and gain access.
Click on the title within the My Pitt homepage center pane to view announcement or click the View More link.
a. You enter a keyword to Search for and view My Pitt announcements by date, subject, topic of interest and select Search.
b. To view older posts click the Older Posts link at the bottom of the screen. Once complete click on the My Pitt logo
to return to the My Home page.
Finding University Resources
My Pitt Tabs
Across the top of My Pitt, you will see various menu items that have been categorized to assist you with your school or work needs: University Services & Information, Academic Resources, Getting Around, LIfe on Campus and Wellness. The My Resources menu displays a list of all the communities to which you belong. A My Pitt community is a place on the My Pitt website where people with a common interest can share information, news, and ideas. This can also provide a forum for its members to access and interact with information that is pertinent to them. Communities are a great way to:
Consolidate important information into one convenient location
Share information on a community calendar or message board
Display documents in one place
The Community Manager controls the design and content of the pages within his or her community. A My Pitt Community request form must be completed to request a new or make changes to an existing community, or submit a request concerning elections conducted in My Pitt.
To access a community:
Click on the My Resources tab to view.
Select Community from the drop-down menu.
Select Community from the list.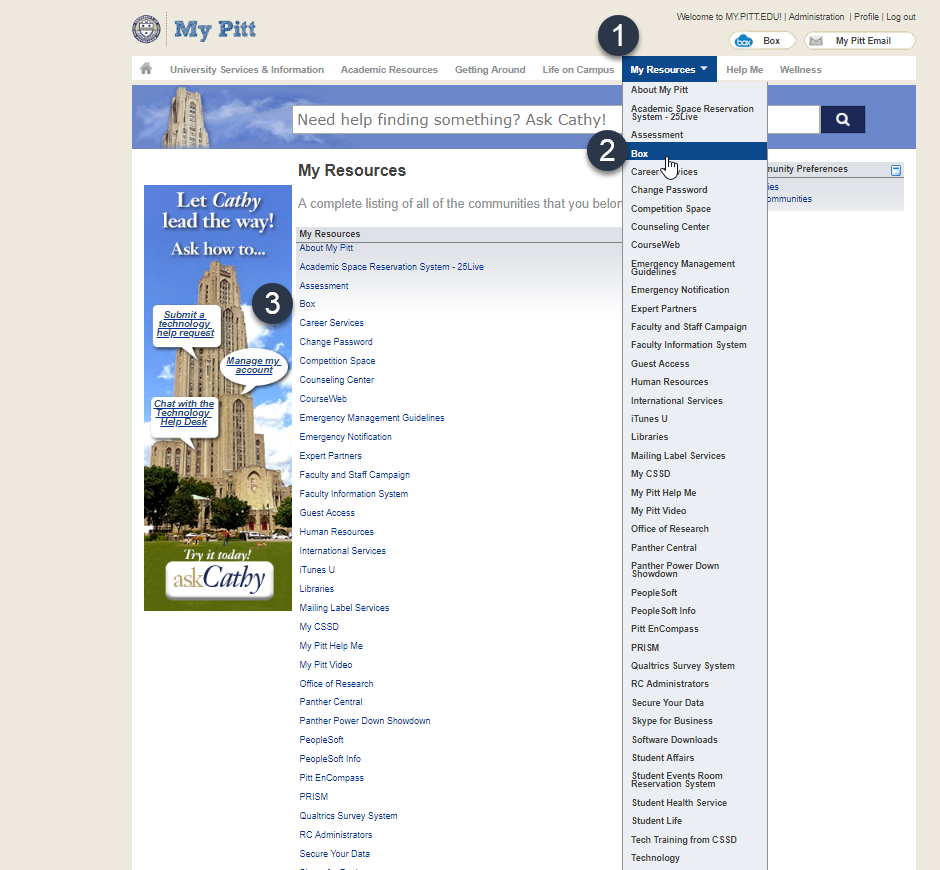 University Services and Information
The University Services & Information page provides access to key services to assist you as a student, faculty, or staff member at the University.
The left-hand menu provides links to pages containing information about frequently used services, such as the Student Center or Faculty Center. The left-hand menu may also display a "Take Action" box with links to events that you are eligible to participate in, such as an election or survey. The Take Action box may also include other time-sensitive activities, such as paying your tuition bill with PittPAY or subscribing to the Emergency Notification Service.
The center section displays links to University departments and services.
The right-hand menu provides links to other areas of the site, such as Career Development and Panther Central for students and Human Resources for faculty and staff.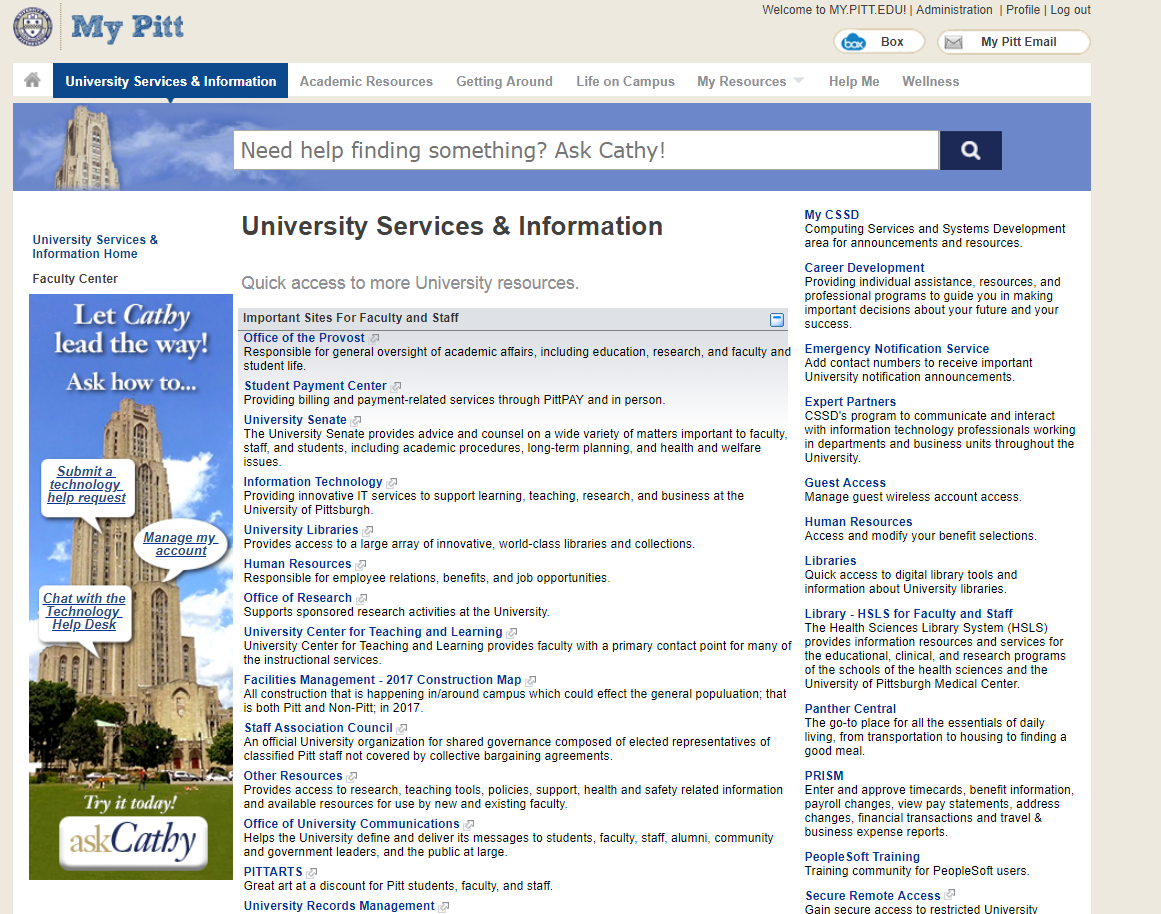 Academic Resources
The Academic Resources page provides access to key academic services for students and faculty. Links to each school's website are also available in the center section along with other academic resources. The right menu provides a secure login to your PeopleSoft Mobile for use via a mobile device, Student Center (or your Faculty Center) and CourseWeb (BlackBoard Learn). In addition, provides students with links to their grades and class schedule for the current and previous terms.
Note: Grades are only available during certain times of the academic year.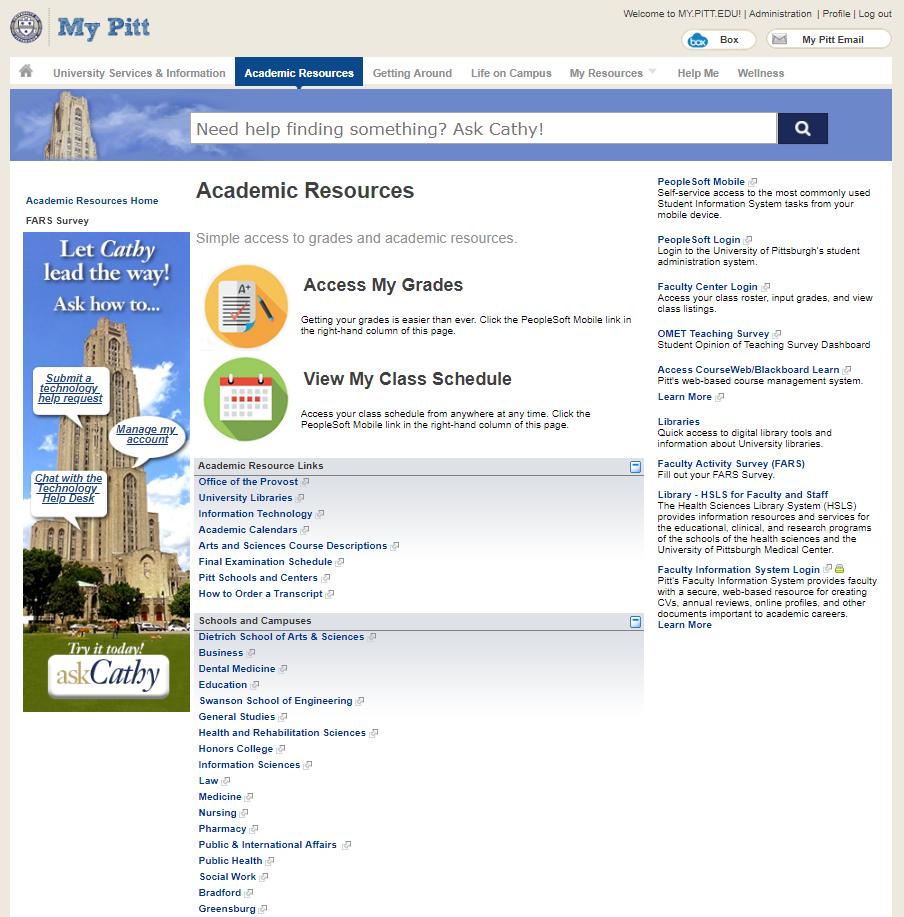 Getting Around
The Getting Around page provides access to campus maps, parking information, bus and shuttle routes, weather, and more.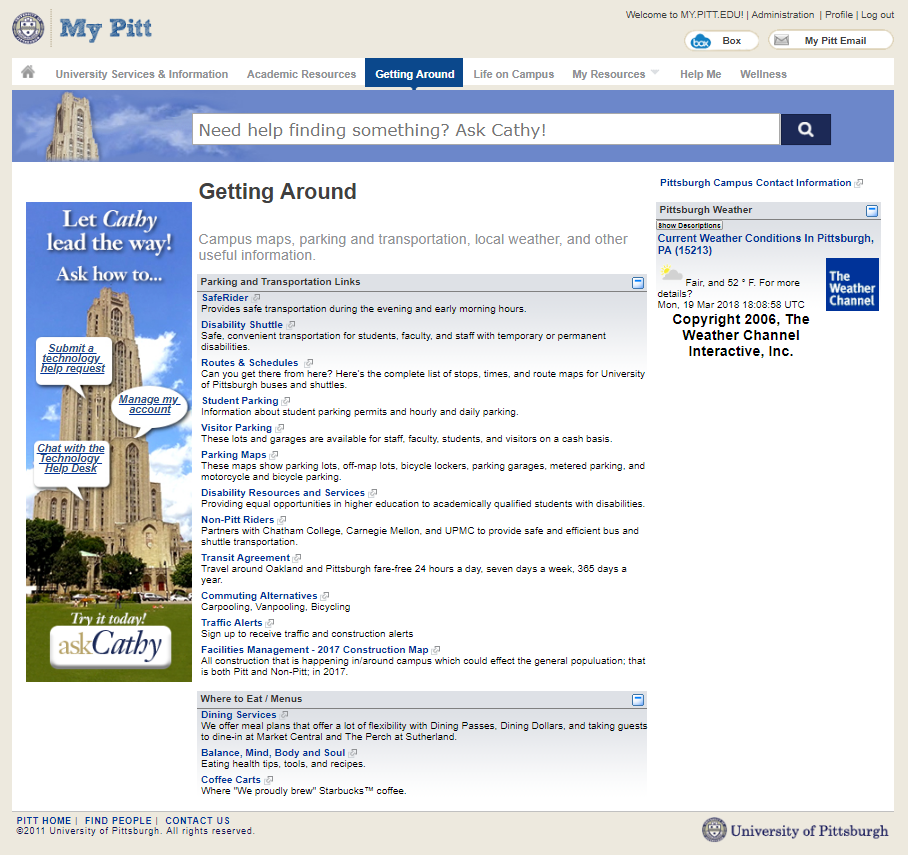 Life On Campus
The Life on Campus page provides information and resources about student life on campus including details about student organizations. The right-hand menu features links to campus news and information.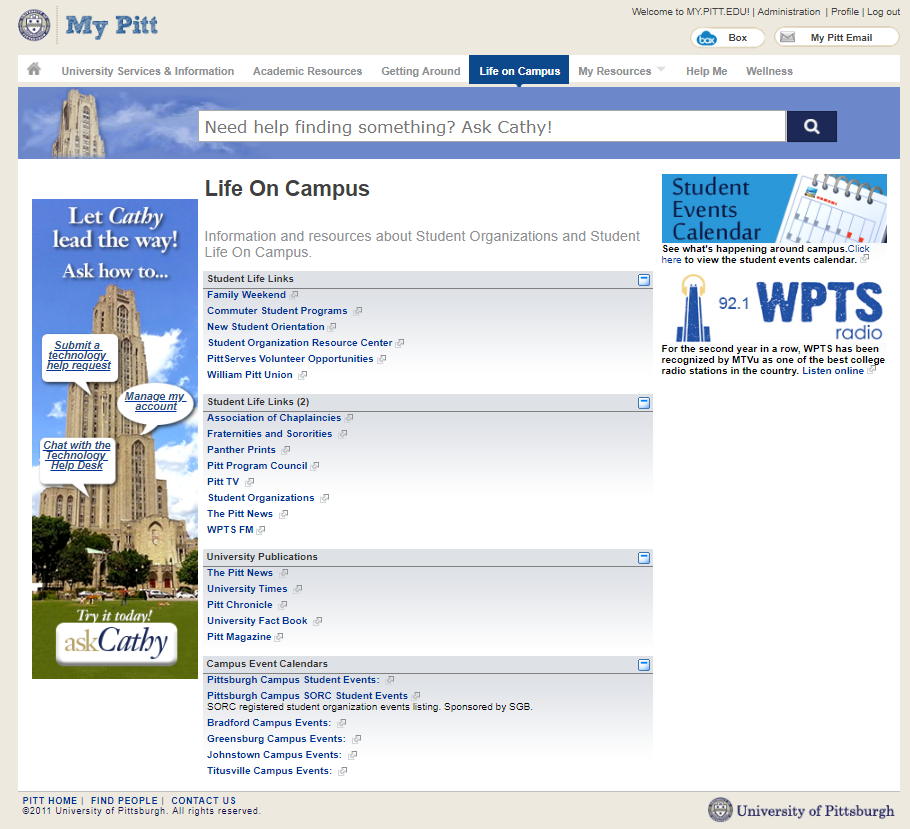 Wellness
The Wellness page provides information and resources about health, wellness, and lifestyle assisting resources. The right-hand menu features links to get help and report safety related incidents.