You are here
Consulting for Departments
Overview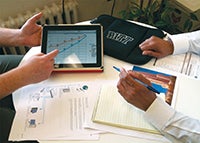 Pitt IT offers a broad array of high-quality IT support options that are tailored to fit your school or department's specific needs on the Pittsburgh campus. We can save time and reduce your overall IT support costs by delivering the precise level of service that you require. We give you the flexibility to start small and expand the contract later if support needs grow, or scale it back if less help is needed. Departments that contract services receive the full breadth and depth of our experience without having to staff and manage their own IT organization.
Benefits
Dedicated contract analyst support includes the following:
Requires minimal to no departmental management of a technical position.
Ensures your department's technical decisions are consistent with Pitt IT policies, infrastructure, and strategic plans.
Ensures quality support is provided for departmental computing needs.
On-site consultants provide desktop computer support, server support, mobile device support, project support, purchasing advice, IT liaison services, and installation of essential security patches and upgrades. All consultants are at least at the Systems/Programmer III job classification with extensive knowledge of Pitt's technology infrastructure and services. So you can be sure you are receiving experienced, high-quality support. The following guidelines can also provide more information:
We work together with University departments to determine the amount of analyst time needed. Our contracts are flexible. They can last for the duration of a specific project or program, or they can be specified as a given number of days per week (usually from one day to five days). Most contracts are one year in length and are usually renewed on an annual basis. Dedicated on-site consulting is currently available on the Pittsburgh campus.
Schedule a consultation to hear how we can help meet your IT needs efficiently without compromising quality. Contact Donald Grimm at 412-383-3710 for details.