AskCathy Service Discovery


Quick Links: Key Benefits I Getting Started I More How-to
AskCathy Service Discovery (askcathy.pitt.edu) is your go-to resource to help you search and find the University services and information you need.
University services that are available through AskCathy Service Discovery are displayed as rectangular icons called Tasks. Search for what you know and let AskCathy Service Discovery help you find new and interesting information. Some tasks will require you to log in to access the service or restricted content. Once you log into a task using Pitt Passport, you won't need to log in to access others.
Key Benefits:
AskCathy Service Discovery has many benefits:
Find it in a flash: Relevant search results populate as you type.
Take it with you: Enjoy an interface that is optimized for your phone or tablet.
Personalize your page: Favorite tasks and move them to the top of your page by clicking the heart icon next to any task.
Bookmark other sites: Bookmark services that aren't in AskCathy, from a staging server to your bank's self service site. Just click the gear next to Favorites and click New Bookmark.
Three Easy Steps to Get Started Using AskCathy Service Discovery:
1. Choose ONE of the following options to access AskCathy Service Discovery:
Option A - Go to askcathy.pitt.edu, then Sign in, enter a keyword in the What would you like to Ask Cathy? search bar, select Browse Categories, and select a specific Role.
Option B - Go to my.pitt.edu, login using your University Computing Account username and password, enter a key word in the Need help finding something? Ask Cathy! search bar or click on the AskCathy Cathedral image on the right-hand column to view tasks.
2. Click Help to view Help Text, or See More to locate a task within the My Favorites, My Recently Used, Most Popular or Category of the Day tasks.
3. Click the task title to Launch/view a task, the i icon to view details, or the heart icon add to your favorites.
Share Your Feedback
Do you have a task in mind that you would like to see added to AskCathy Service Discovery? Do you have a suggestion or some feedback you would like to share? We want to hear from you.
More Ways to Get the Most from AskCathy Service Discovery:
Getting Help with Using AskCathy
Here are some additional tips to help you get started with using AskCathy to find University services and information:
1. View Help within search results. To view help at any time with how to use AskCathy select the Sign In drop-down menu, and click Help.

Help text displays and is available while viewing any information within AskCathy. The following actions can be performed:
Enter Your Search using (Search) Tags: Additional keywords or commonly used terms that will aid with search.
View a Category: Allow you to bucket tasks for easy browsing, if desired.
Select Your Role(s): The groups or types of users that will access AskCathy (e.g., student, staff, faculty, parent).
Markets/Campuses: A way of organizing tasks that relate to specific campus sites or departments.
Click to launch/view Tasks: The descriptive tiles that provide info and direct links to the various services available on campus.
Getting Started Help
Performing a Task Help
View details such as Contacts: The person or department responsible for questions/concerns about a specific task.
Add to, or remove from Favorites: Allow you to personalize to quickly access tasks by adding, removing from your favorites.
See all in Categories: Allow you to view the created bucket tasks for easy browsing, if desired.
Personalize AskCathy: Select preferences task launch, featured carousel view or disable animated live data on tiles.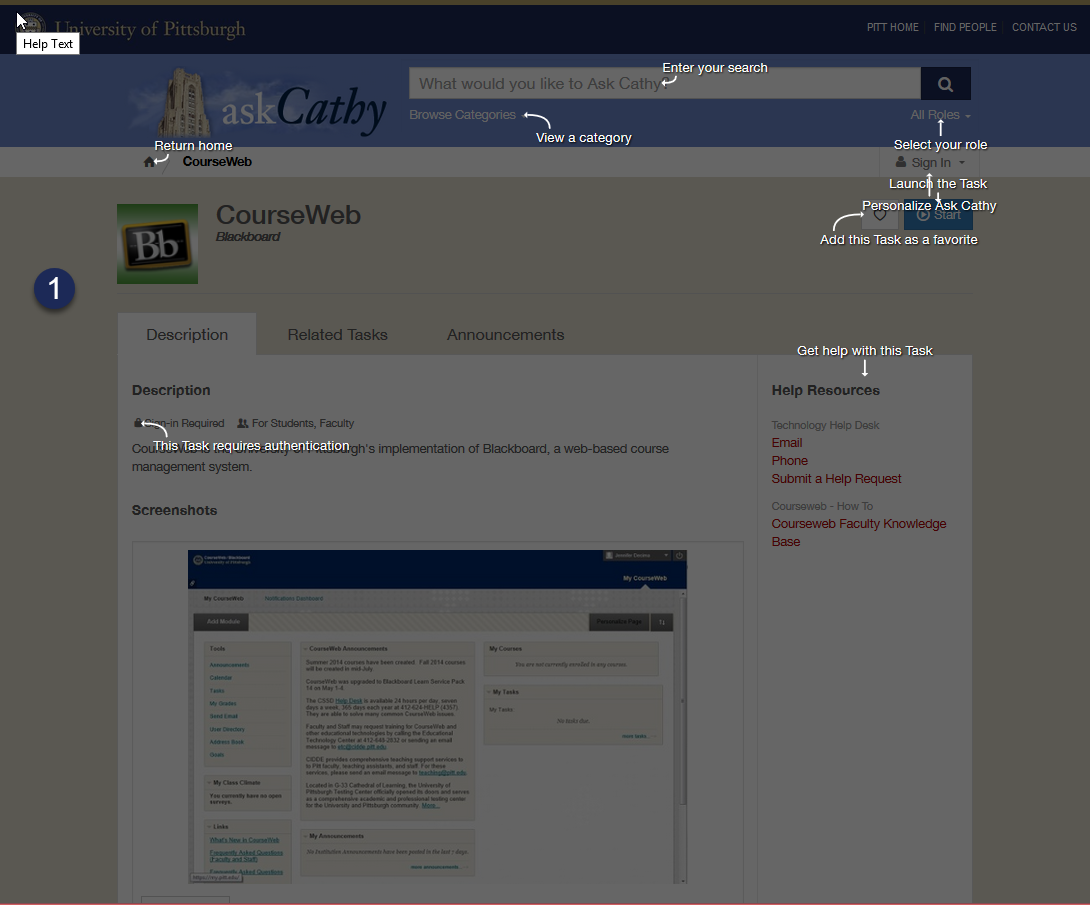 2. Browse Categories and View Task Centers: Select Browse Categories. Then select the desired category name (e.g., IT Services) to filter and view tasks specific to that University service or category. Task centers are a collection of related tasks. For example, all items related to Freshman Orientation or Services for Retired Staff.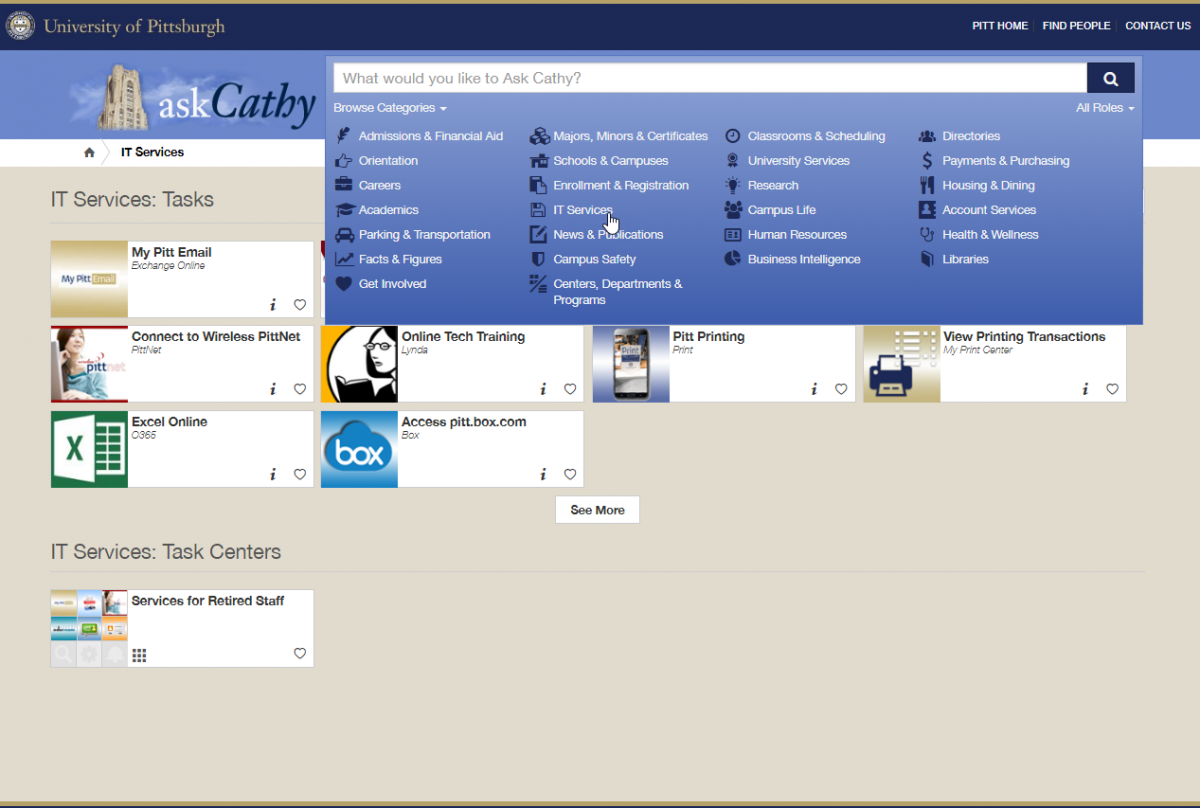 3. Filter to view tasks By Role or Favorites: Select your role from the All Roles drop-down menu to view tasks specific to your affiliation type. Or select Sign In, then My Favorites. Select See More to view all tasks.
Note: Access to University services and information is specific to permissions granted by role. You much first select the heart icon to include in group of My Favorites.