Pitt Mobile App Challenge 101
Pick Your Category
You can participate in one of two categories.
Show-It
Design a detailed mockup of your app that shows what it would look like and how it would work.
1. Choose a challenge from the list below.
2. Download and complete our Show-It PowerPoint template.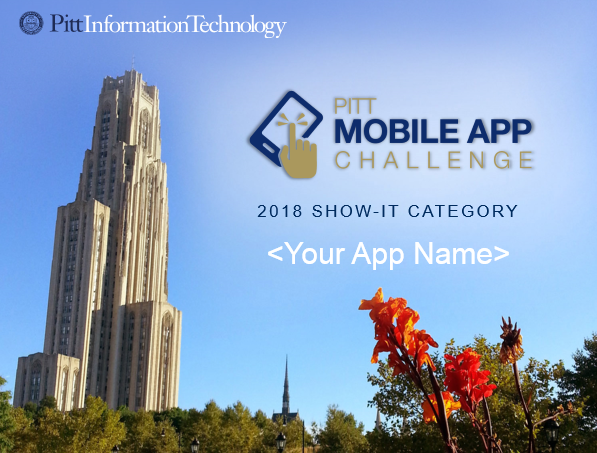 3. Upload the PowerPoint template to the submission site.
Code-It
Build a working prototype of your app that functions on a mobile device.
1. Choose a challenge from the list below.
2. Download and complete our Code-It PowerPoint template.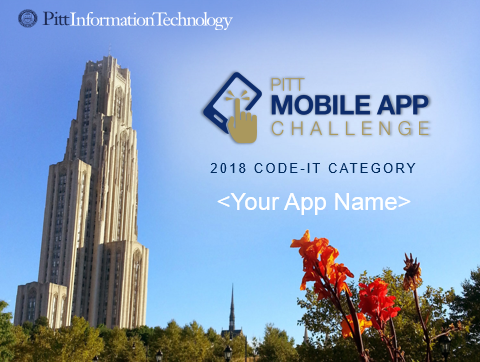 3. Create a video demo of your app. (Learn more about video demos)
4. Upload the PowerPoint template to our submission site with a link to your video demo.
5. Meet with the Pitt Mobile App Challenge team for an interview about your prototype.
Choose Your Challenge
Choose a challenge based on one of the strategic themes below, tied to the Plan for Pitt, and get started now!
1. Advance Educational Excellence
Your app might help students find study areas, connect them with study partners/groups, manage class notes, or find tutors.
2. Strengthen Communities
Your app might connect people to community resources or volunteer opportunities, support collaboration among community leaders, or help students at local universities connect with each other.
3. Promote Diversity and Inclusion
How might an app be used to help increase our awareness and appreciation of the different types of people who comprise our campus community? How might it be used to facilitate the exchange of ideas among people who have different views?
4. Embrace the World
Your app might explore and address global issues with an eye toward improving life in the world's local communities. Or it might help to promote cultural understanding or break down language barriers.
5. Support Success
Does your app improve collaboration and communication? Does it help people save time and money or become more efficient?
6. Pioneer Research
Perhaps your app helps people identify and engage in research opportunities or collect, evaluate, and share research data.
7. Promote a Healthy U
Your app might focus on nutrition, exercise, sleep, stress management, or other factors.
8. Open Challenge
Create your own theme. Identify a need and explain how your app solves that problem and addresses your theme.
Frequently Asked Questions
FAQs
Can I enter more than one submission?
Yes, provided that the submissions are different topics.
Can a submission be entered into both the Show-It and Code-It categories?
No. You must pick one category. Submitting the same entry as both a Show-It and Code-It may be grounds for disqualification.
What qualifies as a mobile app?
Your app must function on a mobile device. Providing an excellent user experience should be one of the key criteria for your mobile app. How you deliver that user experience, whether through a standalone mobile app or a mobile-friendly website, is at the discretion of you and your team. In general, the more effort you put into your app, the better the user experience will be. The Resources page provides a variety of options for bringing your app idea to life.
For the Code-It category, how completely developed does the mobile app need to be? Does the submitted app need to connect to active data tables?
Students assume all risks associated with connections to data sources. The submission is a prototype, so such connections are not required. In some cases, but not all, a more completely developed app may earn a better result than a less developed app.
Can I submit my own PowerPoint template instead of using the template provided?
You should use the PowerPoint template provided on this page for the background theme and organization of your content. You may add additional slides to the template as needed to explain how your app works. Omitting information requested in the template will likely impact the final score for your app.