2018 Pitt Mobile App Challenge Winners
Code-It Category
The "Code-It" category asked students to build a working prototype of their app that functions on a mobile device.
First Place - PhotoGlot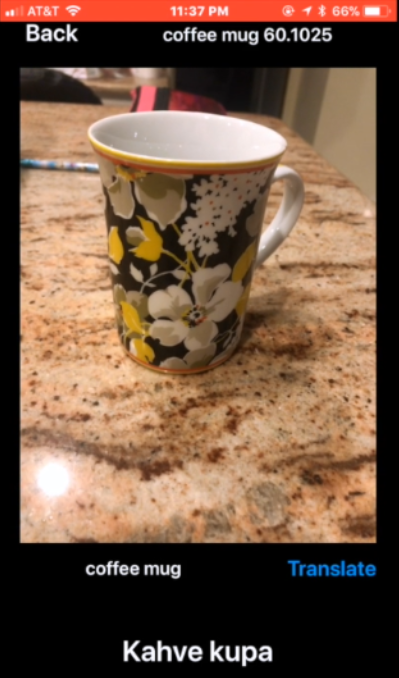 Team members: Nur Iren, Caitlin Schmuck, Chloe Ciora, and Ottania Rosario
Challenge theme: Embrace the World
Campus: Pittsburgh
Prize: $4,000 in Amazon.com gift cards
"PhotoGlot is a language learning tool. The user aims the camera at an object, and the name of that object is displayed in the language of choice. Our app aims to aid in language learning. Instead of using an intermediary language to determine what an object is in a foreign language, our app allows for direct association of an object with a word in that language."
Second Place - Dormstack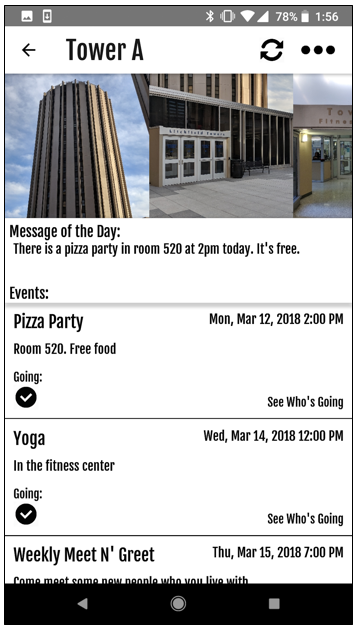 Team members: Joel Austin
Challenge theme: Strengthen Communities
Campus: Bradford
Prize: $2,000 in Amazon.com gift cards
"DormStack is an app available on iOS and Android built to meet an apparent desire from students living in residence halls to have a centralized social network for each individual residence hall on a university campus. Each residence hall in the DormStack is a unique social and cultural system created by its students. A residence hall's resident assistants are the administrators of their building in the DormStack."
Third Place - Grocery Shark
Team members: Stephen Ulassin and Jerimiah Huston
Challenge theme: Support Success
Campus: Johnstown
Prize: $1,000 in Amazon.com gift cards
"Grocery Shark is an app that will revolutionize the way people shop for groceries. People spend hours every week searching for deals in flyers, figuring out what to cook, and finally actually trying to find all the items they need when they get to the store. Grocery Shark makes these problems a thing of the past by combining the recipes, the shopping list, finding the prices, and even guiding you through your local grocery store."
Show-It Category
The "Show-It" category asked students to create a mockup of their app that showed what it would look like and how it would work.
First Place - ECO: Energy Consumption Optimizer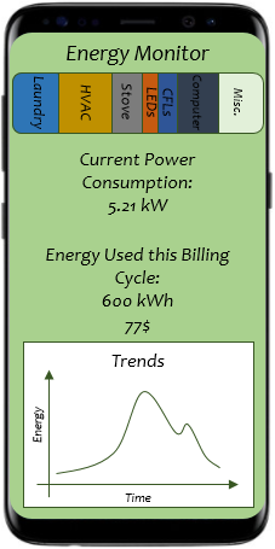 Team members: Adam Emes and Ryan Brody
Challenge theme: Open Challenge (Green Energy Solutions)
Campus: Pittsburgh
Prize: $2,000 in Amazon.com gift cards
"We are creating our own theme based off of independent research we have been conducting this semester. There is a dire need to incentivize a reduction in energy use and emissions in order to combat climate change. This a localized solution to a worldwide problem. Our app takes smart home technology one step further by autonomously optimizing your homes energy efficiency."
Second Place - Pitt Overflow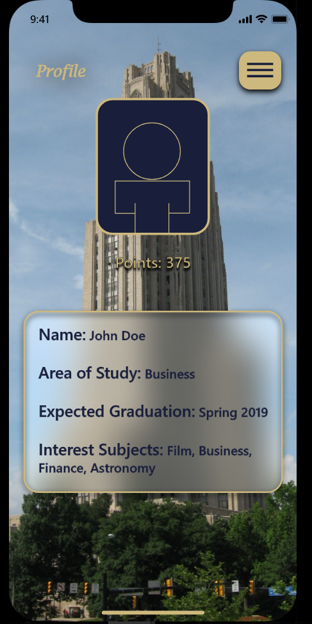 Team members: Shoueb Mamoor and William Starr
Challenge theme: Advance Educational Excellence
Campus: Pittsburgh
Prize: $1,000 in Amazon.com gift cards
"We built this to give Pitt a centralized point of communication where students assist each other academically. Pitt students can get academic assistance through Pitt Overflow right from their mobile device without having to schedule with Pitt academic services, and create a community on an inter-class basis."
Third Place - Beautiful Anonymous
Team members: Dalton Scharff
Challenge theme: Promote Diversity and Inclusion
Campus: Pittsburgh
Prize: $500 in Amazon.com gift cards
"Based on the podcast of the same name, Beautiful Anonymous is a messaging service that pairs you with a new, random individual every day. Get to know someone down the block or on the other side of the world, all while retaining complete anonymity."
Previous Winners: Where Are They Now?
Students who compete in the Pitt Mobile App Challenge are finding that it's more than just a rewarding experience. It can also be the first step toward bigger and better things.
In 2016, Shil Patel and Asim Viqar won second place in the Code-It category for their app Swipes. Last year, they submitted an app called Pittlets. Although it didn't win, Shil and Asim were encouraged by the positive feedback they received. After graduation, they developed their app idea into a website called Sublttr.com that is designed to make subletting easier for students.
Congratulations, Shil and Asim, for taking your Pitt Mobile App Challenge idea to the next level!