Telephone and Voice Mail: What desktop phones are available?
The Polycom VVX 501 is the University's standard telephone handset for new service installations.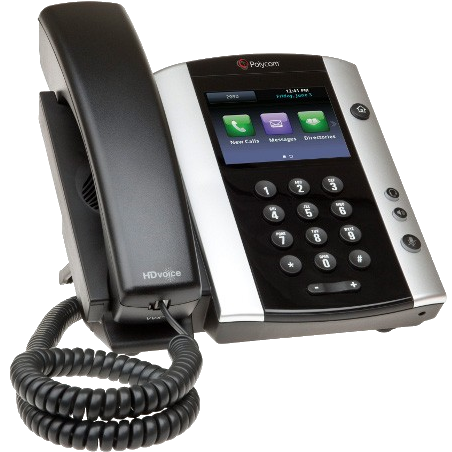 Features:
Gesture-based, multitouch-capable, capacitive touch-screen
3.5-in TFT LCD display at QVGA (320 x 240 pixel) resolution, 4:3 aspect ratio
Screensaver and digital picture frame mode
On-screen virtual keyboard
Voicemail and videomail support handling features
12 lines
Up to 24 simultaneous calls
Shared call/bridged line appearance
Flexible line appearance (one or more line keys can be assigned for each line extension)
Distinctive incoming call treatment/call waiting
Call timer and call waiting
Call transfer, hold, divert (forward), pickup
Called, calling, connected party information
Local three-way audio conferencing
One-touch speed dial, redial
Remote missed call notification
Do not disturb function
Electronic hook switch capable
Gigabit Ethernet (10/100/1000) line interface
Second Ethernet interface 10/100/1000 Mbps
Learn more about this phone:
Request Phones
To request telephones, submit a University Telephone Services request.