A New My Pitt and Pitt Mobile Launch This Summer
My Pitt and Pitt Mobile will soon have a modern new look and expanded functionality—including optimization for mobile devices—based on feedback received from the University community last fall. We held 15 student-focused listening sessions, hosted meetings with several University departments, and conducted three online sessions open to regional campuses and the entire University.
Enhanced My Pitt Functionality
Customize your page by adding favorites and organizing them into collections
Create bookmarks for quick access to all your favorite sites
Enjoy a streamlined interface that's optimized for mobile devices
Choose when to display and dismiss announcements
New Pitt Mobile Features
Add events to your own in-app personal calendar
Connect and communicate with your peers using in-app private messaging
Take advantage of a modernized mobile interface
Coming Late Summer
Regional campus content
Class schedules, grades and due dates
Push notifications
Take Action if Your Department Directs Users to My Pitt
Does your department have web pages, email templates, brochures, or other materials that direct users to My Pitt? If so, please take action to help ensure a smooth transition. Note that links pointing directly to my.pitt.edu will continue to work after the new My Pitt launches.
A Fresh Design
We're hard at work putting the final touches on the new My Pitt and Pitt Mobile. Here's a sneak peek at the new design of My Pitt.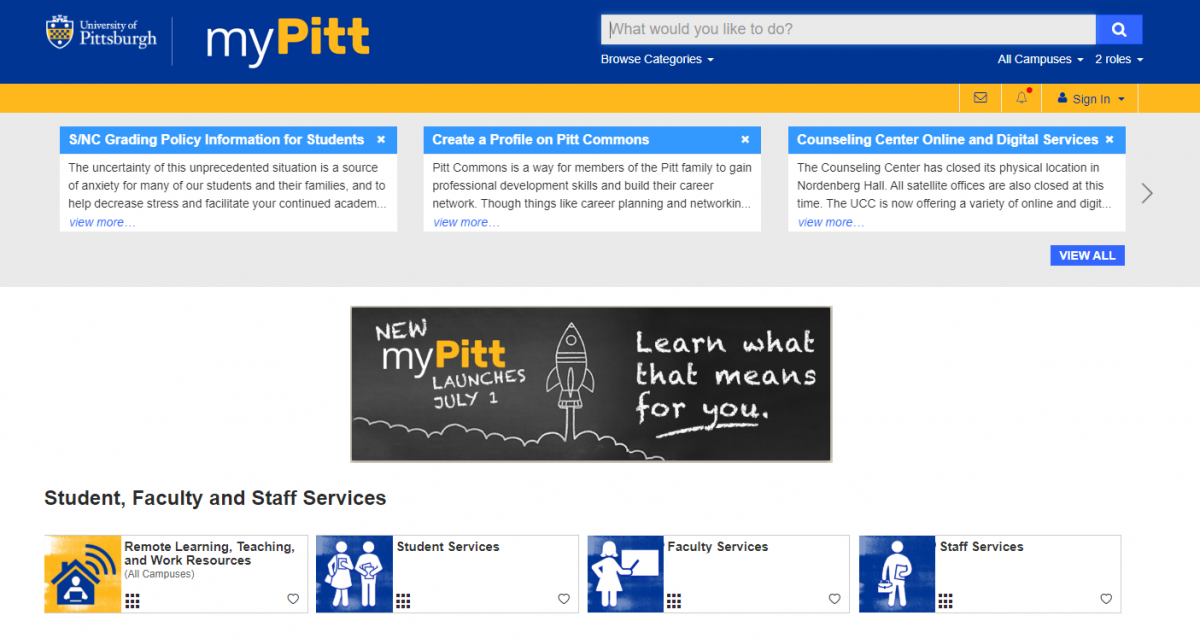 Coming Summer 2020
To minimize disruption, we're launching My Pitt and Pitt Mobile in phases during the summer. Check below for a more detailed timeline. Follow @UPittIT on social media, sign up for our email newsletter, or subscribe to IT text alerts for updates.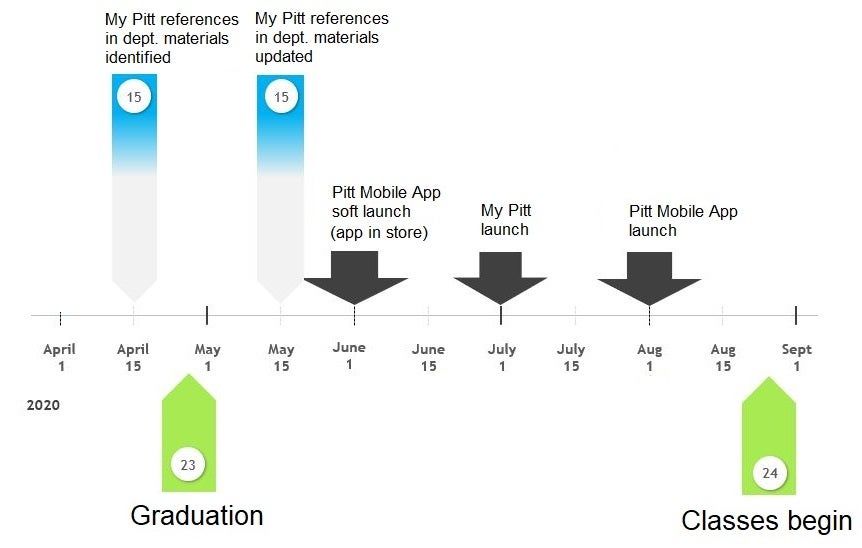 Important Dates
May 29 - New Pitt Mobile app will be submitted to the Apple and Google app stores1

Existing Pitt Mobile app users on iPhones will receive the new app as an update
Android and new Pitt Mobile app users may download the Pitt Mobile app from their respective app stores.

June 1 – Pitt Mobile app "soft" launch

m.pitt.edu will be redirected to the new public guest page
All other content will require a University account and also require users to download the app
Only the Pittsburgh campus will have content for this release

July 1 – Migration of my.pitt.edu to the new My Pitt and the retirement of old My Pitt/Ask Cathy
August 1 – Formal launch of the new Pitt Mobile app
1 Availability will depend upon the duration of the approval process from Apple and Google Play.
Share Your Feedback
We'd love to hear from you anytime and rely on your input to help us create a roadmap for future enhancements. Contact our 24/7 IT Help Desk and let us know your thoughts.
Frequently Asked Questions
Frequently Asked Questions
What is the easiest way to find content in the new My Pitt?
Search is the fastest and easiest way to find what you need. You can adjust your role and campus filter to refine your results. If you have trouble finding something, please submit a help request listing the service you were looking for and the search phrase you used.
I find services using the right-hand column or the My Resources menu. How will I find that same content in the new My Pitt?
We have created three new Task Centers to help you find the content you previously found in the right-hand column or under the My Resources menu. You can start using these Task Centers today. We recommend you add them to your favorites now so you can find them easily after the new My Pitt launches:
What else can I do to prepare for the transition?
Visit AskCathy today to create your list of favorite services and add your own personal bookmarks. These features carry over into the new My Pitt, so you'll already know exactly where to find your favorite content.