You are here
GitHub Enterprise at Pitt
GitHub is a web-based collaboration platform for software developers. Often used for version control, GitHub gives teams of all sizes the ability to have individual developers contribute their work to an overall project in a simple and controlled way. The University of Pittsburgh has an agreement with GitHub so that students, faculty, and staff can access projects and repositories hosted by Pitt Information Technology at no cost, regardless of how many collaborators work on the projects.
Contribute, collaborate, and more
GitHub provides a large collection of tools to help developers build products and contribute to projects. Its development platform offers easy-to-use resources in coding environments that are safe and scalable. Learn about GitHub features at their website.
Get started using GitHub
You may request access to Pitt's GitHub organization by submitting a request with the 24/7 IT Help Desk (be sure to include in the message that you are requesting access to GitHub Enterprise at Pitt). Additionally, you will need to receive an invitation from a GitHub administrator (ie: your professor or project leader) to join a specific Pitt GitHub organization. Onboarding times vary, so please be aware it may take several days between the time of your request and access to Pitt's organization.
Once an invite is provided to you via an admin or in response to your request, you will receive an email with a link that will provide you access to your Pitt GitHub organization. Please note, you will be required to link a GitHub user account with an account that uses your Pitt credentials to access your organization, even if you already use GitHub with a personal account.
How to create your GitHub account via the GitHub website
1. Click Join @pitt-it in your invitation email. You may be asked to authenticate your Pitt credentials via Pitt Passport. Complete the authentication process.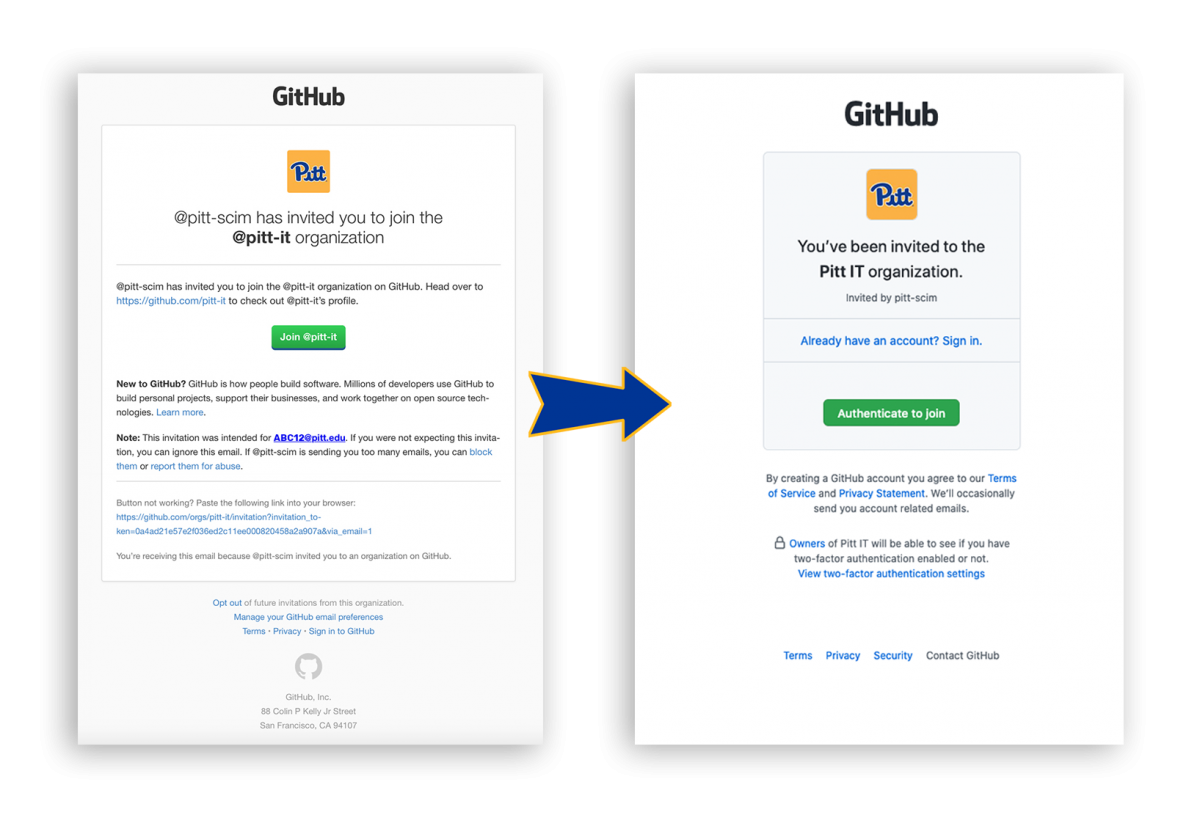 2. Once you've clicked through the email link (and have authenticated your Pitt credentials via Pitt Passport), you should be taken to the Create Account page. Not sure where you are? This page will use a URL that includes <your-org-name> and include the form: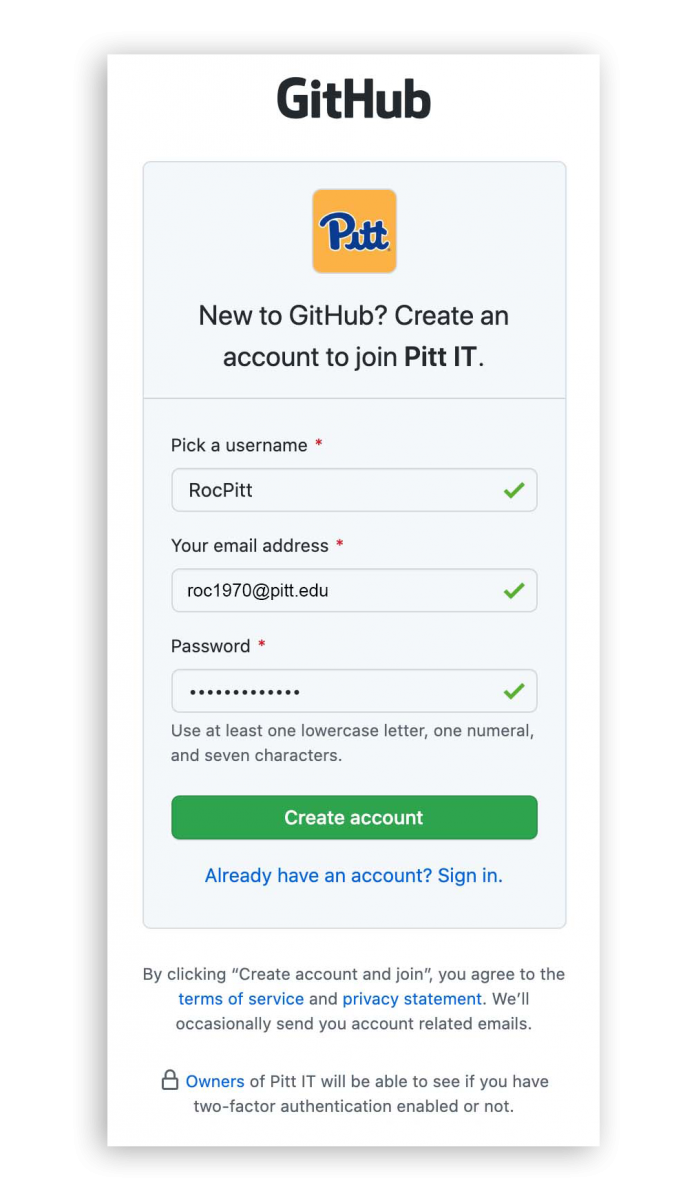 3. Fill in the boxes with an original username and your @pitt.edu email address & password (read our guide for password best practices and standards). If you already have an existing GitHub account, which uses your Pitt credentials, you may also use this link to connect the existing account to this new Pitt-enabled account. Once the form is completed, click Create account.
4. A new window will appear asking you to verify your account. Follow the directions to verify your account and select your email preferences.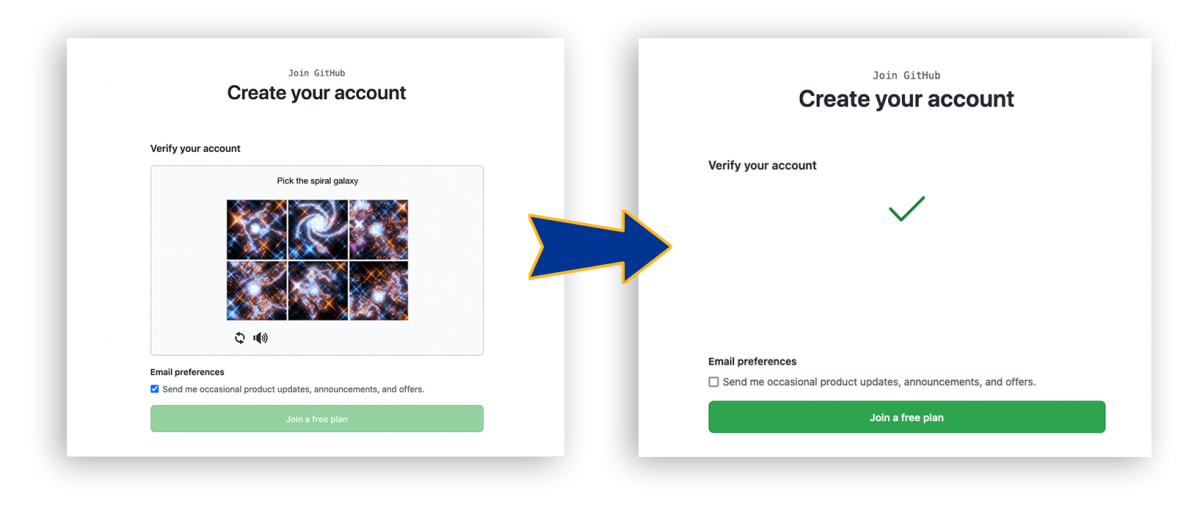 5. Click Join a free plan.
6. A new window will appear where you will see that your Pitt GitHub organization requires Two-factor authentication. You have the option of setting up two-factor authentication via SMS, but we recommend using DUO Mobile on your device (the same one used for logging into My Pitt and other Pitt-related services). You should already have the DUO Mobile app on your device. Make sure Set up using an app is selected. Click Continue.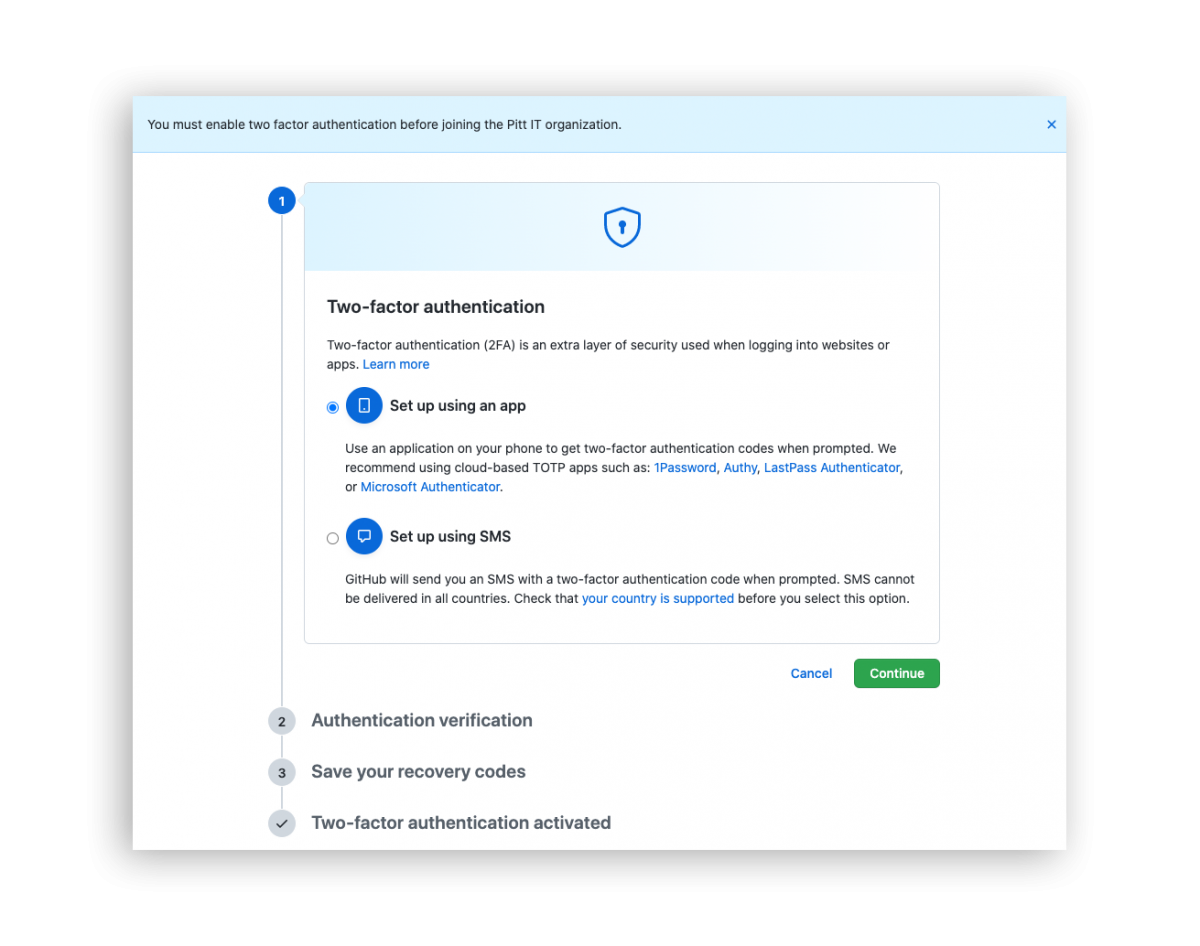 7. Using your device with DUO Mobile, use the device's camera to scan the QR code displayed on the screen of the computer being used to create a new GitHub account.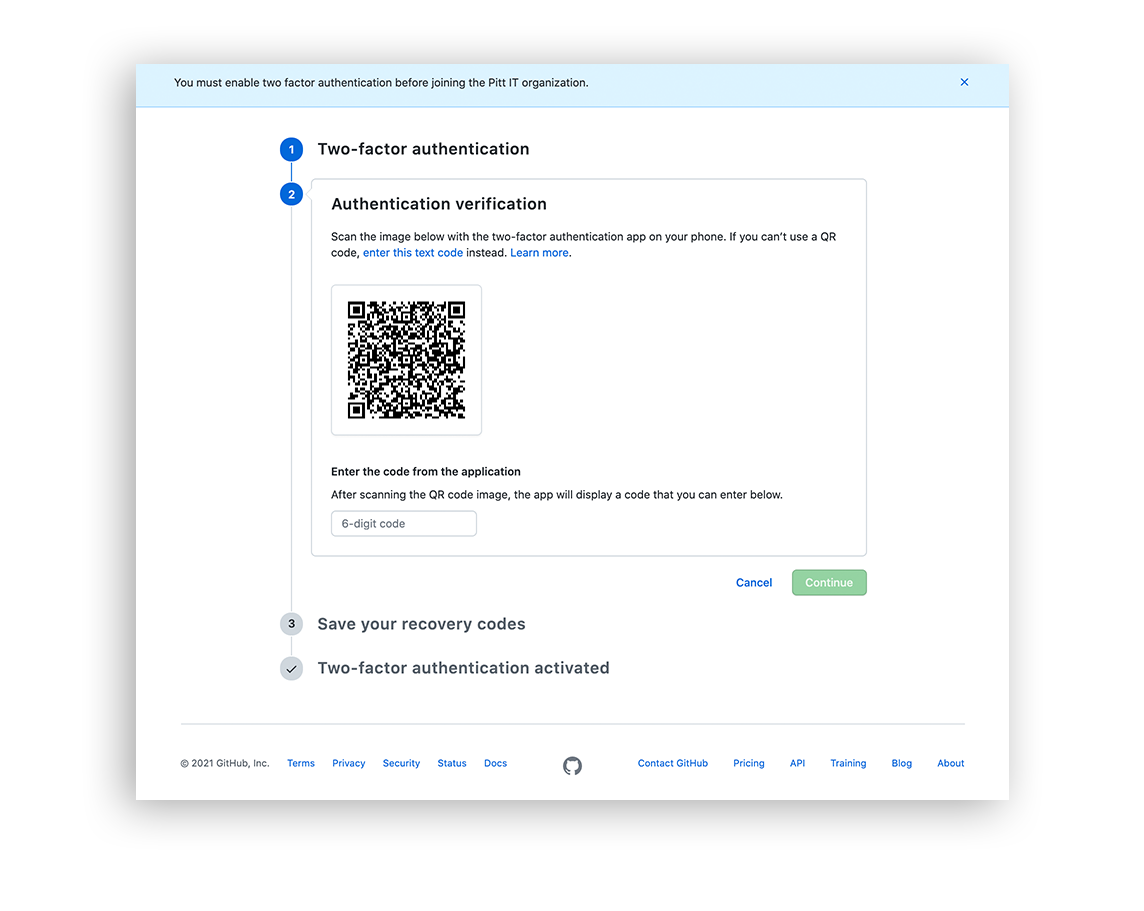 You will be guided through a series of welcome windows on your device screen. Click through these screens until you get to the Duo home screen, which will display your new GitHub account with a temporary 6-digit Passcode.
8. Take the passcode from your phone's Duo app and enter it in the box that says "6-digit code" on your GitHub screen.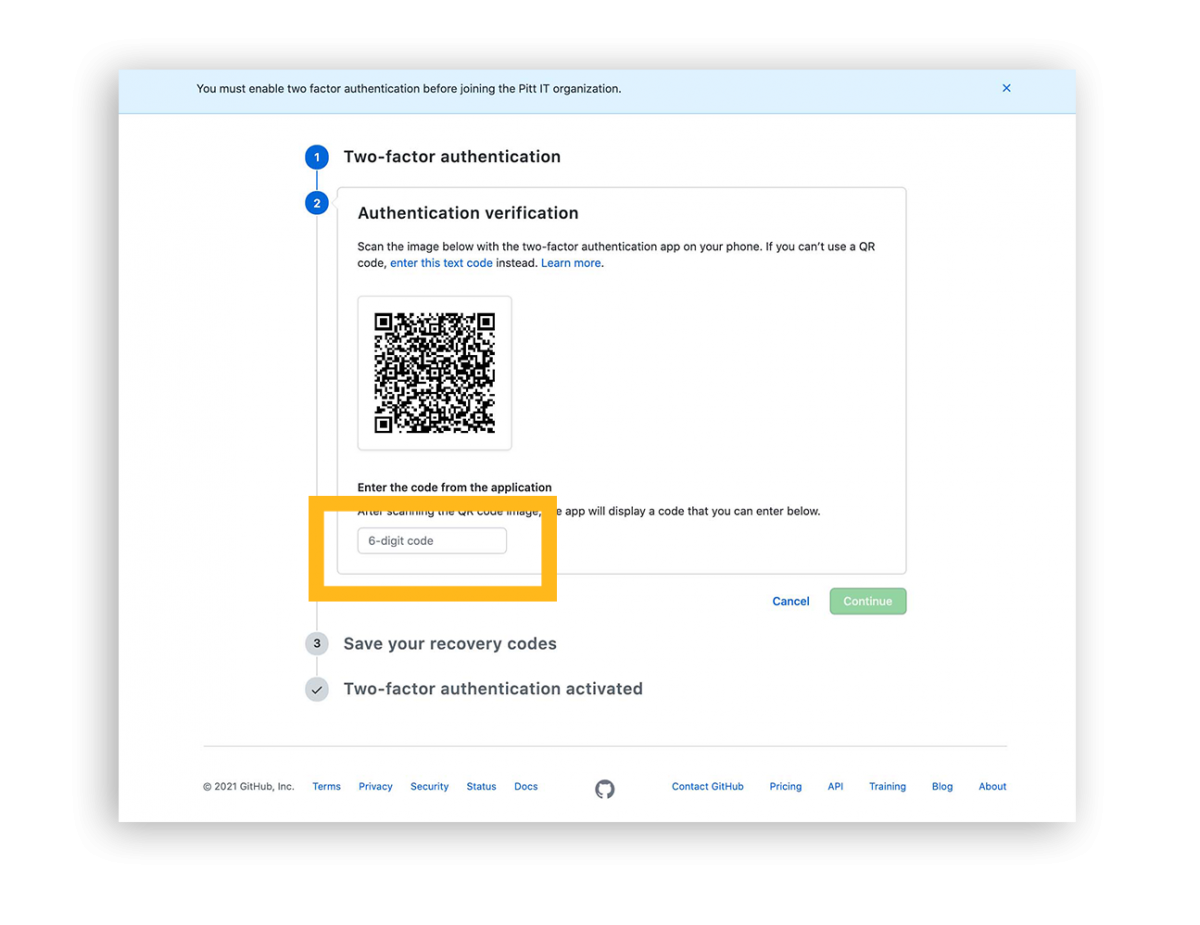 9. A new window will appear with a set of Recovery codes. These codes are important to save, as they will allow you to access your new GitHub account if an error occurs during your two-factor authentication. Click Download. Then, once your codes are successfully saved, click I have saved my recovery codes.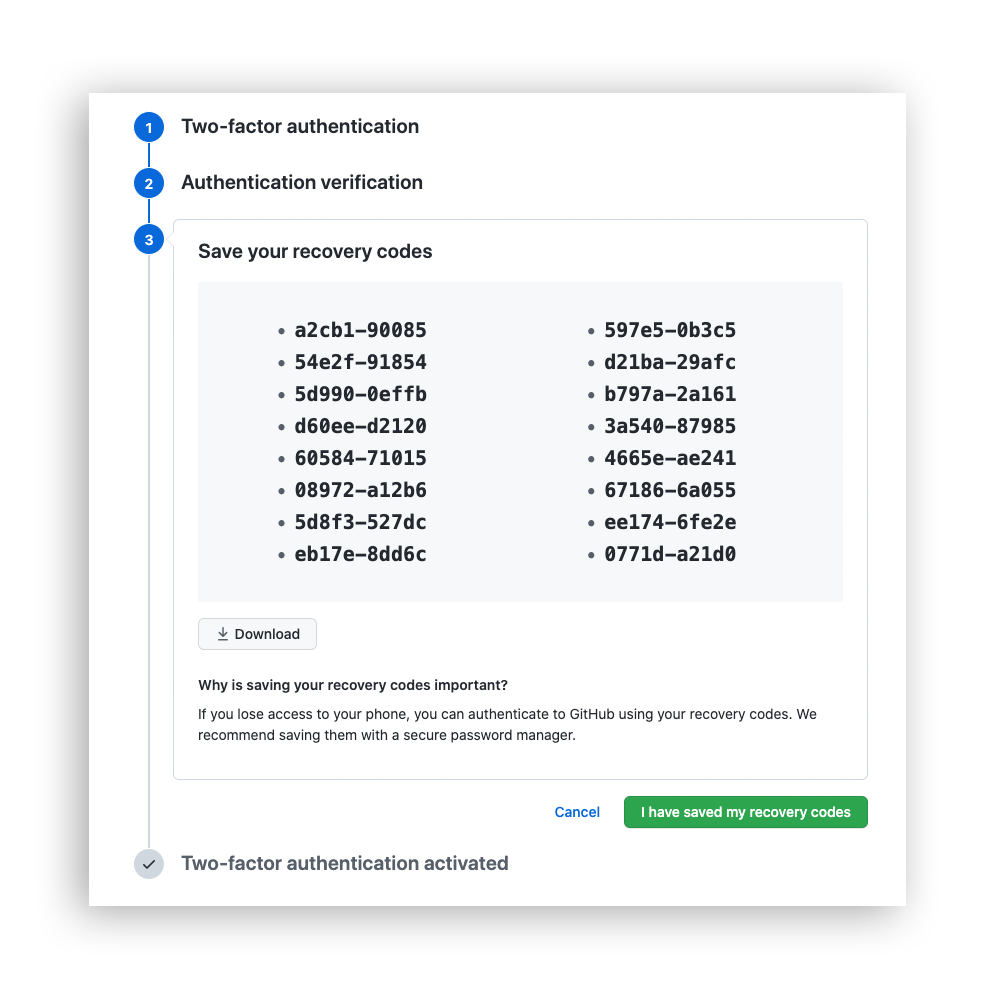 At this point, you should see proof of successful activation with the screen below.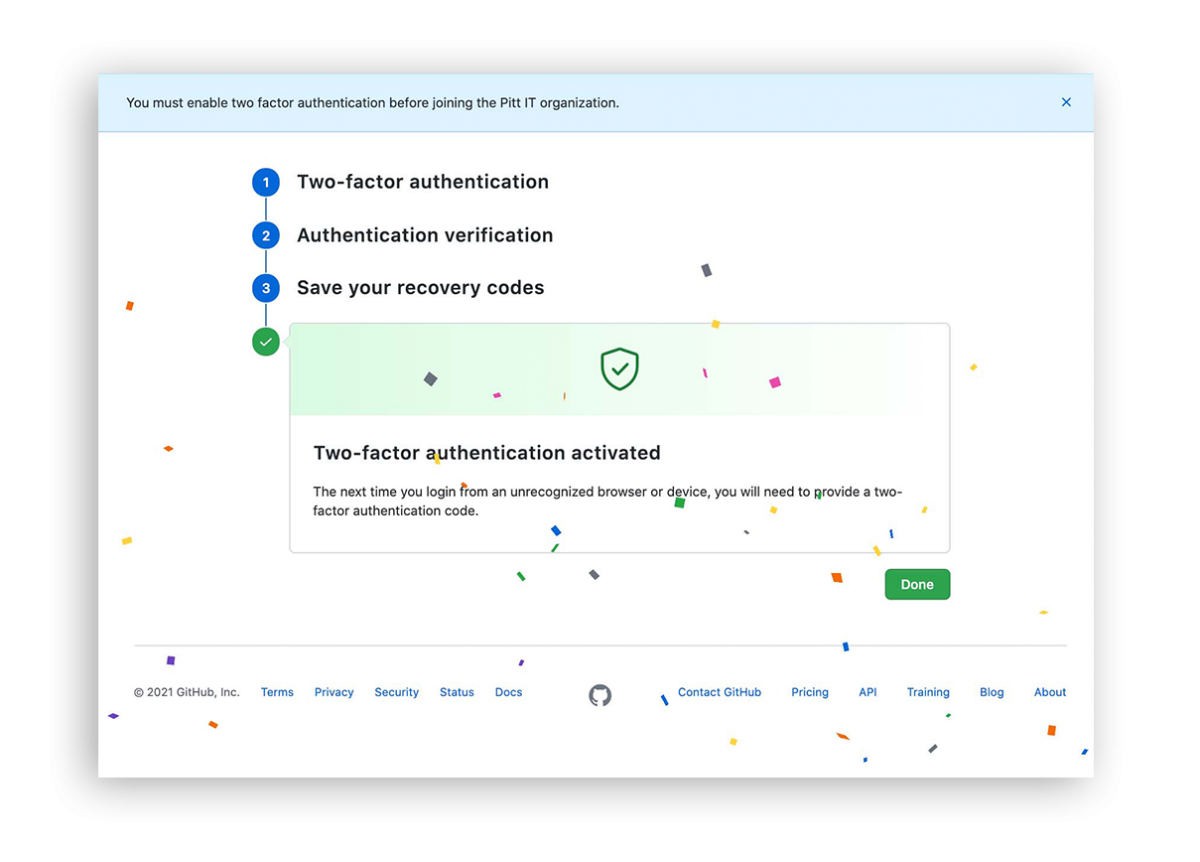 10. Click Done. You will be taken to the settings page for your 2-factor authentication.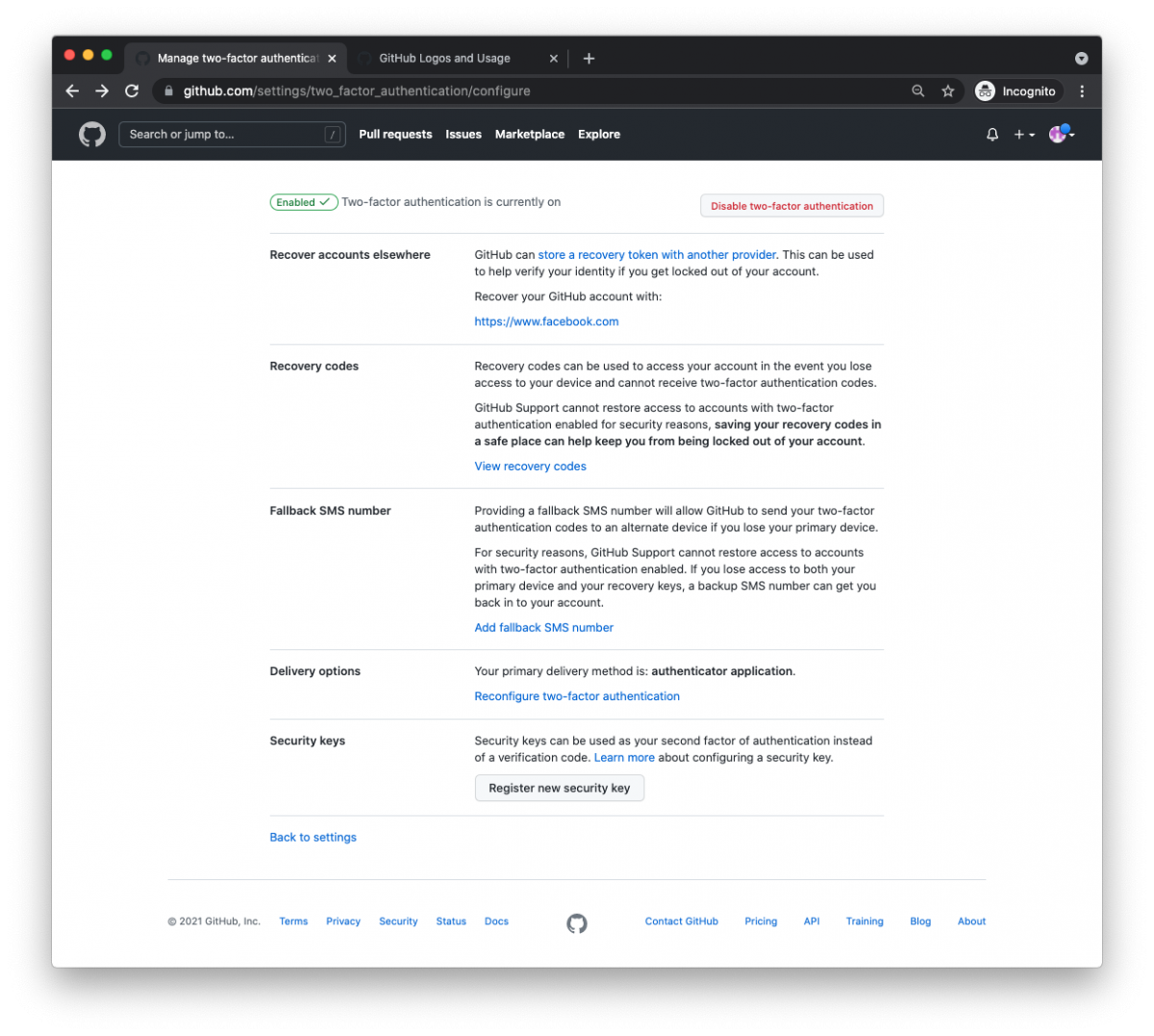 11. Click on the GitHub logo in the top left corner of your browser.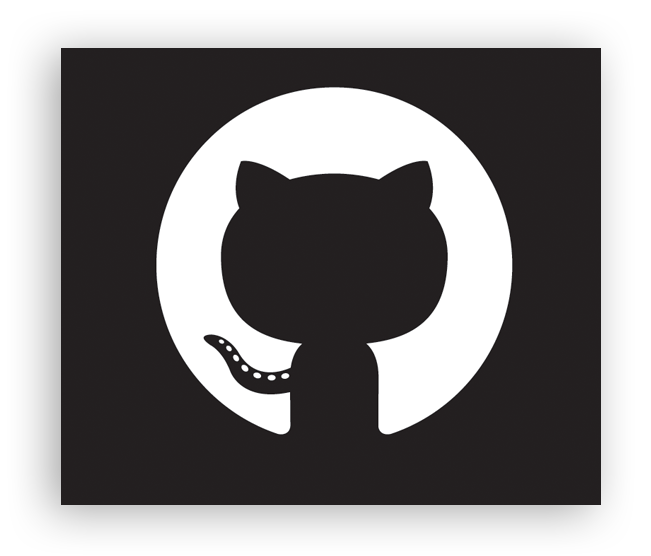 You should now see the GitHub home screen. However, you will not see any organizations or repositories. Before you can contribute or access any repositories, you need to verify and connect your account.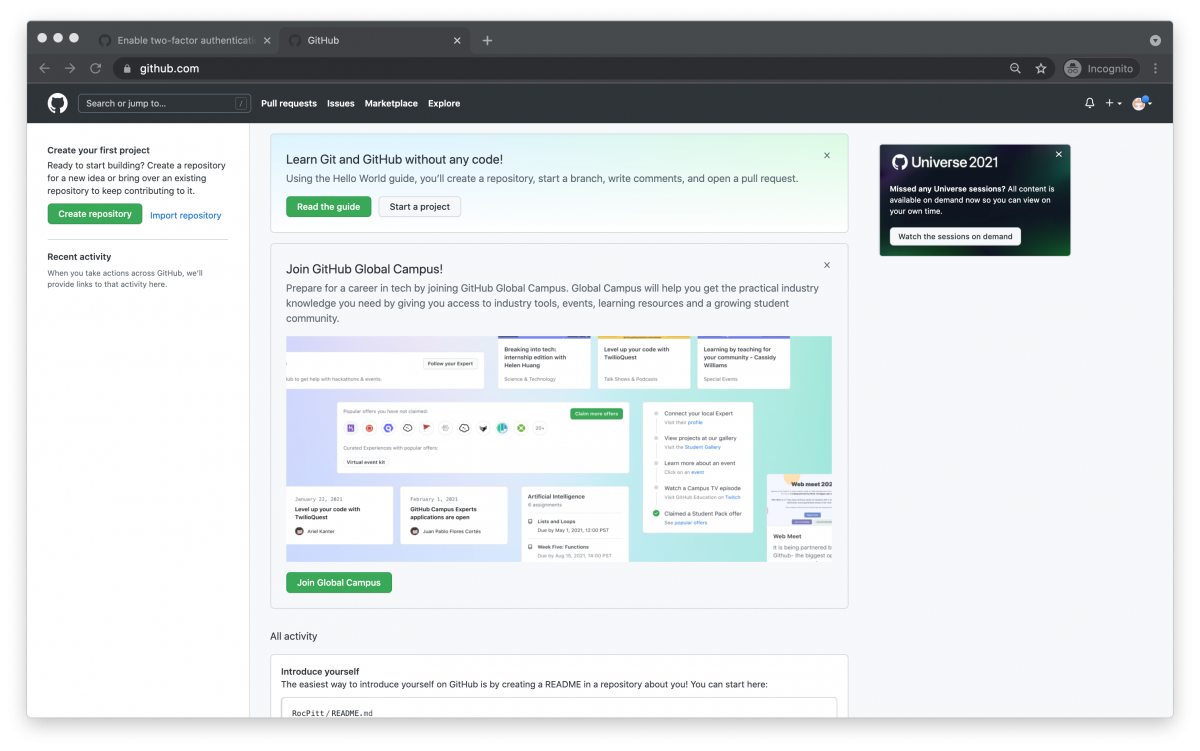 12. Verify your new account with the @pitt.edu email address used to create it. You should have a verification email already in your inbox. In it, click Open GitHub.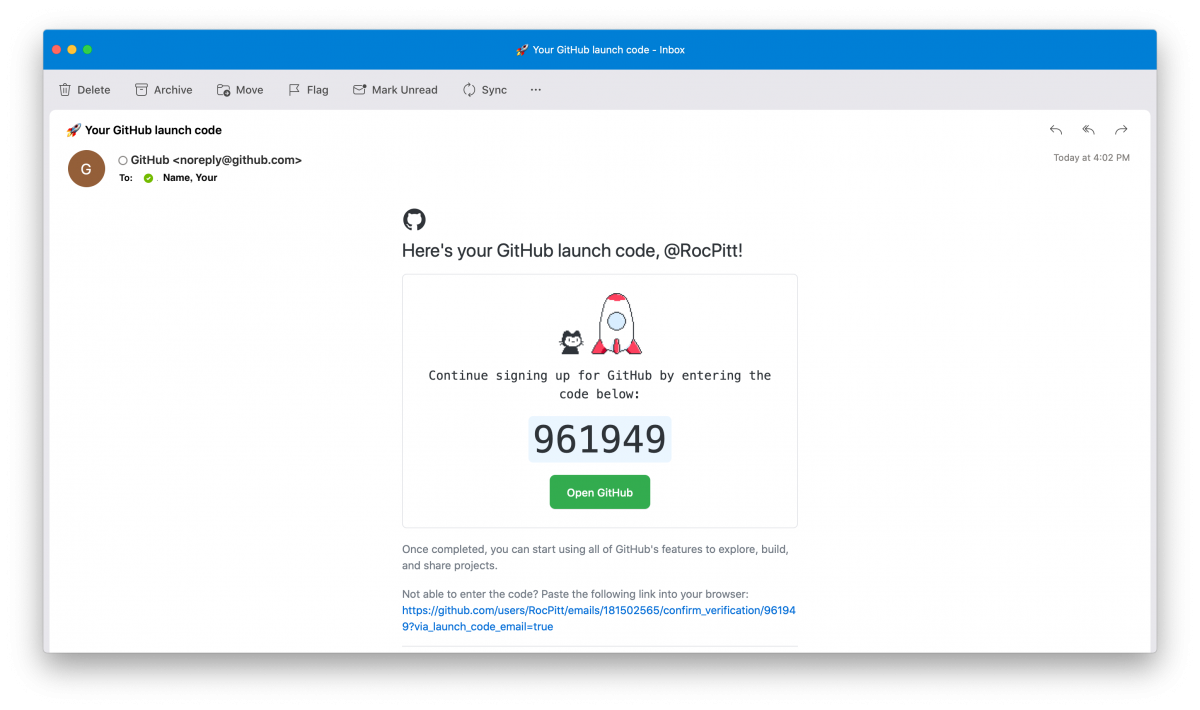 13. You will be taken to the GitHub verification screen where you must enter the 6-digit "Launch Code" provided in your email. After the final digit of your code is entered, a link will automatically trigger and take you back to the GitHub homescreen.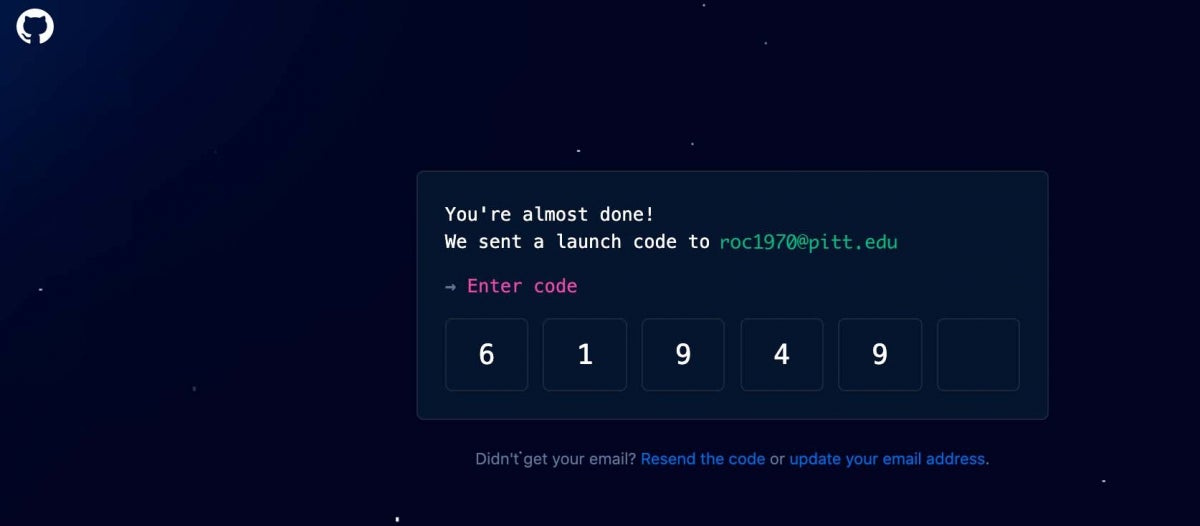 14. Now that your account has been created and verified, connect the account to your organization.
Find your original invitation email in your inbox.
Click Join @pitt-it or use the https://github.com/<your-org-name> URL from the email.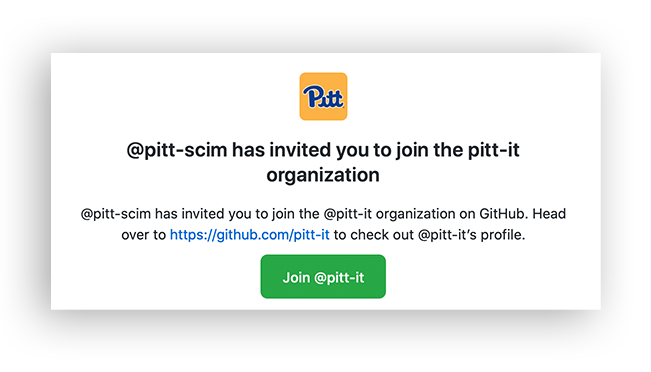 You should now be successfully connected to your invitation-linked organization. The Join @pitt-it link will take you to your Pitt GitHub organization's portal. Whenever you are granted access (or "invited") to join a repository, you can find it here. For instance, if you are in a class and your professor has created a repository for a specific project and has already invited you to join it, you will see it here.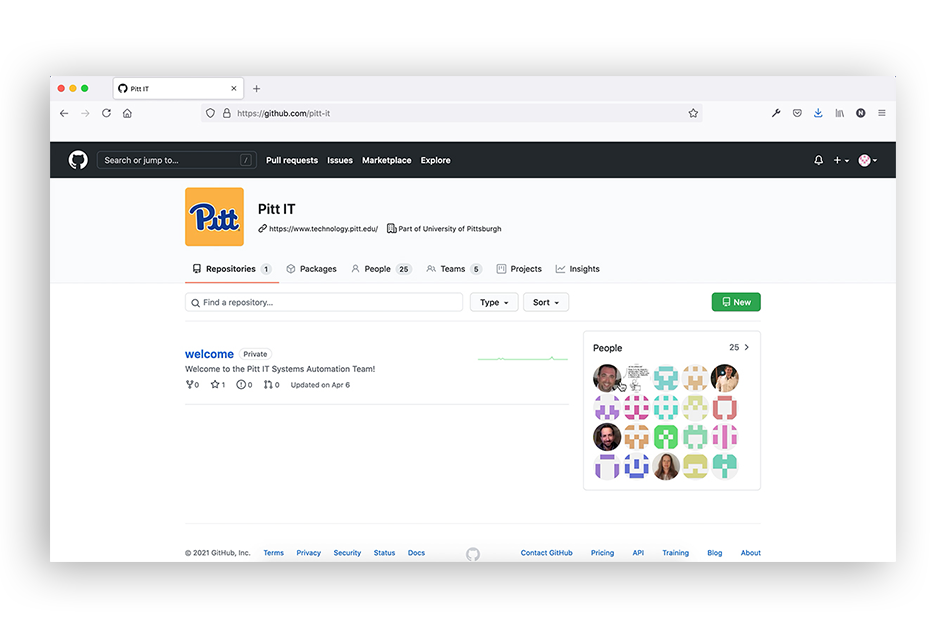 FAQs
How long will it take to be onboarded to the GitHub Enterprise service?
This program is a new Pitt IT offering and onboarding times for new users vary by each case. However, expect your onboarding process to take five or more business days to complete.
Do I have to pay to use GitHub Enterprise?
No. The University has partnered with GitHub to provide students, faculty, and staff with free access to projects and repositories hosted by Pitt IT, regardless of how many collaborators work on the projects.
I set up my account, but I don't see any repositories. What happened?
This is expected. Users, by default, do not have access to existing repositories when joining an Organization. Access to repositories must be assigned to either GitHub Teams or users directly.
You will need to receive an invitation from a GitHub administrator (ie: your professor or project leader) to access a repository.
Can I create my own repositories?
Yes! There are no restrictions on creating private repositories in an Organization.
Note: Only Organization Admins may create public repositories or switch the visibility settings of existing repositories between public and private.
Can I use my personal account?
Yes. GitHub recommends using only one user account to manage both personal and professional repositories. Learn more.
Can I merge my personal account with my new Pitt GitHub account?
Yes, if that is your preference. Learn how to merge multiple user accounts here.