You are here
Panopto Security Guide
Panopto is used by Pitt IT's Lecture Capture service and enables staff and faculty to record and share video content with the University community. However, before hitting record and uploading that video, here are some key considerations and guides to help ensure your privacy and the security of University data.
Key Considerations
Uploaded Content Is Not Private
Videos that you upload to Panopto, even those that are not shared, may be visible to Pitt IT systems administrators and a limited number of videographers
Do not upload any videos containing private or sensitive information that you wouldn't want others to see
Panopto is not an approved storage location for Restricted data
Sharing Permissions are Inherited
Videos and folders created directly in the default My Folder are not shared by default

Sharing a folder will automatically share all of the videos contained within that folder, including those contained within subfolders
New videos added to a shared folder, or its subfolders, are automatically shared with the people and groups who have access
Pitt Zoom Meeting Recordings
Zoom provides an option to record meetings In the cloud. When this option is selected, the recorded Zoom meeting is automatically uploaded to Panopto and saved to the My Meetings folder under My Folder
If the My Meetings folder is shared, all new cloud recorded meetings will be automatically shared
Do not share the My Meetings folder. If a recording needs to be shared with others, share the individual video or create and share a subfolder
Do not record meetings "In the cloud" that you wish to remain private. Zoom provides an alternative option to Record on this Computer, which saves the recording to your local device.
Consider requesting a HIPAA compliant Zoom account if you will be recording sensitive information. HIPAA Zoom accounts cannot save recordings to the cloud.
Use Caution When Sharing Videos with the Public
Videos and folders within Panopto can be shared with the public
Publicly shared videos can be viewed by anyone on the internet. A Pitt Passport account is not required.
Videos shared with the public are visible to anyone with access to the Panopto web application via the Everything tab
Do not share videos or folders with the public unless absolutely necessary
Remember that sharing permissions are inherited. Sharing a folder with the public will share all videos contained within that folder in addition to any subfolders
Review sharing permissions on your videos regularly
Uploaded Content is Permanent
Videos uploaded to Panopto are stored permanently, even if you leave the University
Periodically review and delete videos that you no longer want or need
Sharing Content
Navigating Shared Videos
Every user with a Pitt Passport account that logs into Panopto will have the following tabs available for browsing videos. Each tab may contain different videos depending upon how that content was shared with you.
Home
Home is the default landing page when logging into Panopto. It shows a curated list of videos available to you, including a What's New section showing recently shared content.
Subscriptions
This tab will display content from any creators, folders, or tags that you are subscribed to. For more information about subscriptions, please see How to Subscribe to a Video Creator, Folder, or Tag
Shared with Me
This tab shows videos that have been directly shared with you or your groups
Everything
This tab shows all videos you have permission to view, including all publicly available videos and those shared directly with you.

Understanding User Roles
When sharing content, individuals are granted a role, or set of permissions, to your videos. It's important to understand what these roles mean and how they impact what those individuals can see and do with your shared content.
Viewer
Individuals with the Viewer role can see content but cannot make any changes, add content, or share content with additional users. More specifically, Viewers can only do the following:
View Sessions
Download Podcasts
Take Notes
Make Notes Public
Search shared content
Creator
Individuals with the Creator role have much more control over the content shared. Creators can make changes and share content with additional users and groups. If granted the Creator role to a folder, these individuals may also add new content or delete existing content. Creators can do all of the following:
All Viewer permissions plus:
Add other Viewers or Creators
Edit Recordings
Download offline copies of Recordings
Delete Folders / Sessions
Attach / Delete PDFs
Move sessions to a different folder
View session statistics and analytics
Copy / Merge Sessions
Change Folder Settings
Understanding the sharing options
When sharing individual videos or folders, several options are available that determine who it will be visible to and how they can locate it. Note that only individuals or groups with the Creator role can share content.
Restricted
Only specific people and groups that you specify will be able to view the content. Videos will be visible in the Shared with Me tab.
Your organization (unlisted)
Anyone with a Pitt Passport account can view the content; however, they must possess the link to access the video or folder directly. Videos shared via this option will not be visible in the Shared With Me or Everything tabs.
Your organization
Anyone with a Pitt Passport account can view the content, and it will be visible in the Everything tab.
Public (unlisted)
Anyone can view the content provided they have access to the link to the video or folder. The content will not be visible in the Shared With Me or Everything tabs. A Pitt Passport account is not required for access.
Public
Anyone can view the content by browsing the public My Pitt Video website. A Pitt Passport account is not required for access, and the content will be visible on the Everything tab.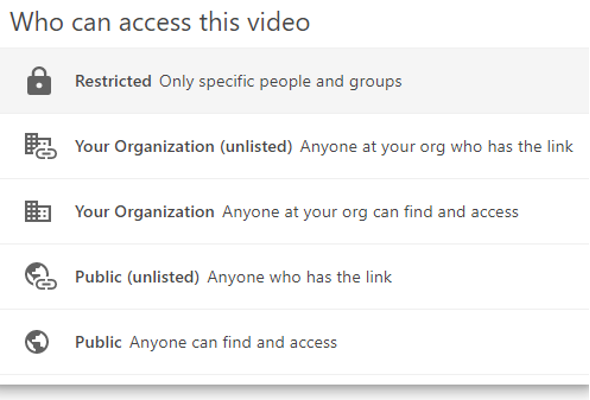 Reviewing who has access to your videos
Click the Share button next to a video to review who has access.


Two sections of the Share tab indicate who has access. See the image below for more guidance.
The Who can access this video section displays the general level of access that has been granted to this video. This is associated with the sharing options as described in the previous section. The potential values are;

Only specific people and groups
Anyone at your org who has the link
Anyone at your org can find and access
Anyone who has the link
Anyone can find and access.

If Only specific people and groups is selected, then this section lists the individual users and groups that the video has been shared with. Only these individuals will have access to view this content.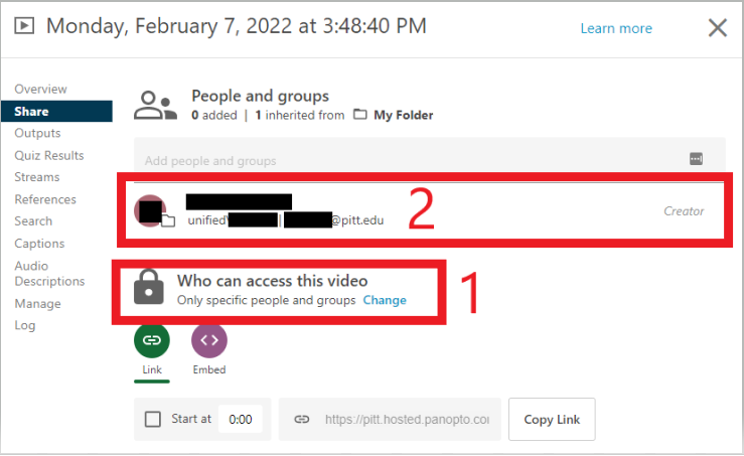 Inherited Permissions
Sharing permissions are inherited from the parent folder or folders where the video is located. When you share a folder, all videos and subfolders within that folder are also shared.
Clicking the Share button for a video and reviewing the Share tab can help identify where the sharing permissions are being inherited.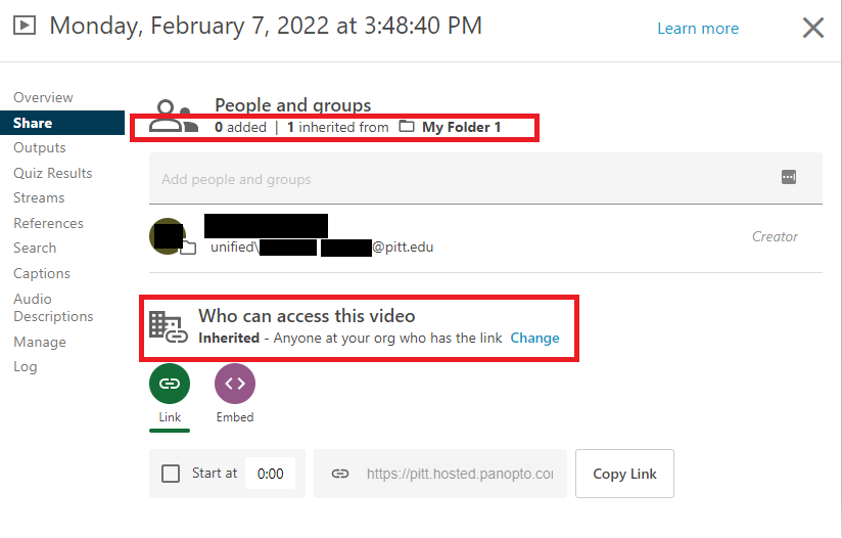 Underneath People and groups are a pair of indicators showing where the permissions are configured. The number added indicates individual users and groups granted access directly to this video. The number inherited indicates the users and groups that have been inherited from the video's parent folder, along with the name of the folder where those permissions have been set.
If the setting for Who can access this video has been inherited from a parent folder, you will notice the word Inherited next to the configured permissions.
Note that to grant a user the Creator role to a video, that user must be a Creator on the video's parent folder. The videos within that folder will then inherit the Creator role. The Creator role cannot be assigned directly to individual videos.
Determine what folder a video is in
When browsing your videos in the My Folder tab, the name of the current folder is located at the top of the window directly under the My Pitt Video logo.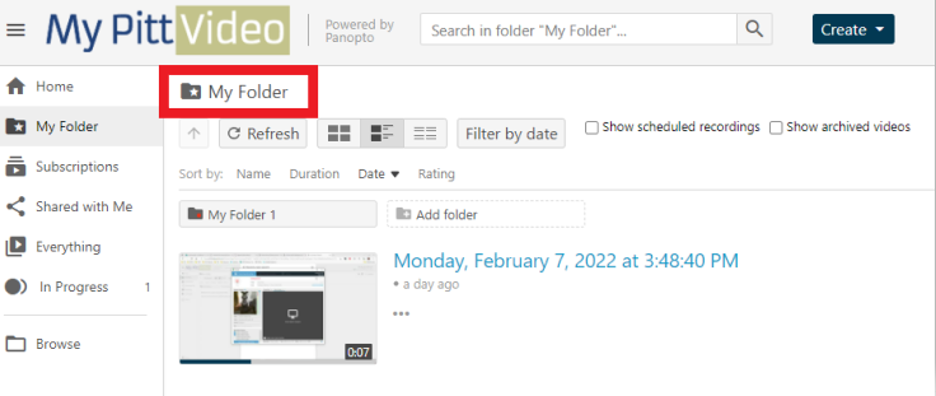 Move a video to a new folder
Mouse over your video and click the Settings button.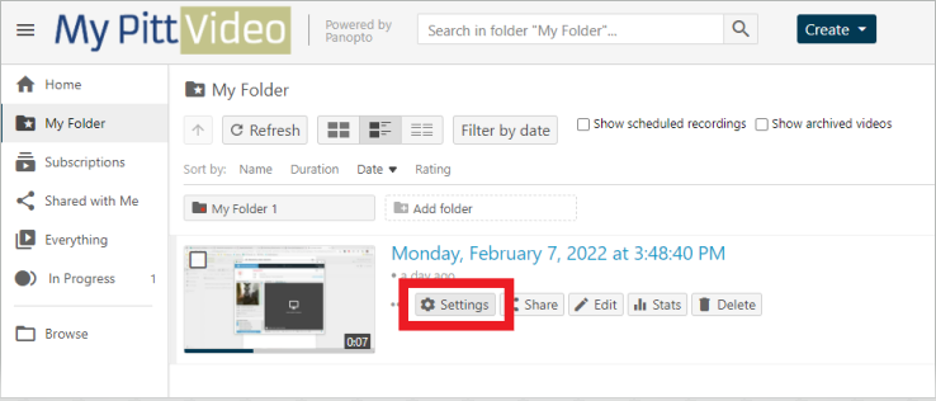 At the top of the Overview tab, you'll notice the Name of the video followed by the Folder. Click the Edit link next to Folder and browse the new destination folder. When ready, click Save to complete the move.
Use caution when moving videos to a new folder, as the video will inherit the sharing permissions from its new parent folder. This may result in losing access to the video if you do not have Creator permissions in the new location.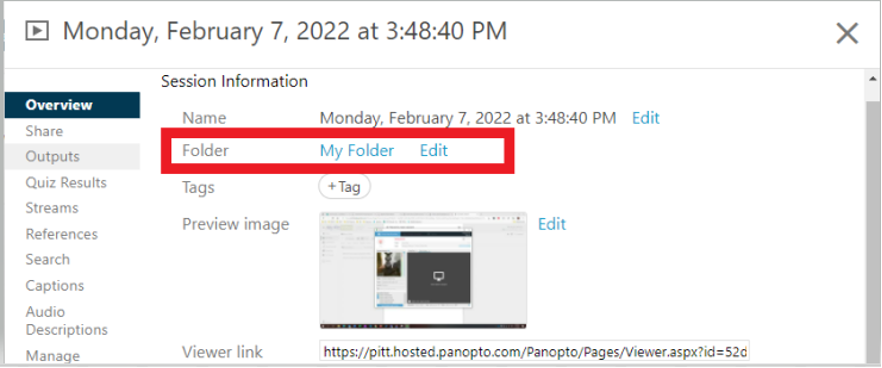 Disable Inheritance
You can prevent a folder, and its included videos, from receiving share permissions from its parent folder by disabling inheritance.
Browse to the folder where you wish to disable inheritance and click the gear icon in the window's upper right to open Settings.



Select the Share tab and note the existing inherited permissions.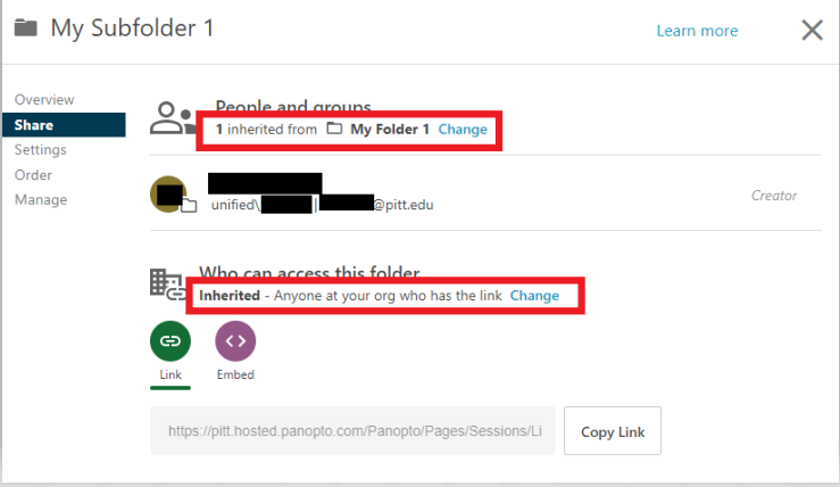 Click the Change link under People and groups and click the Stop Inheriting button.
Optionally, uncheck the box to Keep # member as an added user to remove all existing users and groups inherited from the parent folder.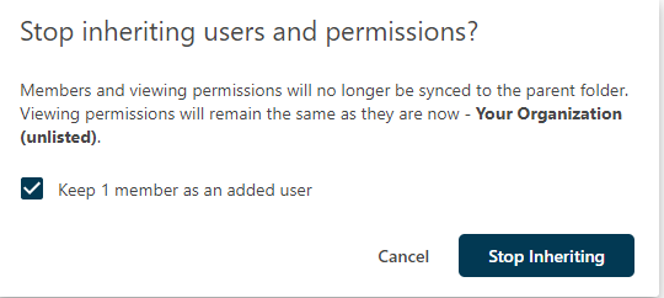 Click the Change link under Who can access this folder and uncheck the box for Inherit members and permissions from My Folder. Click the Save button to save your changes.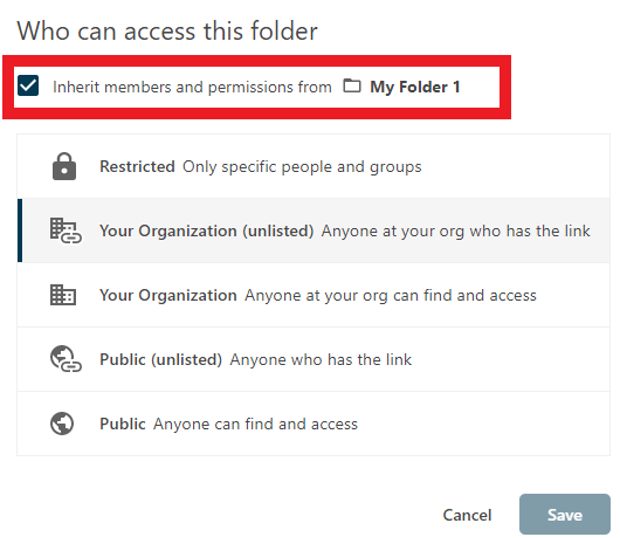 Content Creation
General Tips
Here are some general tips for creating new content to help protect your data and privacy.
Close all unneeded applications and web browser tabs before hitting record
Verify that your surroundings are clear of private or sensitive documents and items
Once the record button has been pressed, always assume anything that you say or do is being recorded, even when your microphone is muted, or the camera turned off
Always verify the folder where your video will be uploaded within Panopto to avoid unintentional sharing or sharing with the incorrect audience
Panopto for Windows or Mac
Panopto for Windows and Panopto for Mac are applications that can be downloaded to your device for creating video content and uploading it to Panopto.
Verify your folder
Panopto will automatically upload videos to the selected folder by default once the recording is complete. You can view the currently selected folder at the top of the Create New Recording window. If needed, use the drop-down arrow to change the selected folder. Panopto Recorder will remember the last folder used to create a video.


Delete recordings once they are uploaded
Video recordings are first saved to your device's hard drive before uploading to Panopto. By default, these copies are not automatically deleted once the upload is complete and will remain on your device indefinitely.
To protect your privacy, Pitt IT Security recommends enabling the option to Delete recordings once they are uploaded. This option can be found under the Settings tab.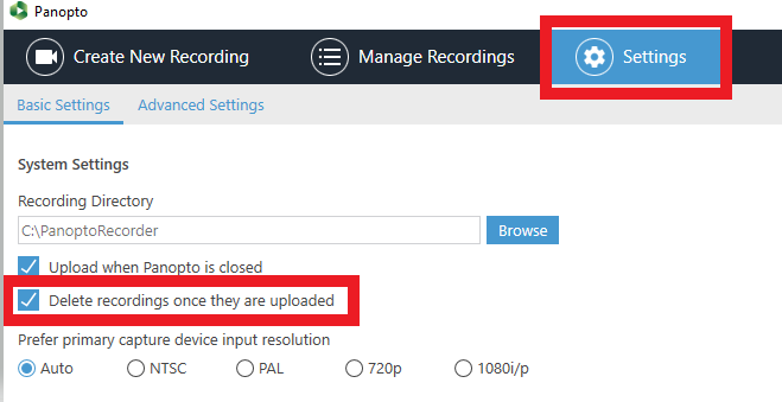 Panopto Capture
Panopto Capture allows you to record content directly from your web browser. When the recording finishes, you will be given an option to select the folder in Panopto where the video will be saved. Use the drop-down menu to change the destination folder and close the window when finished.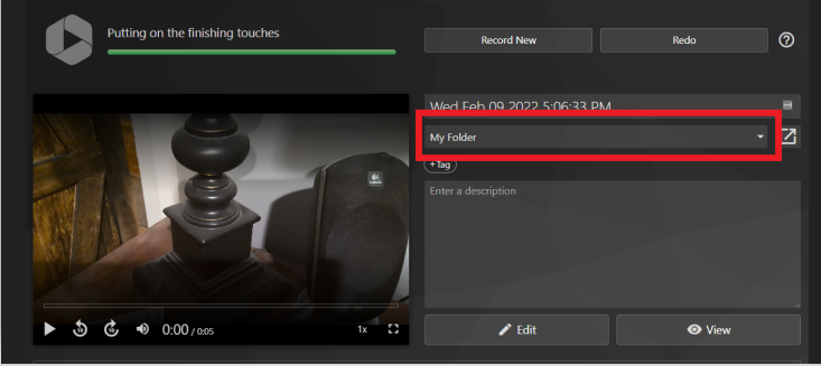 Upload Media
The Upload Media feature allows you to upload previously captured videos to Panopto. Before uploading files, always verify the selected folder via the drop-down at the top of the window to avoid unintentionally sharing.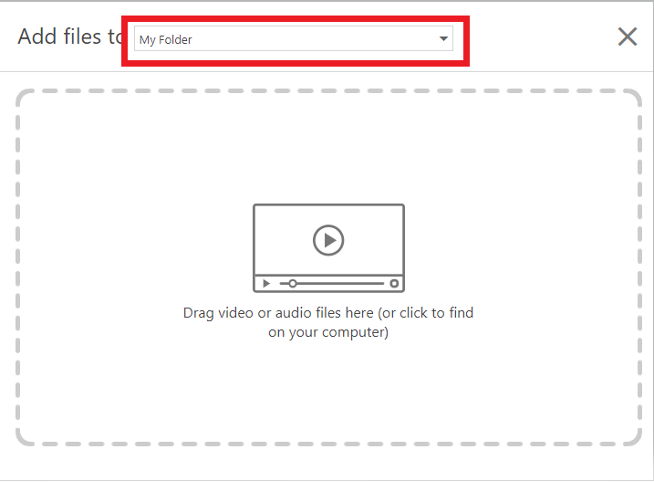 Webcast
Webcasts allow for the live streaming of content to the target audience. When creating a new webcast, always verify the selected folder to ensure you share with the correct audience.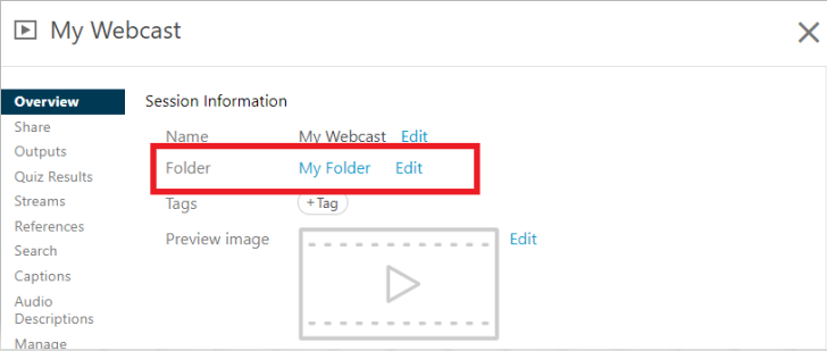 Build a session
Build a session allows you to combine slides, video, and audio into a single piece of content. When creating a new session, always verify the selected folder to ensure you share with the correct audience.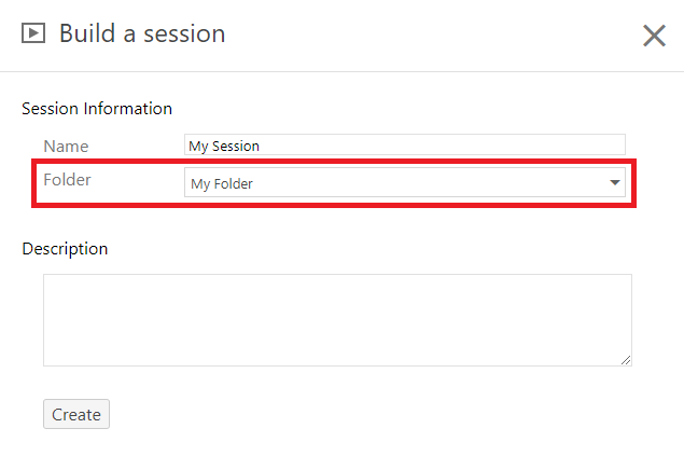 Playlist
Playlists combine multiple videos into a single piece of content for subsequent viewing. When creating a new playlist, always verify the selected folder to ensure you share with the correct audience.
Note that users will not see videos in the playlist that have not been shared with them. Videos must be shared first before adding to a shared playlist.