Monday, December 1, 2014 - 08:59
Computing Services and Systems Development (CSSD) is responding to reports of a new email phishing scam being received by members of the University community. The email is titled "Quota Limit" and claims that you are approaching your email quota limit and need to click on a link to avoid losing your account. The email message actually links to a harmful Web site. The phishing scam also uses the University's banner in attempt to appear more authentic.
If you receive this message (or any message similar to it), delete it without replying, opening any attachments, or clicking on any links within the email. The following is a screenshot of the recent fraudulent email: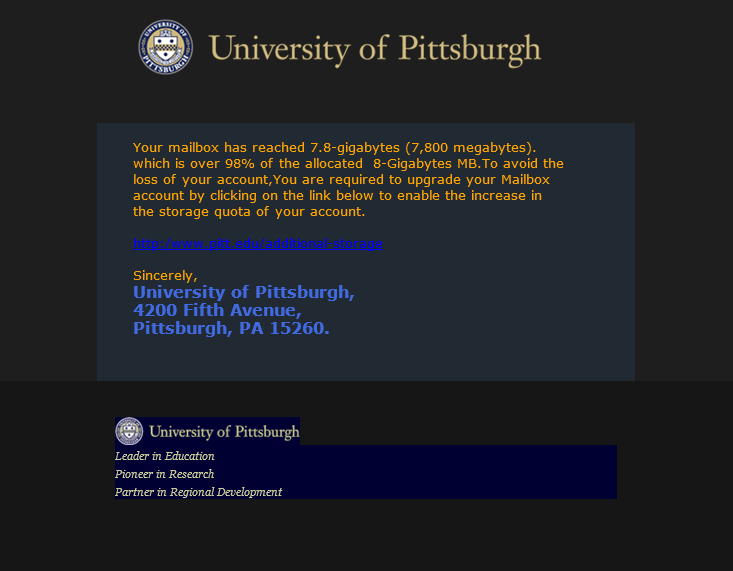 CSSD strongly recommends that you do not reply to unsolicited emails or emails from unverifiable sources. Avoid clicking on links contained in such emails, as these may lead to sites that contain harmful software. If a link looks suspicious, you can hover over the link with your mouse to preview the URL without clicking on it.
In addition, CSSD recommends that all users install Symantec Endpoint Protection software and use the LiveUpdate feature to get the latest virus definitions. Symantec Endpoint Protection can be downloaded at no cost through the Software Download Service at My Pitt (my.pitt.edu).
Please contact the Technology Help Desk at 412 624-HELP [4357] if you have any questions regarding this announcement