Monday, May 9, 2016 - 14:48
Computing Services and Systems Development (CSSD) is responding to a new email phishing scam that claims Outlook Web Access has been upgraded and you need to click on a link to upgrade your webmail. The email Subject line is typically "To All Faculty/Staff" and it appears to come from an email address outside the "pitt.edu" domain.
The following is a sample of the recent fraudulent email. If you receive this message (or any message similar to it), delete it without replying, opening any attachments, or clicking on any links within the email.
******************************************************************************
Subject: To All Faculty\Staff
To All Faculty\Staff
Take note of this important update that our new web mail has been improved with a new messaging system from Outlook Web Access which also include faster usage on email, shared calendar, web-documents and the new 2016 anti-spam version.
Please use the link below to complete your upgrade for our new Outlook Web Access improved web mail.
CLICK on STAFF AND STUDENT UPGRADE (link removed)
Regards,
IT Service Desk Support.
This message and accompanying documents are covered by the Electronic Communications Privacy Act, 18 U.S.C. §§ 2510-2521, and contain information intended for the specified individual(s) only. This information is confidential. If you are not the intended recipient or an agent responsible for delivering it to the intended recipient, you are hereby notified that you have received this document in error and that any review, dissemination, copying, or the taking of any action based on the contents of this information is strictly prohibited. If you have received this communication in error, please notify us immediately by e-mail, and delete the original message.
******************************************************************************
The link in the phishing email directs readers to a malicious Web page that looks similar to the page shown below. The page attempts to collect your username, password, and domain.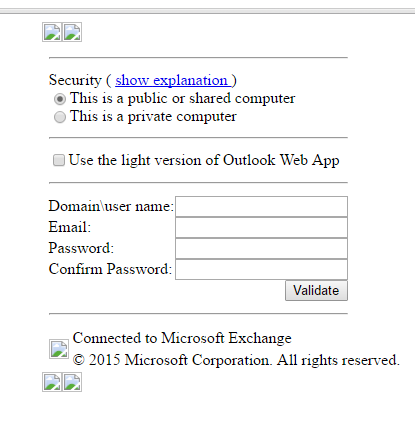 CSSD strongly recommends that you do not reply to unsolicited emails or emails from unverifiable sources. Avoid clicking on links contained in such emails, as these may lead to sites that contain harmful software. If a link looks suspicious, you can hover over the link with your mouse to preview the URL without clicking on it.
In addition, CSSD recommends that all users install Symantec Endpoint Protection software and use the LiveUpdate feature to get the latest virus definitions. As a complement to Symantec Endpoint Protection, CSSD offers Malwarebytes Premium for individuals and departments at no cost. Students, faculty, and staff can download Malwarebytes and Symantec Endpoint Protection at no cost through the Software Download Service at My Pitt. Departments can submit a help request to obtain Malwarebytes for multiple machines.
Please contact the Technology Help Desk at 412-624-HELP [4357] if you have any questions regarding this announcement.