Tuesday, March 29, 2016 - 17:13
Computing Services and Systems Development (CSSD) is responding to a new email phishing scam that claims your password will expire in two hours and you must log in to change it. The message may use the Subject line "URGENT STAFF MESSAGE" and will appear to come from an external .edu email address.
The following is a sample of the recent fraudulent email. If you receive this message (or any message similar to it), delete it without replying, opening any attachments, or clicking on any links within the email.
******************************************************************************
From: <account redacted>
Subject: URGENT STAFF MESSAGE
Importance: High
Attention,
Your Password Expires in 2 hours you are to change your Password below via the ACCOUNT MANAGEMET PAGE.
Click on CHANGE-PASSWORD <link removed>
If Password is not changed in the next 2 hours your next log-in access will be declined.
If you do find any difficulties to Changing your Password please contact the ITS Helpdesk.
Regards,
ITS Helpdesk
******************************************************************************
The link in the phishing email directs readers to a malicious Web page that looks similar to the page shown below. The page attempts to collect your username, password, and departmental information.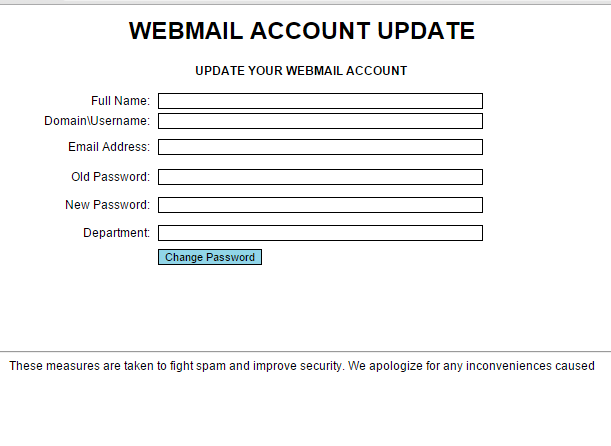 CSSD strongly recommends that you do not reply to unsolicited emails or emails from unverifiable sources. Avoid clicking on links contained in such emails, as these may lead to sites that contain harmful software. If a link looks suspicious, you can hover over the link with your mouse to preview the URL without clicking on it.
In addition, CSSD recommends that all users install Symantec Endpoint Protection software and use the LiveUpdate feature to get the latest virus definitions. As a complement to Symantec Endpoint Protection, CSSD offers Malwarebytes Premium for individuals and departments at no cost. Students, faculty, and staff can download Malwarebytes and Symantec Endpoint Protection at no cost through the Software Download Service at My Pitt. Departments can submit a help request to obtain Malwarebytes for multiple machines.
Please contact the Technology Help Desk at 412-624-HELP [4357] if you have any questions regarding this announcement.