Thursday, June 16, 2016 - 13:37
LabArchives users will no longer be able to edit documents using the Java-based online editor after June 17. Prior to this change, LabArchives users had the option of choosing either a Java-based or HTML-based editor to create or modify "Office Documents" in the LabArchives environment.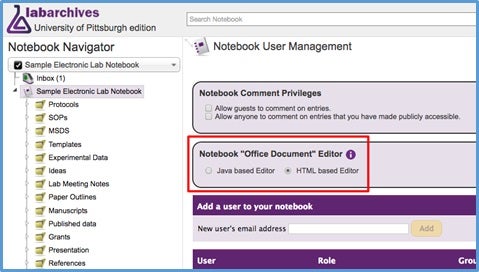 After June 17, this choice will no longer be available. Only the Thinkfree HTML-based Web editor will be available for the editing these documents.
This change will not affect how notebooks and documents are saved. Data will continue to be stored securely on the LabArchives cloud in the same manner. Prior versions of notebooks will continue to be available for viewing or restoration of data.
LabArchives is making this change to maintain compatibility with modern browsers while making sure that online office documents continue to be secure.
Some important things to note:
This change currently only affects Professional edition users (faculty and research staff). Classroom edition users (students) will continue to use Zoho, the previous HTML online editor. LabArchives will implement the default change to Thinkfree for Classroom edition users at some point in the future.
Current notebooks that have the Java-based editor selected will be switched to the new Thinkfree HTML-based editor.
Current notebooks that have the HTML-based editor selected will remain using the previous HTML-based editor, Zoho.
By default, new notebooks will be set to use Thinkfree.
There are some known issues with the Thinkfree editor:
Co-authoring is available for just documents and spreadsheets (it was not designed to be available for presentations)
While in co-authoring mode, there is a "+" in the co-authors' names and some names may be duplicated.
It is not completely compatible with Microsoft's Edge browser.
LabArchives is working to address these issues.
To learn more about Electronic Lab Notebooks (LabArchives), visit http://technology.pitt.edu/service/electronic-lab-notebooks.