Sunday, May 21, 2017 - 00:04
Earlier this spring all students, faculty, and staff were invited to take a survey and provide us with information about their Pitt Mobile experience. Pitt Mobile is an app and mobile Web site that provides helpful University information such as an interactive campus map, an online directory, an events calendar and more. Based on feedback from the survey, two designs were created and all students, faculty, and staff were invited to cast their votes for their favorite Pitt Mobile App design.
The results have been tallied and a winning design has been determined. The new site keeps the styling simple by using the blue-and-gold University colors. It also uses a traditional, icon-based layout with quick links to content. The site display adjusts to the mobile device used, but not to computers, tablets, or other devices. The new design looks like this: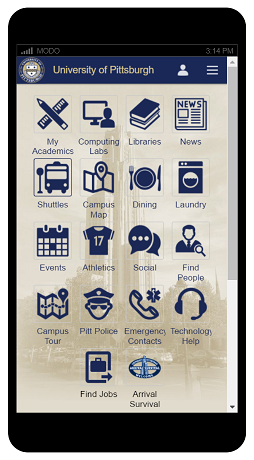 New site features include:
Icons that are arranged based on survey results and usage metrics.
A Find Jobs icon has been added that links to PittSource, the University online employment system.
An Ask Cathy link that can be used to search for and discover information about the University and services that are offered.
A link to a Mobile Feedback form for students, faculty, and staff to continue to share Pitt Mobile experiences with us.
Access to Arrival Survival that will be available during the campus move-in week.
Information about special features and campus events that will be placed in the header of the app. Check Pitt Mobile often to see what's going on.
Please continue to provide feedback on your Pitt Mobile experience. Your feedback is a valuable and important part of improving the service.
Get the free Pitt Mobile App for iPhone and iPad via the App Store or use Google Play on Android devices.
For additional information, visit the Pitt Mobile page or check out the Ask Cathy feature.