Tuesday, October 13, 2015 - 16:53
Join us for a Cyber Security Symposium on October 26 in the William Pitt Union Assembly Room from 11:00 a.m. to 2:15 p.m. The event is free and open to all University of Pittsburgh faculty and staff. A light lunch will be provided.
This year's symposium features interactive workshops that allow participants to engage with CSSD Security experts on a variety of topics. You can attend one session or stay for them all.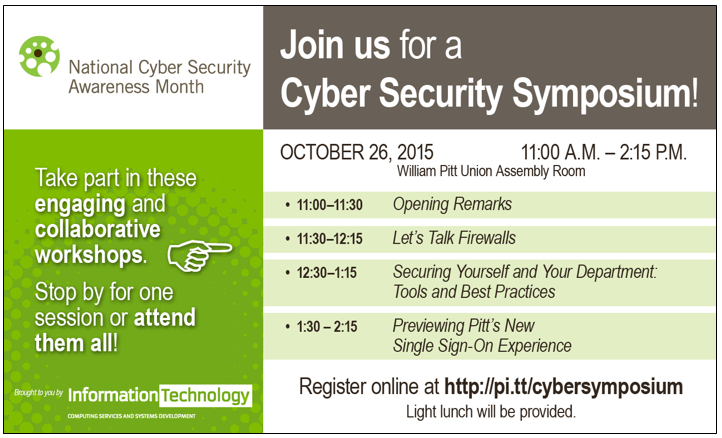 Session Details
11:00 – 11:30 Opening Remarks
Senior Security Analyst Brian Pasquini will provide an inside look at how Computing Services and Systems Development secures the University of Pittsburgh. Brian will explain the layers of protection we provide, highlight some of the security services we offer, and examine how the Security team collaborates internally and with other departments to safeguard the University's computing environment.
11:30 – 12:15 Let's Talk Firewalls
Since 2007, the University has worked diligently to ensure all systems are protected behind enterprise firewalls. Firewalls are only one of many security layers protecting the University, but they are probably the most visible and frequently used layer for our departmental IT partners. This collaborative session invites IT support staff in other departments to discuss firewalls with us in more detail. We will cover topics such as why firewall rules must be requested, what processes the CSSD Security team uses to review those rules, and how firewall rules are implemented.
Subject Matter Experts: CSSD Security Analysts Trent Wissner and Ric Fera
12:30 – 1:15 Securing Yourself and Your Department: Tools and Best Practices
In this session we will examine the wide variety of security tools we provide at no cost to departments and individuals. Just as importantly, we will ask participants to discuss what security tools we do not currently offer that may be useful. In addition, we will explore the security best practices we make available to help University departments establish sound departmental policies and procedures. We will also discuss what best practice documents or procedures we could add to our inventory to assist departments.
Subject Matter Experts: CSSD Senior Security Analysts Chris Seiders and Jeff Walzer
1:30 – 2:15 Previewing Pitt's New Single Sign-on Experience
In the near future we will be implementing a new "single sign-on" experience that delivers a single, trusted login experience to the University services and applications you use every day. In this session we will provide a sneak peak of that service and explain its benefits, including the ability for departments to leverage single sign-on for their own applications. Part of the single sign-on experience will feature an enhanced security measure called multi-factor authentication that will be available as an optional benefit in most cases and a mandatory requirement in others. Join us to learn more and provide feedback!
Subject Matter Expert: CSSD Enterprise Architect Dan Menicucci