Tuesday, May 31, 2016 - 10:34
The implementation of Microsoft Advanced Threat Protection on June 4, 2016 will add another layer to the University's existing security controls. Advanced Threat Protection enhances security and helps protect against advanced persistent threats with two new features: Safe Links and Safe Attachments.
Safe Links
Safe Links evaluates the links in an email message in real time to determine whether they link to safe or harmful content. All links evaluated by Safe Links will be replaced by a longer URL that that begins with 'https://na01.safelinks.protection.outlook.com/?', similar to the example shown below.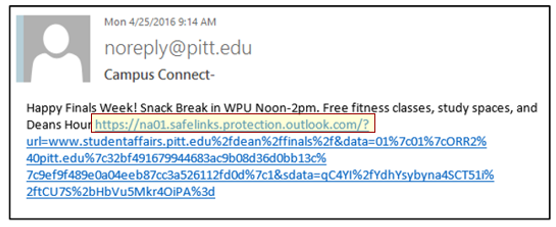 If the link is safe, you will be sent to the original Web address when you click on it. If the link is not safe, you will see a warning message indicating that the Web site you are trying to visit is harmful.
Safe Attachments
Safe Attachments is a feature that protects against harmful email attachments. Safe Attachments opens attachments in a virtual environment and analyzes their behavior to determine whether they are harmful. If the attachment is safe, it will be delivered to you along with the original email message. If the attachment is harmful, the email will be blocked and the message and attachment will not be delivered.
The analysis process may cause some minimal (measured in minutes) delay in delivery to you of email messages with attachments.
More information about Advanced Threat Protection is available at http://technology.pitt.edu/atp.