You are here
Microsoft Teams: Signing In on Legacy Polycom Phones
Why do I need to sign in?
Your legacy Polycom phone is tied to your University Computing Account and can still be used with Microsoft Teams. This means you can take your phone almost anywhere on campus. Plug it into an Ethernet port, sign in, and use it to make and receive calls. If you need to work from a different physical location for the day, your phone can go with you.
When do I sign in?
Your phone will be signed in when it is initially set up for you. It will stay signed in, even if you log out of your computer. There are a few occasions when you will need to sign in again:
When you change your University Computing Account password (every 180 days)
If there is a power outage or network maintenance that affects your building
If the screen on your phone looks like the screen pictured below, it means your phone is signed out. You will not be able to make or receive calls. Tap Sign In to begin.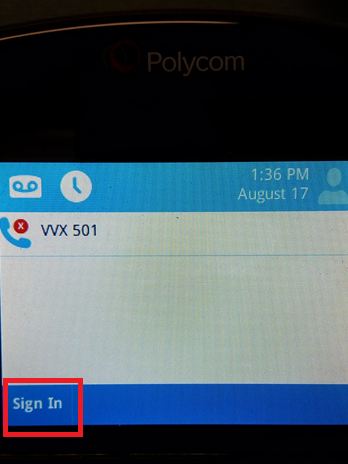 How do I sign in?
Sign in to your phone using Web Sign-In:
Tap Sign In on the bottom-left of you phone's display.
Tap Web Sign-in on your phone's display. A code will appear.
From a web browser, visit aka.ms/sphone.
Enter your primary username@pitt.edu email address and click Verify Email.
Log in with Pitt Passport multifactor authentication.
Enter the sign-in code from your phone's display into the login screen of your browser; click Continue.
Click on your username to complete the sign-in process.