Spam Filtering: Approve or Block Senders for non-Outlook Users
Office 365 Email makes it easy to block or allow senders right from Outlook.
If you do not use Outlook, you can use the instructions below to add email addresses to your list of approved/safe senders or blocked senders from Outlook Web Access.
1. Log in to My Pitt (my.pitt.edu) and click the Pitt Email link in the upper right-hand corner of the window.
2. Click the gear icon in the upper right-hand corner of the window.
3. Under Settings, type block, then click the Block or Allow setting that displays below your search term.
4. Make sure the radio button next to Automatically filter junk email is selected.

5. To block or allow an individual sender, enter an email address (for example, user@gmail.com) under Safe Senders or Blocked Senders and click the Save icon at the top of the page.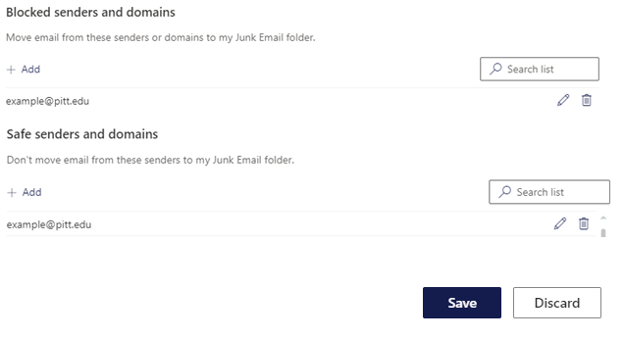 Note: To edit an existing email address, click the address to highlight it, then click the pencil icon. You can also click the trash can icon to delete an email address from your Safe Senders or Blocked Senders.