You are here
Office 2007: Introduction
Overview
With the release of Office 2007, Microsoft made several improvements to the Office suite that includes Word, Excel, PowerPoint, Access, and Outlook. The biggest changes to the software have been in the graphical interface. The menu and toolbars have been replaced by the Ribbon. Office 2007 is for computers with the Windows operating system.
Features
Many changes have been made to Office with the release of 2007. The information provided in this document is by no means an all­-inclusive listing of all the changes.
User Interface
1. The Ribbon replaces the menus and toolbars in the core applications: Word, Excel, PowerPoint, Access, and the mail editor of Outlook. The other applications will be updated in later versions. Items are grouped together based on usage and context. For example, all editing commands are together on the Home Ribbon tab. The Home Ribbon is the default tab that appears when an application is launched.
2. The Office Button, found in the top left corner of the application window, replaces the File menu. It gives access to functions that are common in all Office applications. Examples are opening, saving, and printing a file.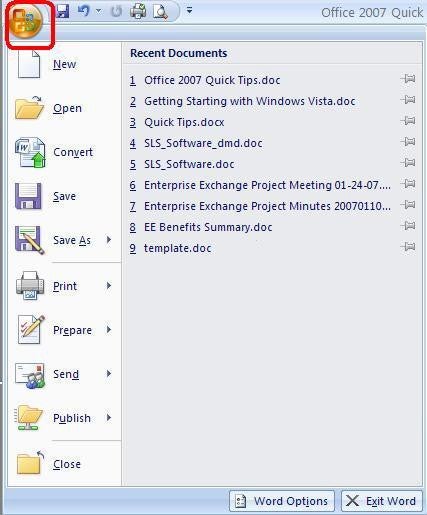 3. Live Preview temporarily applies formatting on selected text or objects whenever a formatting button is moused over. The formatting changes from button to button and is only applied if the button is clicked. This allows the user to preview any format changes before applying them.
4. The Quick Access toolbar is located next to the Office Button. It provides quick links to commonly used commands, such as Save, Undo, and Search. The Quick Access toolbar can be customized to add such commands as print and spell check.
5. The Mini Toolbar provides easy access to the most commonly used formatting commands. It appears as a ghost image beside any text or object that you select. As you mouse over the toolbar, it becomes solid and can be used to apply formatting. You cannot customize the Mini Toolbar.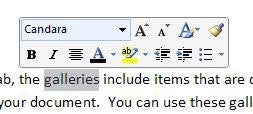 6. Contextual Tabs appear on the Ribbon when certain objects are selected. These tabs provide easy access to options specific to the selected text or object.
File Formats
Office 2007 offers a new file format for all applications in the suite. The new default file format is Open XML and is based on XML. This file format is 75% smaller than current Microsoft Office formats. Documents are now saved with a different extension. For example, Word documents will be saved as filename.docx.
Help
The Office Assistant is no longer available in Office 2007. Office 2007 now has Super Tooltips, which are pop­ups that explain a function in just a few lines of text. Diagrams and pictures may also appear if they apply.
Application-specific Changes
Several improvements have been made to the applications that make up the Office suite. The following is not an all-­inclusive list, but provides highlights of some of the more commonly used functions.
Word
1. Citations and bibliographies can be generated automatically for a variety of style rules, including APA, Chicago, and MLA. All references are updated when styles are changed.
2. Full-screen reading layout can show two pages at a time. The view fills the screen and provides access to tools that can be used in the review process.
3. Bloggers can now use Word to write and upload their content. Supported blogging sites include Windows Live Spaces, SharePoint, and Blogger.
Outlook
1. Outlook 2007 cannot be used with an Exchange 5.5 server. Outlook will only work with Exchange 2000 and above.
2. Outlook includes a reader for RSS feeds. RSS feeds are used to distribute frequently updated web or digital content. Examples are blogs, news feeds, or podcasts. A separate client no longer needs to be installed to read RSS feeds.
3. Outlook indexes e­mails, calendar, contacts, or other content that is available in the client for easy searching.
4. You can now work with multiple calendars simultaneously. Side­-by-­side views of the calendars are available to help the user in making comparisons between the calendars.
5. Attachment preview lets you view e­mail attachments without opening another program.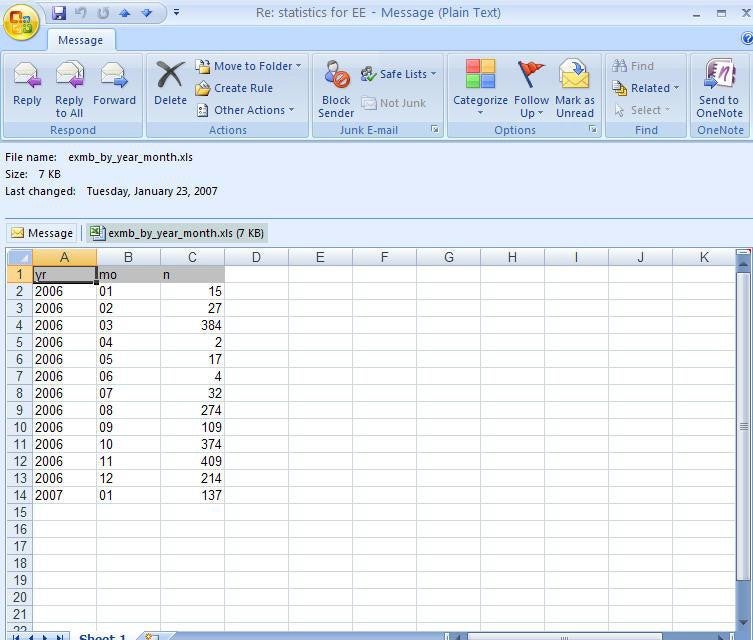 6. Outlook also contains a To-­Do Bar, which displays calendar and task items.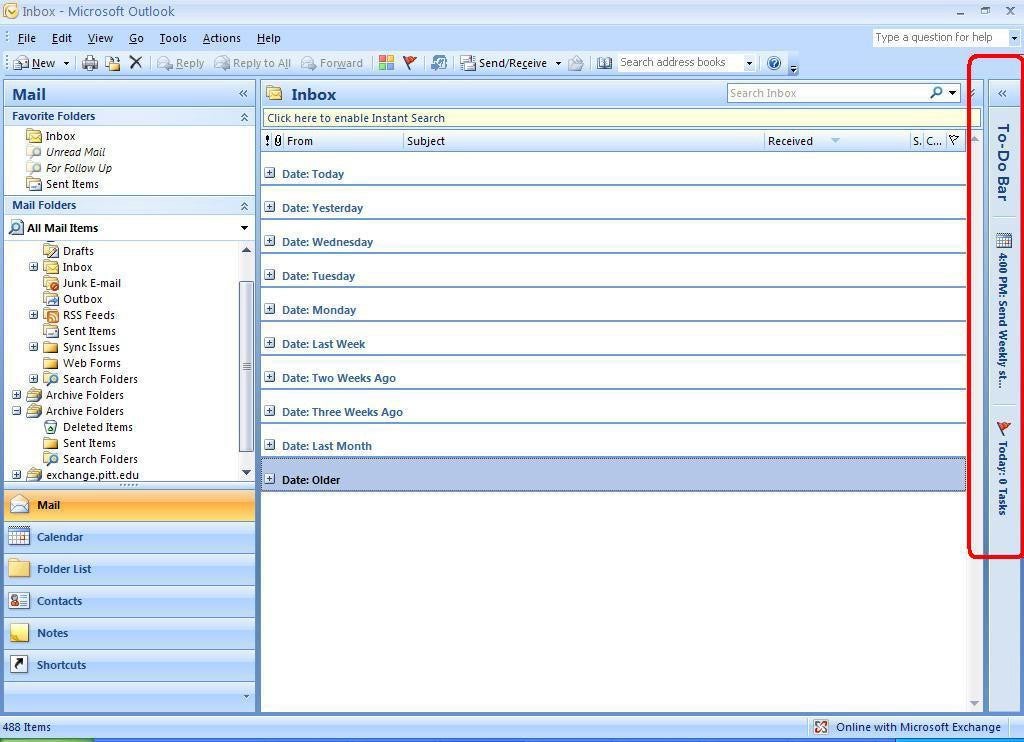 Excel
1. Data can now be imported from external sources, such as databases, formatted tables, and reports.
2. Excel has new charting capabilities, which support advanced formatting and 3D rendering.
PowerPoint
1. PowerPoint has improved text rendering for graphics, and can render 3D graphics.
2. Support for tables now allows the user to paste Excel tables into PowerPoint.
Access
1. Access has support for more data types, including documents and images.
2. Changes that are made to tables are now updated in all reports that reference the table.