You are here
Microsoft Office 365 Audio Conferencing
Microsoft Office 365 Audio Conferencing adds dial-in conference options to your Teams meeting. With Audio Conferencing, you and your meeting participants can join a conference even if you don't have access to the Microsoft Teams app. You can also host an audio-only conference.
Dialing In
1. Dial the Office 365 Audio Conferencing number located in the "Join Microsoft Teams Meeting" invitation below.
2. When prompted, enter the Conference ID followed by the pound (#) sign.
| | |
| --- | --- |
| Office 365 Audio Conferencing in Teams | Office 365 Audio Conferencing in Skype for Business |
| | |
Your PIN
You received an automated email from Microsoft (similar to the one shown below) when Office 365 Audio Conferencing was activated for your account. This email contains your Personal Identification Number (PIN). Save your PIN for future reference and keep it confidential. You only need to use your PIN if you are the meeting organizer and everyone is dialing in to the meeting as an audio-only conference.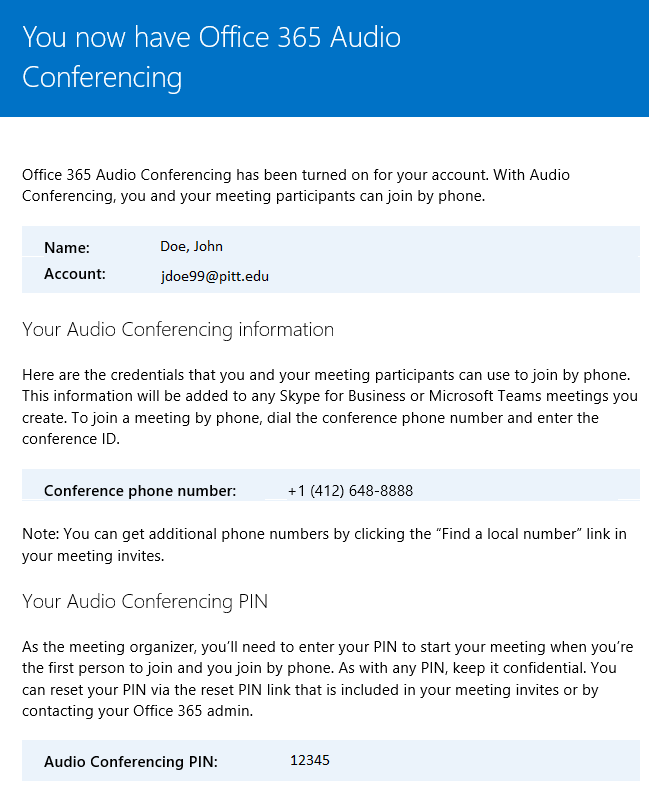 Hosting an Audio-Only Telephone Conference
You can use Microsoft Office 365 Audio Conferencing to host audio-only telephone conferences. If your department pays for the University's Telephone Conferencing Service, Microsoft Office 365 Audio Conferencing may be able to meet your needs at no additional cost.
Distribute the toll-free number and conference ID number to your invited participants.
Note: You can find these by selecting a time on your Outlook calendar, clicking New Appointment, then Teams Meeting. The phone number and conference ID will display in the meeting details. You do not need to create or send an actual meeting.
To open the conference, call the toll-free number, enter the conference ID number, and enter your host PIN.
Your participants will join the call by dialing the same toll-free number and entering the conference ID number that you have provided. The conference call system will use voice prompts to guide participants through the steps that are required to join the call.
Note: It is a good practice to test the toll-free number with your conference ID number every month or so to make sure that is working as expected.