You are here
Installing and Activating ArcGIS Extensions
General Overview
ArcGIS is a powerful GIS (Graphical Information System) desktop system for editing and managing geographic data. Extensions are specialized tools that enable you to perform more advanced tasks such as raster geoprocessing and 3D analysis. Once ArcGIS has been installed on your computer, you can authorize the use of extensions.
1. From the Start menu, open ArcGIS Administrator.

2. Click on Desktop.
3. Choose Advanced (ArcGIS) Single Use.
4. Click the Authorize Now button. You will be prompted several times with authorization requests–click Next.

5. The Software Authorization Wizard will display.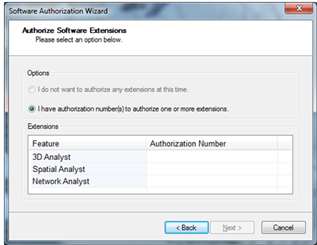 6. Enter the name of the extension and the authorization number provided on your ArcGIS purchasing invoice from Software Distribution Services. Click Next.
7. You will receive an authorization message similar to the one below.
8. Click Finish. You are now ready to use ArcGIS Extensions.
Notes:
ArcScan
Before using ArcScan, you must enable ArcScan extension in ArcMap. To do so, follow these steps:
1. Click Customize and click Extensions.

2. Check ArcScan.
3. Click Close.
ArcScan toolbar
To add the ArcScan toolbar, follow these steps:
1. Click Customize.
2. Point to Toolbars.
3. Click ArcScan.
Maplex
The functionality of Maplex is built into ArcGIS 10.1.
Get Help
The 24/7 IT Help Desk at 412-624-HELP (4357) is available 24 hours a day, seven days a week to answer your technology-related questions. Questions can also be submitted via the web.