You are here
Information Technology Graduation Checklist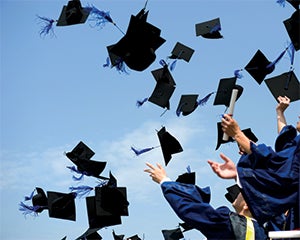 Congratulations, Seniors!
Soon you'll be graduating from Pitt and starting a new career. Now is a good time to take a few moments to wrap up some important technology items before you go.
✓ University Computing Account
Your Pitt student account will transition to an alumni account after you graduate. The transition to an alumni account will provide you with access to a number of important University services that you may continue to use after graduation.
✓ Pitt Email (Outlook)
You will retain access to your Pitt Email (Outlook) mailbox after you graduate, and you can keep your Pitt Email (Outlook) mailbox as long as you like. This means you can continue to send and receive email messages at your @pitt.edu email address and any email aliases that you created while you were a student.
✓ Most software will expire, but you can keep a copy of Office 2021 Desktop Edition.
Keep in mind that most of the software titles that you obtained as a Pitt student will expire upon graduation. However, you may download one copy of Office 2021 (or 2019) from pitt.onthehub.com before you graduate and use it for as long as you like. Other downloaded programs and services may still be valid, or can be transitioned to a private, individual account. Visit the Software page for specific details on each program.
✓ Have files on Pitt's Cloud Storage (Microsoft OneDrive)?
Be sure to transfer any files that you have in your Pitt cloud storage accounts (Microsoft OneDrive) to a personal account, or to an external storage device. It's easy to do.​
If you don't already have a personal Microsoft Live account go to https://onedrive.live.com and create a new account. Be sure to use an email address different than your @pitt.edu email address.
Download the files from your Pitt OneDrive account to your computer, and then upload them to your new personal OneDrive account.
Current pricing for personal accounts offer 5GB of storage for free and 50GB for just $1.99 per month (pricing subject to change).
✓ Stay safe with good computing practices
Keep using Pitt Password Manager (LastPass): your passwords should be hard to guess and unique for every account. LastPass makes it easy to generate, recall, and auto-fill your passwords, while only having to remember one Master Password. Your account will transition to a basic (free) account upon graduation, with the same Master Password. You can upgrade to a premium account if you choose.
Your antivirus and anti-malware software will remain active, but may not receive new updates once you leave. Be sure you have it loaded on all of your devices
Be sure you have the most recent versions of any software installed on your computer or devices. Staying current with updates ensures that you'll have the latest security patches and code fixes to resolve potential problems.
Beware of phishing emails, along with other scams and malware. Review our Safe Computing tips.
✓ Prepare to enter the workforce - helpful playlist at LinkedIn Learning
Be sure to view this LinkedIn Learning playlist that covers some frequently viewed courses by University students preparing to enter the workforce. If your LinkedIn profile was connected to your LinkedIn Learning account, it will continue to show your LinkedIn Learning courses, even after your free access to LinkedIn Learning ends. Note: Spring 2022 graduates' free access to LinkedIn Learning will continue through August 2022, so take courses to assist in your job search or to boost your resume while you still can!
✓ Update your Zoom account
You will not continue to have access to your Zoom account through Pitt after graduation. You may want to sign up for a free, personal account to use the service in the future. If you want to save any meeting recordings that you have stored in the cloud, you may want to download them from Panopto or Zoom.
✓ Access your student records
You will continue to have access to the PeopleSoft/HighPoint CX in order to view your grades, or request a transcript or enrollment verification online.
✓ Remember to keep in touch!
You can always visit this site for the latest technology news. Like us on Facebook, follow us on Instagram and Twitter, and subscribe to our YouTube channel.
✓ Get help if you need it
The 24/7 IT Help Desk is open 24 x 7 for students and is also available to assist alumni. Call 412-624-HELP (4357), submit a request online, or use the Live Chat link under the Help Desk drop-down menu to chat online with a help specialist.