You are here
Enabling and Disabling IPv6 on PCs
Overview
IPv6 is the next generation of internet transport protocol. Most internet traffic today uses IPv4. However, IPv6 internet traffic is growing rapidly, and it will eventually supersede and replace IPv4. All key components of the University network infrastructure support both IPv4 and IPv6 traffic
These instructions explain how to enable and disable IPv6 on PCs running the latest versions of Windows, macOS, and Red Hat Linux.
Checking IPv6 Communication
It is important to check a PC's IPv6 functionality before attempting to modify a system's network settings. To verify whether a PC is already actively using IPv6, use a web browser to navigate to http://test-ipv6.com.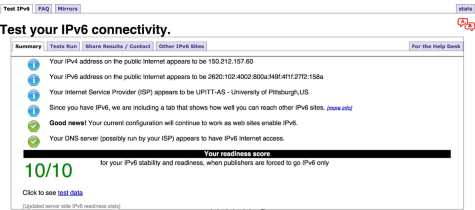 This test site will return a fully-qualified IPv6 address in the second Summary bullet point. It will also give a readiness score of 10/10 on systems successfully communicating via IPv6.
Windows Operating Systems
Additional Operating Systems
Enabling and Disabling IPv6 on macOS
Note: These instructions have been tested with macOS 10.9 (Mavericks). Testing by Pitt IT has determined that older versions of the macOS may not offer the same level of IPv6 functionality as macOS 10.9.
Click on System Preferences in the dock.
Select on Network option.
If your system connects using an Ethernet cable, click Ethernet in the list along the left side of the Network window. If the system is connecting to Wireless-PittNet, click once on the Wi-Fi selection.
Click the Advanced button. A tabbed presentation of network adapter settings should appear with TCP/IP prominent. If it is not, click once on the TCP/IP icon that runs along the top of the section.
To disable IPv6, change the Configure IPv6 option to Link-local only.
To enable IPv6, make sure that the Configure IPv6 option is set to Automatically.
Click OK to exit the adapter configurations window and then Apply.
Enabling and Disabling IPv6 on Red Hat Enterprise Linux 7
Select the Settings drop-down menu option from any KDE or Gnome file manager window.
Double-click on the Network icon in the Settings window.
In the Settings window, make sure that the active network interface icon from the list on the left is highlighted. If it is not, then click on it once. Then click the cog icon in the lower right corner.
Select IPv6 from the list of options on the left so that it is highlighted. To enable IPv6, the switch icon in the upper right corner needs to be set to ON and the Addresses pop-up underneath set to Automatic.
To disable IPv6, slide the IPv6 setting to OFF.
Click Apply.