You are here
Email: Safe or Blocked Senders
You can add email addresses to your list of Safe Senders to make certain messages from those addresses are never quarantined by the spam filter. You can also add email addresses or domains to the blocked senders list to ensure that messages from those addresses never make it to your Inbox.
Safe or Blocked Senders with Outlook (Desktop Email Client)
Right-click the message in Outlook and select Junk.
Choose whether to block the sender or never block the sender. You can also choose to block the sender's domain.
Your list of safe/blocked senders will be updated accordingly.

Safe or Blocked Senders with Pitt Email (Outlook) (via My Pitt)
1. Log in to Pitt Email via My Pitt (my.pitt.edu).
2. Click the gear icon in the upper right-hand corner of the browser window.
3. Under Settings, type block, then click the Blocked senders and domains setting that displays below your search term.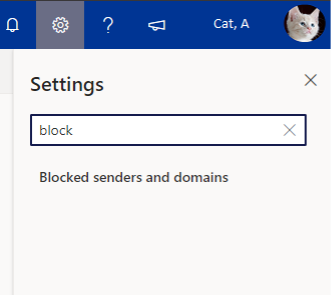 4. To block or allow an individual sender, under Blocked senders and domains or Safe senders and domains click Add, then enter an email address (for example, user@gmail.com). Press the Enter key to lock it in, then click the Save button at the bottom of the page.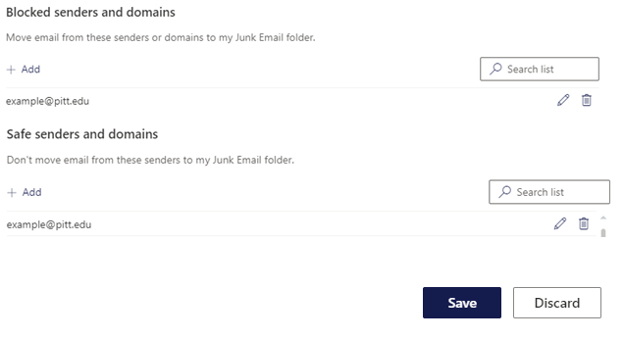 Note: To edit an existing email address, click the pencil icon to begin editing. You can also click the trash can icon to delete an email address from either list.