Electronic Lab Notebooks (LabArchives): Preparing to Use the University ELN Service (Steps for Current LabArchives Users)
Link Your Existing LabArchives Account to the University's Edition of Electronic Lab Notebooks (LabArchives)
If you have an existing account with LabArchives, you can complete a few short steps to link your LabArchives account with your University Computing Account. After you complete these steps, you will be able to take advantage of the University's edition of LabArchives.
1. Visit http://labarchives.com and click Sign in.
2a. If you are using a computer connected to the University's network, the University of Pittsburgh will be selected by default. Click Go to your Institution's Login.

2b. If you are not on a computer connected to the University's network, click Select your participating institution and select University of Pittsburgh.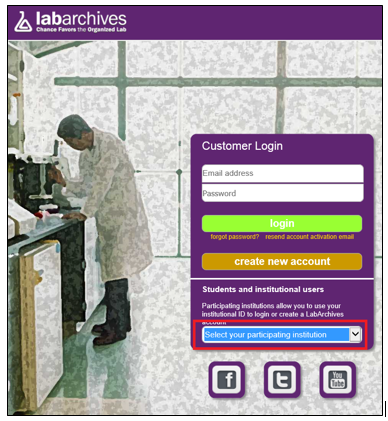 3. Log in with your University Computing Account and password.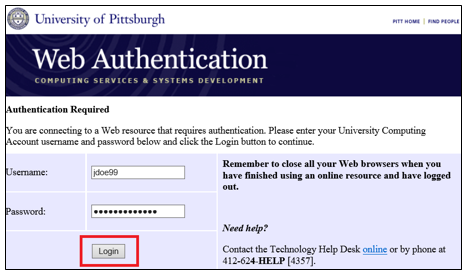 4. The Login Setup screen will display. Click I have an existing LabArchives account already.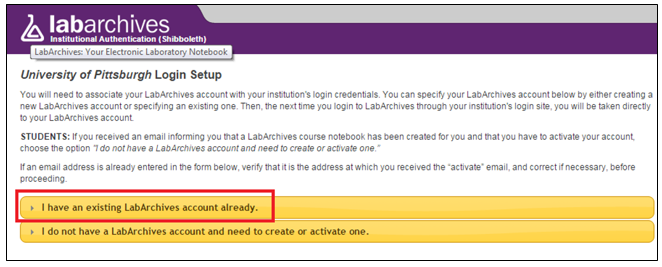 5. Enter the email address and password that you use to log in to your existing LabArchives account, then click the Link Existing Account button.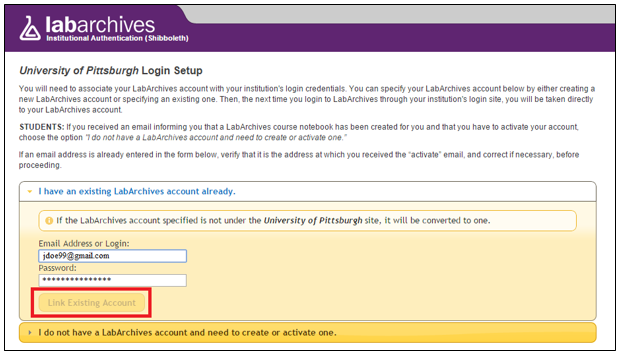 6. Your accounts have been linked.
7. If your previous LabArchives account used an email address other than your University email address (for example, yourname@gmail.com), complete the steps in the next section to update LabArchives so that it uses your University email address.
Update the Email Address You Use with LabArchives
After you have linked your accounts, it is a good idea to make sure that LabArchives is using your University email address. This ensures notifications from LabArchives will be sent to your University address. Complete the following steps to confirm or update your email address.
1. Log in to LabArchives.
2. Click your name at the top of the screen and select User Properties from the drop-down menu.

3. Enter your University email address in the Email and Confirm Email fields. Click Update.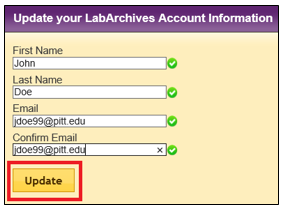 4. Your email address has been successfully updated.
Troubleshooting
I accidentally clicked "I do not have a LabArchives account and need to create or activate one" and completed the steps. What do I do now?
If you accidentally created a new account instead of linking your existing LabArchives account to your University account, please call the 24/7 Help Desk at 412-624-HELP [4357]. The Help Desk can work with you to link your accounts.