Electronic Lab Notebooks (LabArchives): Introduction to the Course Manager: Creating a New Course
As an instructor, the Course Manager will be your number one tool for pushing out class content to your students, editing existing class content, monitoring student activity, grading student submissions, and organizing your students into separate sections and courses. If you have Teaching Assistants (TAs), they will be able to use parts of the Course Manager as well.
The Course Manager contains four panels. Note that these panels will not be visible until you create at least one course.
Creating a New Course: If you do not already have a course in your LabArchives account, then the Course Manager is not yet activated. You can activate it via the triple-bar icon in the upper right corner.

Select Utilities, then Course Manager...
On the Course Manager page, click the button. You will need to give your new course a title, and select a preexisting notebook on which to base your students' notebook. You may also add a course description if you wish. After filling in all the proper fields, your screen should look something like this:
On the tab Edit course information there are two additional choices:

Allow students to share their notebook with other students.
Allow students to sign pages in their notebook.
After filling in all the proper fields, your screen should look something like this: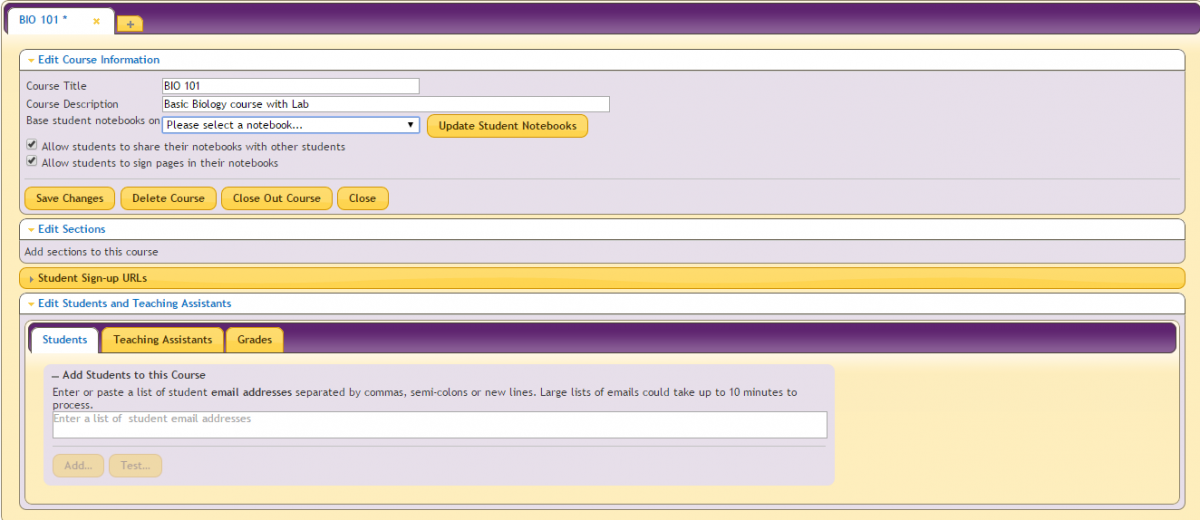 Click Save Changes to officially create your course.
After your course has been created, you can quickly access the Course Manager by clicking the icon ion the upper right of any LabArchives page.
Notice the tabs above this panel. These represent your separate courses, and they are labeled with the course's name. You can flip through different courses by selecting one of these tabs.