PittNet Guest Wi-Fi: Bulk Import Multiple Accounts for Guest Access
Go to guestwireless.pitt.edu/guest and log in.
Navigate to "CREATE MULTIPLE" in the "GUEST" section.
From here, download the new "bulk import template" by clicking the link. You should be able to open this document using a spreadsheet program like Microsoft Excel.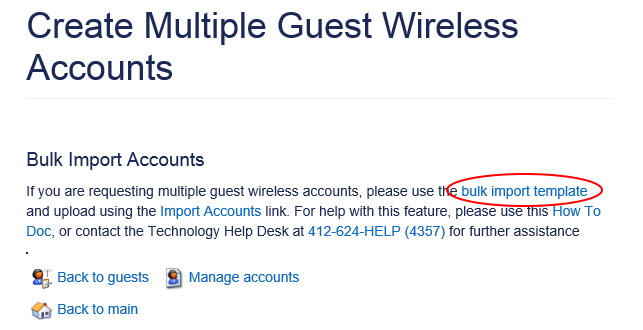 Fill out the template, making sure to remove the dummy values in the example row (row #2) by either deleting the row or replacing the values with actual values.

Enter guest information using one line for every guest. Create additional lines for more guests. You may create up to 1000 guests.
Enter in your guest's Full Name (in the format firstname lastname) in column A.
Enter in your guest's email address in "Username." This will be their login username.
Again, enter in your guest's email address in "Guest Email" (this is required for them to receive their credentials).
Enter a mobile phone number for each guest in the "Guest Phone" column only if you want your guests to receive their randomly-generated password delivered via SMS text in addition to email.
Leave "Role" set to "[Guest]" for every account.
Enter your Pitt email address for "Sponsor Email."
Fill in the beginning date and end date of your guest's visit in the "Activation" and "Expiration" columns. The maximum visit is 30 days.
Leave "Auto SMTP" set to "Yes" for every account.
Save the file locally.
Navigate to "IMPORT ACCOUNTS" in the "GUEST" section.
In "Import: Step 1 of 3" use the "Browse" button to choose the file you just saved.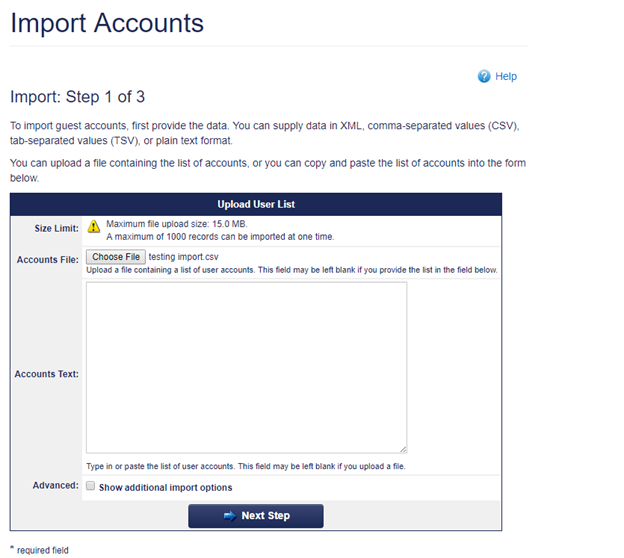 Select "Next Step."
Verify that the information you uploaded is correct.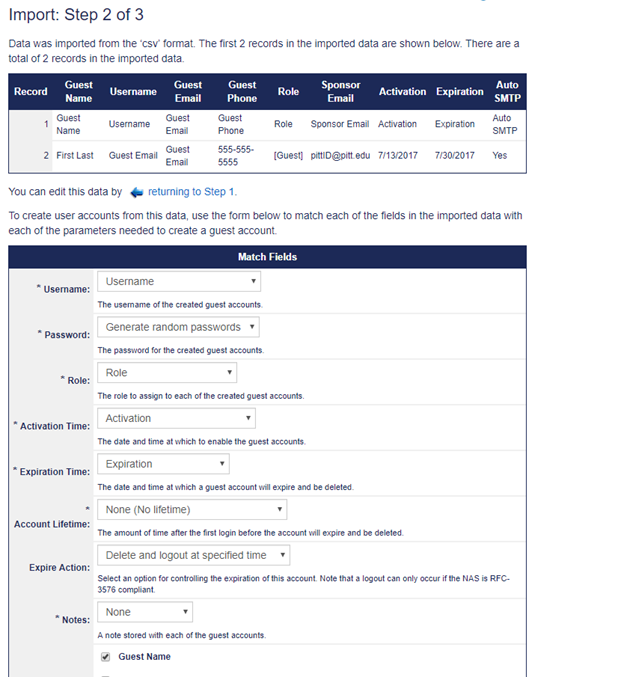 Select "Next Step".
This is the final verification before the accounts are created. If everything looks good, select "Create Guest Accounts."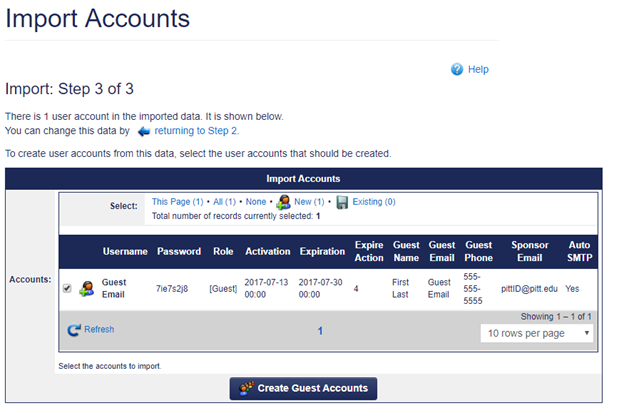 The accounts have been created, and your guests have been emailed and/or received their credentials via SMS text. You can now manage the accounts you have created by navigating to "MANAGE ACCOUNTS" in the "GUEST" section.