You are here
Box: Transfer Ownership of Folders
Complete the steps below to transfer ownership of a Box folder. You may want to transfer folder ownership if you are not the owner of the content contained in the folder, or if you are not the primary person who adds/removes collaborators from the folder.
Before you begin, make sure you have already shared the folder with the person to whom you are transferring ownership. You will also need to be the owner of the folder to complete these steps.
1. Click on the folder. The people with whom you are sharing the folder display as collaborators in the right-hand pane.
2. Click on the ellipsis beside a collaborator's name and select Owner from the drop-down list.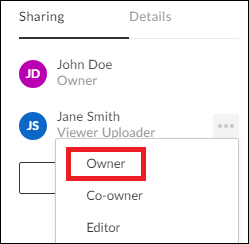 3. A pop-up message may display asking for confirmation. Click Okay.
Notes:
If you are transferring ownership of a folder that contains a large number of subfolders, the transfer process may time out. You may need to try a few times before the transfer is successful.
After you transfer ownership of a folder, you will no longer be able to add collaborators to—or remove them from—the folder