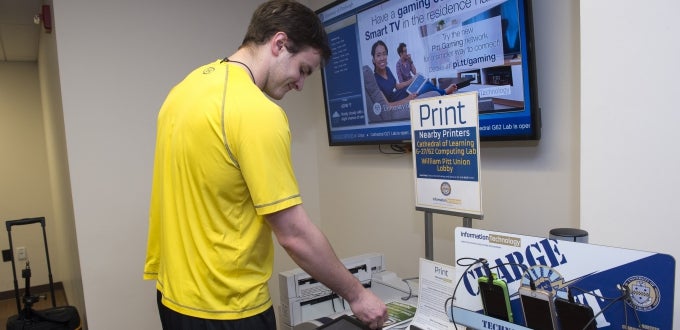 The Student Computing Labs have a lot of cool features. But let's be honest—sometimes you head to a lab just because your phone or tablet battery is dying, to print something out, or to do something quick between classes. There are more convenient options when you don't need the whole "workstation" experience. (See the Pitt IT Service Locations Map to find the most convenient locations for you.)
Need a place to plug in while using your phone or tablet? Just wander up to a Mobile Charging Station, plug in with the provided cables, and keep on using your device while it charges.
Each station is equipped with Apple Lightning, Micro USB and USB-C connections so they work with nearly every device.
Charging Station locations: every Student Computing Lab, the William Pitt Union, and the two Walk-In Support Desks (University Store on Fifth and the Towers lobby).
There are more than 70 print stations throughout campus. Just submit the print job from anywhere, on any device (computer, phone, tablet). Then, swipe your ID at a printer and you're good to go.
There are a lot of ways to send a file. The most common way is to use the Pitt Printing Client. The Client allows you to change all the details of the job, such as printing multiple PowerPoint slides per page or adjusting paper size. If your computer doesn't support the client, there are other ways to submit a print job: log into My Print Center; email it to mobileprint@pitt.edu or colorprint@pitt.edu; or send it from the Pharos Print App. Keep in mind that these options don't provide as many ways to customize your print-outs.
You don't need to pre-select the printer. You can print almost any job sent to the Print Queue at any printer—just stop at the first printer you pass. (Occasionally, a print job can't be printed at every printer, if it has a unique spec that not every printer can accommodate. Also, only select printers can print in color.)
You get $63 of printing per semester. Black-and-white printing is $0.07 a sheet (which yields 900 sheets/semester). Color printing is $0.49 each, which eats up your quota in only 128 sheets.
Print double sided. Your print costs are per sheet, not per side. Luckily, documents print double-sided by default. It's good for the environment and good for your print quota.
Only use a color printer when necessary. To conserve your quota, print just the needed pages at a color printer (e.g. the cover page or pages with graphs or images).
Print jobs expire in 48 hours. That gives you plenty of time, but you won't go to a printer and suddenly be buried in a pile of old jobs that you'd totally forgotten about. You can also delete job in the Printing Client or Print Center.
Sometimes you have a little time to kill between classes, but you're not in a building with a lab. That's where Computer Kiosks come in handy. They have all the bells and whistles as the computers in the labs, for doing anything you need to do, such as browsing the web, printing something out, or making changes to a document.
Kiosks are standing workstations with a Windows computer; they are located near a printer.
Kiosk locations: Towers lobby (3), Lothrop Hall lobby (1), O'Hara Student Center (1), Posvar Hall 1st floor (2), Sennott Square 2nd floor lobby (1), and the William Pitt Union lobby (2).

What do you do between classes? When you have less than an hour to kill, what do you do and where do you go to pass the time? Share in the comments below.

By Karen Beaudway. Pitt IT Blogger