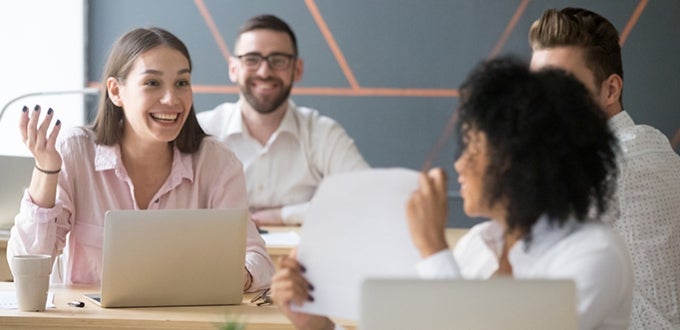 You may have noticed a Network Fee on your tuition invoice. Implemented in 1989 to provide students with equal access to a wide variety of technology services, it has remained at $175/semester since the 2010-11 academic year. But what exactly does that include these days? A lot of good stuff, it turns out. Are you taking advantage of everything you're entitled to?
Here are my top five student IT benefits at Pitt.
Free high-speed Wi-Fi — Value: $160/semester*
Wi-Fi is available in every building on campus. In the residence halls, Pitt has partnered with the country's largest college/university residence hall network provider to supply MyResNet. Basic service is free and gives speeds of 60 Mbps down/20 Mbps up per device, for up to seven devices per person—that's a total of up to 420 Mbps per account.

But how good is the basic Wi-Fi? Will you be able to stream a movie or play a game without lagging? It's as fast—or faster—than all the major providers, who supply 35-55 Mbps down/10-15 Mbps up. More importantly, MyResNet delivers that speed per device, so you'll have reliable performance all the time. That's more than enough for 98% of students. Unless you have more than seven devices to connect at once or you're a hard-core gamer playing at competitive levels, skip the fee-based upgrade. Just sit back, stream a movie or game, and enjoy the free Wi-Fi.


More than 70 software titles — Value: $70/year for Office 365; $2,500 for all*
Pitt offers almost $2,500 worth of apps. So get out there and load up. Go to Software Download Service to check out more than 70 software titles you can install for free—including Antivirus (Symantec Endpoint) and Anti-Malware (Malwarebytes) Protection, as well as titles for engineering, mathematics, statistics, and others. You can also get Microsoft Office 365 (Word, Excel, PowerPoint, and more). Plus, head over to the Pitt App Center to get a bunch of free mobile apps too.


Free printing on 70+ printers — Value: $63/semester
There is no reason to own a printer at Pitt. Just send your print job to Pitt Print from any device. Then, go to any printer on campus and just swipe your ID card to print it. There are printers in every major building (see the IT Services map), so there's always one nearby. You get up to 900 black and white sheets per semester. Color printing is also available in the Student Computing Labs.

Free cloud storage — Value: $40-$60/semester*
Collaborate in the cloud and store unlimited amounts of data on Box and/or up to 5 TB using OneDrive, in files up to 15 GB. That's WAY more than you get when purchasing a personal plan. Note: when you use Microsoft Office 365, it automatically saves files to OneDrive, unless you specifically tell it to save elsewhere. Of course, when you leave Pitt, you lose access to the cloud accounts you have through the University. Be sure to make a copy of those files before you graduate.

Unlimited on-demand LinkedIn Learning courses — Value: $80/semester*
Not everything is learned in the classroom. LinkedIn Learning gives you access to over 11,000 online courses so you can learn whatever you want, whenever it's convenient, wherever you are—from interviewing and resume writing, to tech skills and communication techniques. You can start a new hobby or even earn certificates to bolster your resume.
Bonus Perk: Free 24/7 Support
Phone. Email. Chat. Web ticket. Walk up. The 24/7 IT Help Desk makes it easy to get help when you need it. You get easy access to a real person at any time of day. You can even drop off your device at one of two Walk-In Support Desks or have an in-room consultation for software and operating system installation, configuration, and troubleshooting. (The Help Desk doesn't provide hardware repairs; you still need to contact the device manufacturer for that.) Even if you're pretty tech savvy, it's always nice to have an IT pro at your beck and call.
By Karen Beaudway, Pitt IT Blogger
* Value statements are based on published retail prices or comparable service from leading vendors.