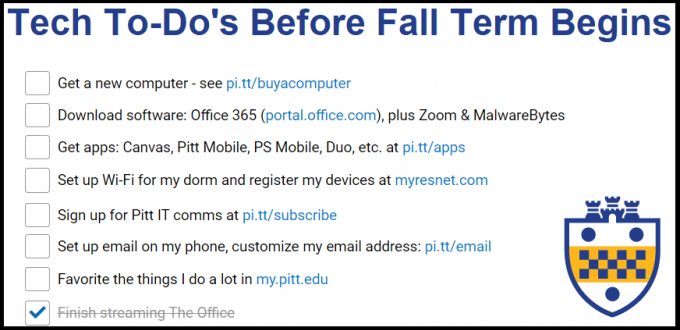 It has been a wild few months, to say the least, but Pitt's campus is reopening! Get ready to return to Oakland—the fall semester will be here before you know it. Because moving onto campus is hectic enough under normal circumstances, why not try to make things a bit less hectic by completing some IT tasks before you arrive? Here are my top tech to-do's:
Get a New Laptop (if you need one)
Laptops are a necessity for college, particularly for taking advantage of Flex @ Pitt options. If you don't have a laptop that works well, it's important to choose one that you can take with you while you're on campus, during and between classes. But laptop shopping can be overwhelming—so many options! Thankfully, Pitt IT has negotiated with Dell for some great discounts on recommended configurations that will work well at Pitt. Check it out at pi.tt/buyacomputer. If you don't have the budget, the Office of the Provost administers a laptop loaner program.
Download Software
Using the Virtual Computing Lab can be more practical than downloading software that you'll only use for one class. But you'll be using some software all the time, and you should just download it. Best yet, Pitt IT provides a ton of software at no cost for students! It can take a while to install the apps you need, so get it done now.
First, download Office 365 (log into portal.office.com and click the "Install Office" button in the upper right corner). That way, you'll have access to the latest version of Office (Word, Excel, PowerPoint). You can also work in Office 365 online, but some additional features are available in the desktop app and I like having the ability to work offline.
Next, install Zoom, the default videoconferencing tool for remote classes. While you can connect via a web browser, it's best to install the desktop application for the full Zoom experience.
Last but not least, protect yourself with antivirus and Malwarebytes, so your device will be safe from malware, viruses, and hacking attempts. Install an antivirus tool—Pitt IT recommends several options—and download Malwarebytes. (If you have a Pitt-licensed version of Symantec Endpoint Protection on your device, you should uninstall it first, because the University's license has expired, and it will not protect you from new threats.)
There's an App for That
Apps, apps, and more apps! Downloading free University-related mobile apps will make your semester more efficient. From academics and communication, to health and dining— the Pitt App Center has an app for it!
The first app to download is Pitt Mobile. Think of it as the gateway to your campus experience. It is a campus guide that lets you quickly access and favorite the resources you use most often. It also provides insight into your coursework, letting you view your schedule and see upcoming deadlines, exams, and assignments that are posted in Canvas. The in-app calendar will combine your class schedule and other calendars on your device, and allows you to add University events to create a synchronized "day at a glance" view. Pitt Mobile will even launch other apps that you need to access—it'll direct you to the app store if you try to open an app that you haven't installed.
Once you have installed Pitt Mobile, consider downloading other useful apps. Some of the most popular options that I recommend include:
Office 365—especially Outlook, Word, and Excel
Canvas Student—to access your online class sites
Pitt PS Mobile–for midterm/final grades and to register for classes
Duo—for multifactor authentication when connecting to services via Pitt Passport
Set up Wi-Fi
Free Wi-Fi is available in all Pitt buildings throughout campus, to help you avoid racking up data charges from your wireless carrier. The PittNet and MyResNet networks deliver speed and reliability—MyResNet in campus residence halls and PittNet everywhere else. Your devices will likely detect PittNet_Wireless on its own, and Pitt Wi-Fi service will also be available in the hotels being used for student housing.
If you'll be in a traditional Pitt residence hall, you will need to create a MyResNet account and register your devices (phone, laptop, smart TV, gaming console). Go to myresnet.com and set it up now, so your devices will connect automatically the minute you set foot in your room. (Hint: keep a paper/pen handy, so you can note the MAC address for your devices. Don't know what that is or how to find it? Click on "Where do I find this?")
Pick Favorites
My Pitt got a makeover during summer break, but it works really well once you get used to the new layout. The best part is that you can now favorite tasks, instead of scrolling through an endless column of services. Just search for the ones you use most and click on the heart to add them to the My Favorites section at top of the page. The ones I'd be sure to favorite are Pitt Email, PeopleSoft, Canvas, PittPay, Virtual Lab, Office 365. If you have a campus job, add PRISM to submit your timecard.
Know What's Going On
My friends and I don't use email much, but my professors, my department, and the University use it a lot. So like it or not, you're going to have to check your Pitt email regularly. The easiest ways to do that is either installing the Outlook mobile app to read email on your phone or tablet or favorite it in My Pitt (see above for both). Get this out of the way now.
It's also pretty important to keep on top of IT news, even if you're not a techie. Nothing like finding out a service is down for maintenance at the exact moment you need it most, or discovering a really convenient service right before you graduate. So sign up for IT communications at pi.tt/subscribe. I'm a fan of the monthly newsletter, This Is IT, and I follow UPittIT on Instagram (they also have Facebook and Twitter accounts). I'm also pretty partial to the blog!
-- By Eliana Trotman, Pitt IT Student Blogger