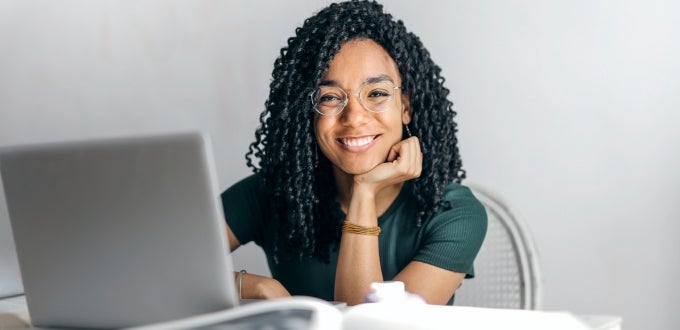 Teaching and learning at Pitt is going to be a new world this fall. You'll be using new technologies; virtual services will replace many in-person opportunities; and new health procedures will be in effect. Here are the top 10 IT support resources that Pitt IT provides to help you navigate whatever COVID-19 throws in your path.
1. Flex @ Pitt Classroom Technology
Once campus moves to the Guarded Risk posture, students can choose to participate in most classes either in person or remotely. Bridging the two options in more than 160 learning spaces controlled by the Office of the Registrar is Flex@Pitt's hybrid classroom technology. Designed to facilitate remote teaching and learning, it also creates a unique in-class experience that is adaptable whether or not an instructor is physically present in the learning space..
Equipment instructions are posted in the rooms and Pitt IT will provide on-site support for Flex @ Pitt technology whenever a course is in session—weekdays, evenings, or weekends. Just call 412-624-4357.
2. Learning Management System (Canvas)
If you didn't see the earlier Panther Bytes blogs about getting started with Canvas for instructors and for students, give them a read. Canvas is your online class hub, where professors will post Zoom meeting links, assignments, announcements, class materials, class recordings, and more.
Just click the Help option in Canvas if you have any problems. Canvas offers a 24/7 help line for instructors and a separate one for students, so you can access someone trained specifically in dealing with your issue!
3. 24/7 IT Help Desk
Pitt IT's Help Desk is available 24 hours a day, 7 days a week for any student, faculty, or staff who need assistance, including those in other time zones who don't operate on Steel City time. You can contact them in many ways: call 412-624-HELP (4357), email helpdesk@pitt.edu, connect to chat live, or submit a help ticket. You can also search help documentation for the information you need.
4. Access IT Services Abroad
Pitt students, faculty, and staff rely on access to the University's IT services, no matter where they may be studying, teaching, or working. The Office of International Services has assembled a streamlined collection of resources essential to international students.
The unique regulatory and political environment in China can create extra challenges for those attempting to access Pitt services, so review this information about accessing Pitt IT services in China to see how those restrictions may impact you.
5. Virtual Support
Get live, hands-on help setting up your laptop, downloading software, and troubleshooting issues through Virtual Support. Using Zoom, you can connect with a consultant and grant remote access to your device. Just connect to pi.tt/virtualsupport. Virtual support is available: Monday – Friday, 8 a.m. – 6 p.m. and Saturday, 8 a.m. – 4 p.m. ET.
6. Drop-off Support
If you're having trouble using Zoom or you need help with something that can't be done virtually (like an operating system repair), you can bring your device into Drop-Off Support. Just tell them what you need; when the work is done, they will contact you to come pick it up. Remember to bring your charging cord with you. This fall, Drop-Off support will be available at the University Store on Fifth location only, Monday – Saturday, 10 a.m. – 2 p.m.
7. Student Computing Lab Services
For safety reasons, most of the Student Computing Labs will remain closed this fall. However, Pitt IT will still be operating the Hillman Lab, as well as lab classrooms scheduled by instructors for academic use. In addition, the Virtual Computing Lab provides a nearly identical experience as the lab machines—same compute resources, same look and navigation, same software—on your tablet or PC.
8. Pitt Print Service
Most of the work you'll do this semester will be digital. But sometimes you need to print something out the old-fashioned way. Pitt Print Stations throughout campus will be serviced by Pitt IT staff throughout the semester. They are located in every residence hall and academic building, as well as near many computing labs. Check the Pitt Print website for current locations.
9. Technology Purchases and Loans
Between Zoom classes, the Virtual Computing Lab, Canvas courses, and online activities, you are going to need a laptop this term. Pitt IT has published configuration recommendations that will work well at Pitt and has negotiated discounts to purchase Dell devices. If you don't have access to or the budget for a device, or you don't have access to reliable Wi-Fi service, the Office of the Provost administers a technology loaner program to borrow a laptop or Wi-Fi hotspot.
10. Class Support Apps and Sites
Communication, organization, information … they will be the keys to staying on top of your academics, especially with social distancing and virtual services. So go to the Pitt App Center at pi.tt/apps and download apps to support your academic life, especially Pitt Mobile, Canvas, and Pitt PS Mobile.
Once you're done, head on over to My Pitt and start bookmarking. Search for services that you use frequently, then favorite them so they're all organized at the top of the page.
Pitt IT is here to help this semester. Don't struggle in silence—come straight to the source for tech support.
-- By Karen Beaudway, Pitt IT blogger