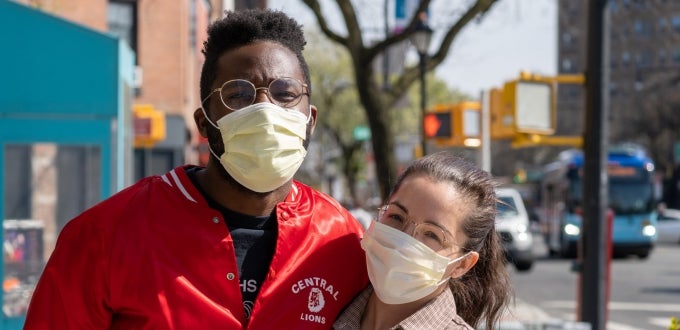 Summer is here, and many of us are cautiously emerging from our COVID quarantine like a wide-eyed caveman seeing the new world for the first time … but with a face mask, a bottle of hand sanitizer, and a 6-foot radius of personal space. After three months at home, I'm actually considering doing something and going somewhere. With the concerning increase in infection rates—including around Pittsburgh—I'm being cautious. But I'm still hoping to plan some fun activities, even during this summer of COVID.
As we carefully re-enter society, it's important to keep cyber-security in mind while we're on the go. Here's how I plan to stay cyber-safe if I actually get to fulfill my summer goals.
Summer Wish #1: Eat in a Restaurant
Avoid public Wi-Fi.
I cook perfectly well. (Who are we kidding? My roommate cooks perfectly well.) But we've now recycled the same 10 dishes about 100 times, and I'm so ready to eat out again. In outdoor seating, of course. But with open-air dining, it's easier than ever for people to steal your data over public Wi-Fi. Hackers just love free connections in restaurants, museums, libraries, and other public places. Disable "Auto-connect to Wi-Fi" on your devices, and cut off Bluetooth when you're not using it, for good measure. Use PittNet VPN (Pulse Secure) if you need to connect to a University resource over public Wi-Fi.
Summer Wish #2: Take a Photo of Someone/Something Not in My House
Be smart about photos.
Before you head out, delete the photos you don't plan to keep or download your pics onto your computer to free up space on your phone. Then go ahead and take advantage of the photo ops! But don't post them on social media until you get home. It just announces that your house or apartment is empty and would make a great burglary target. Also, you can't snap pics if your phone dies, so bring along a portable, battery-powered charger.
Summer Wish #3: Buy Something in an Actual Store
Be card smart … and still use a password manager.
Online retailers have gotten a lot of my money since March. But candle shopping on Amazon just feels wrong, you know. I miss browsing in Bath & Body Works and sniffing their three-wick candles. Some shops aren't accepting cash, and credit cards avoid contact during payment. Remember: Don't let others see your card number or PIN, only use cards at reputable locations, and let the credit card company know if you'll be out of town (when and where) for more accurate fraud prediction.
Of course, we'll still be shopping online, so be sure to use Pitt Password Manager (LastPass) to create and store ridiculously strong passwords for each of your online accounts. It saves them all for you (and can even automatically populate them online), but you only need to remember one master password. Download the mobile app on all your devices, install the browser plugin, and/or log in at pitt.lastpass.com.
Summer Wish #4: Go Out with a Few Friends
Use safety timers when walking at night.
Whether it's meeting up for a game night, getting iced coffee together, or sunbathing at Schenley Park, I miss my friends! But the possibility of being outside of your house after sundown comes with the need to be sure you're staying safe. Avoid going out alone, especially at night or in unfamiliar places. Even if you're with a buddy, use the Rave Guardian app to let friends or family monitor your location while you're in transit. That way, they'll know where you are and when you expect to arrive, so they can contact you or the authorities if something happens.
Summer Wish #5: Visit Sara in Maryland
Back up and protect your data.
I really miss my out-of-town family and friends, especially because I didn't get to say goodbye to my Pitt pals at the end of spring term. I'm not getting on a plane any time soon, but I might hop in the car to Maryland to visit my best friend, Sara. That means packing … and potentially losing stuff. It's been a while since I've had to worry about misplacing things, unless something falling behind a dresser or between the couch cushions counts. If you're heading out of town, scan and store copies of important docs (both sides) in case they are lost or stolen—especially your driver's license, other IDs, credit cards, and tickets. Save the electronic copies in your OneDrive Personal Vault so you can access them from anywhere in a pinch. While you're at it, enable a "find my phone" service before you go, in case you misplace it.
Safety in the age of COVID means more than facemasks, Lysol wipes, and social distancing. Whether your summer wish list includes going to a local park or an actual vacation, it's time to start thinking about IT safety on the go. Prep yourself for safe travels!
-- By Eliana Trotman, Pitt IT Student Blogger