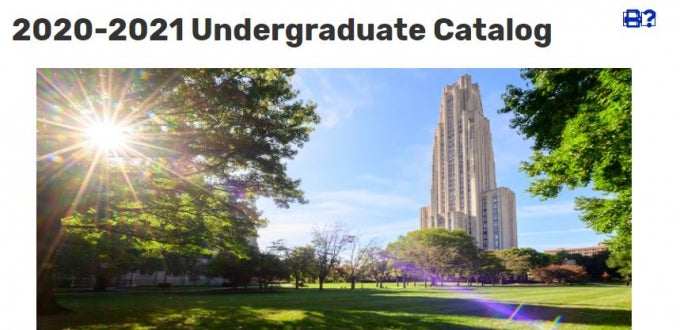 It's time to select your courses for next term. Scheduling can be crazy complicated. You have a ton of choices and trying to fit all your classes into a reasonable schedule is no easy task. But fear not—Pitt PS Mobile (PeopleSoft Mobile) will help you get it all done.
Consult the Experts
Technology is most effective when have a solid plan in place. Your academic adviser is an invaluable resource, so meet with them before you start scheduling. They can help you determine which classes are needed for your major or will be a prerequisite for other classes, as well as keep you on track to satisfy your gen ed requirements. If you are double majoring, pursuing a minor or certificate, or planning some other complicated course of study, they'll help you understand what you need to do and when.
Assemble the Puzzle
The worst part of picking classes is browsing through the course catalog hoping to find classes that fit into the exact gaps in your schedule, that satisfy a course requirement, and that actually has spots available. It's like trying to put together a 1000-piece jigsaw puzzle!
Using Pitt PS Mobile makes the process a whole lot easier. You can do customized searches and filter by day, time, course attribute, gen ed requirement, department, course number, and more. You can even map out class locations to make sure you can get from one to the next in time (I'm keeping my fingers crossed that we have in-person classes next term).
In Pitt PS Mobile, select Class Search to start looking. When you find courses that you want to add, click Add to Planner. Start with the courses that you need to take (such as a specific course required for your major, especially if it's a prerequisite for more advanced courses that you will need to take). Then select a gen ed course or two, and round it out with an elective.
Register Quickly
Once you've picked your classes, go to the Planner tab. From here, select your courses and move them to the term you want to add them to (in this case, Spring 2021). Then, go to the Shopping Cart page and click Enroll. Register for your classes as early as you can, since most classes are filled on a first come, first served bases. If you need help, check out this short video for more details or contact the Pitt IT 24/7 Help Desk for issues using the system.
Re-Evaluate
Try your classes out for a couple of weeks. If you aren't feeling one or more of them, use Pitt PS Mobile to easily make changes to your schedule. Within the add/drop period of the semester, you can add and drop courses from the Enrollment tab. To find courses that fit into your available schedule after you drop courses, just start from the top and find a class that fits right in!
Hold On
Not sure you want to give up on your waitlisted class? No problem. You can click on the View Wait List button under the Enrollment tab to check your status at any time. Bonus Tip: If you're desperate to get into the course, shoot the professor an email. It's not guaranteed, of course, but if the professor sees that you're really interested in the class or if you can make the case for why you really need to take it (e.g., it's a prerequisite or it directly addresses your academic interests), they might slip you a permission number.
You can access the Pitt PS Mobile website at https://psmobile.pitt.edu or download the app to your mobile device from the Apple App Store or the Google Play Store. Now venture forth into another exciting semester. We may not know what's coming next in this bonkers academic year, but at least you'll know exactly what to expect for your spring schedule.
-- By Karen Beaudway, Pitt IT Blogger