You are here
Pitt's Declassified Enrollment Survival Guide
Wednesday, November 20, 2019 - 14:21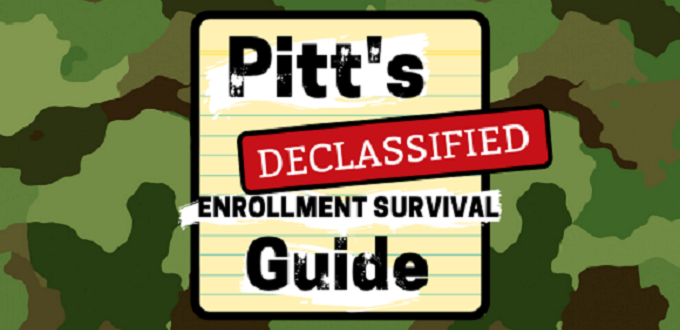 Being a senior is great. Come enrollment time, I can get into any class, no problem. But if you're a freshman with a later registration date, it's usually not that easy. I remember trying to get into cool upper-level classes as a freshman, and feeling the sharp ache in my heart when I glimpsed that orange triangle. Who wants to take a full semester of 101's? Answer: absolutely no one.
So you're waitlisted—what now? Here's how to find alternate courses that at least seem interesting, edit your schedule, and monitor your waitlist status, using Pitt PS Mobile to access the Student Information System.
Tip #142: Search and Find the Best Alternatives
A schedule with multiple waitlisted classes is like a first grader's teeth on picture day—there's just so much missing. And the worst thing about it is how long it takes to browse through the course catalog to find classes that fit into the exact gaps in your schedule. Using Pitt PS Mobile is a lot faster and much less of a pain. Right from the app, you can do customized searches and filter by day, time, instructor, course attribute, gen ed requirement, course number, and more. You can even map out class locations to make sure you can get from one to the next in time. From the left-hand menu in the app, select Class Search to start looking. When you find courses that you want to add, click Add to Planner.
Tip #143: Register Quick to Ensure Your Spot
Once you've picked the new classes to boost your schedule, go to the Planner tab. From here, select your courses and move them to the term you want to add them to. Then, go to the Shopping Cart page and click Enroll. If you need more help, check out this short video for more details.
Tip #144: Re-Evaluate Next Semester
Try your classes out for a couple of weeks. If you aren't feeling one or more of them, use Pitt PS Mobile to easily make changes to your schedule. Within the add/drop period of the semester, you can add and drop courses from the Enrollment tab. To fill any new holes from dropped classes, just start from the top!
Tip #145: Just Keep Holding On
Not sure you want to give up on your waitlisted class? No problem. You can click on the View Wait List button under the Enrollment tab to check your status at any time. Bonus Pro Tip: If you're desperate to get into the course, shoot the professor an email. It may not always work, but if your professor sees that you're really pumped for the class, or you make the case that it's a necessary prerequisite for others you need to take down the line, they might slip you a permission number.
Don't be like Coconut Head. Cut your enrollment time in half by using PS Mobile to fill those gaps!
By Tabitha Barnes, Pitt Student IT Blogger