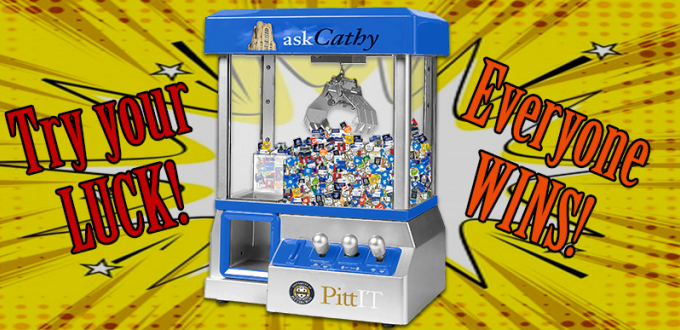 If you've used the search bar on my.pitt.edu, then you've used AskCathy, which is also a standalone site at askcathy.pitt.edu. AskCathy is a "service discovery tool," which just means that it's a tool to find other tools. Think of it as a giant Pitt claw machine: it's filled with great information about how to do nearly anything Pitt-related, but you need to skillfully use the claw (aka, the search features) to get the exact prize you want. You can search for a keyword or browse the service tiles to find what you're looking for, but you might have to scroll through a lot of irrelevant options before you get to the one you want. But like all claw machine aficionados know, there are tricks to easily get what you want, when you want it, every time.
Get a Dollar (Sign In)
You can use AskCathy without logging in, but logging in lets you customize your experience. It remembers your role(s) and displays your favorites, recently used, and most popular services at the top of the page. Click Sign In so it's not a generic AskCathy; it's your AskCathy.
Pick the Claw Machine (Select Your Roles)
Your role is the relationship you have to the University, e.g. student or staff. This helps AskCathy know what's relevant for you, and what's not. Pick all the ones that apply. Staff member taking classes, or a student with a campus job? Staff and Student it is. Faculty member who graduated from Pitt and has a kid attending Pitt? Faculty, Alumni, Parent, check, check, check.
Pick the Prize (Choose a Category)
Under the search box is a menu called Browse Categories. It includes a list of collections for all the services that are relevant to a particular topic. Categories include everything from Academics and Housing & Dining, to Human Resources and Research. It's a great way to drill down to what you need, especially when you aren't sure exactly what you're looking for.
Grab Your Toy (Add Favorites and Bookmarks)
You'll use some services pretty regularly. Every semester, students can use the Student Information Service (PeopleSoft) to register for classes. Each week, Panther fans can look up what time the Pitt game is or staff can use PRISM to submit a timesheet. No need to look up these services every time you need them. Just click the heart on a tile, and boom—it's saved as a Favorite.
While you're at it, if you use a site or service all the time that's not in AskCathy, just bookmark it. Maybe it's a testing server at Pitt, your bank's self-service portal, or your favorite podcast series. To create a bookmark, click on the gear beside My Favorites, click on New Bookmark, and enter the URL. It will be added to My Favorites as a half-height tile.
OK, now that you know what you're doing, head on over to AskCathy. Start building your Favorites collection, so you never have to waste time searching for Pitt services again.
-- By Karen Beaudway, Pitt IT Blogger
You Tell Me
What are your "destination sites"? What sites do you visit at least once a week, and why? Tell me in the comments below.