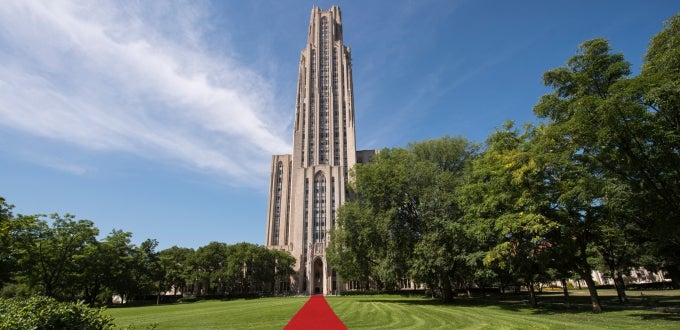 It's been almost 20 years since Pitt first began using CourseWeb (Blackboard Learn). Back then, Learning Management Systems (LMS) like Blackboard were a real game-changer for education—providing an online environment to support classroom learning. Today's students haven't experienced a time when they couldn't use their laptop or phone to send a message to their teacher, access assignments and grades, view supplemental materials, or work virtually with classmates.
What's more, advancements in cloud computing, software, hardware, and usability standards have dramatically changed LMS platforms over the years. As a result, new LMS providers have emerged and Blackboard itself is rolling out a complete overhaul.
These developments provided a perfect opportunity to evaluate all modern LMS options and determine which best meets Pitt's needs. So, last summer, the Office of the Provost formed an assessment committee. Staff from Pitt IT and the University Center for Teaching and Learning (Teaching Center) engaged faculty, staff, and students from nearly every department and across all campuses.
The result: Canvas by Instructure emerged as the unanimous choice among the University's stakeholders and implementation is well underway. Keep reading to learn why it won, what the transition entails, and what you should do to prepare.
Why Pitt Chose Canvas
First, Canvas is the clear market leader in modern LMS platforms ... for a reason. As a newer product, it incorporates the latest in usability standards, with a more intuitive, easy-to-use interface. It was designed as a cloud-based platform, so it provides a similar experience on a web browser or in the app. Canvas also provides regular system updates that do not require scheduled outages to apply, minimizing downtime.
In addition, as the most popular LMS, third-party vendors have prioritized integration with Canvas—including dozens of systems Pitt has already implemented, such as Student Information System (PeopleSoft), Lecture Capture (Panopto), Top Hat, and Turnitin. This enables you to easily incorporate features from other technologies that you already use.
The Summertime Switch
Pitt IT and the Teaching Center are now hard at work launching Canvas to the full University community in stages. About 100 courses were included in an early-adopter program this fall—with that number doubling in the spring term. Canvas will be fully implemented for the summer 2020 term and fully retired by June 12, 2020. Although CourseWeb classes will be available for migration through mid-summer, they will not be accessible or exportable after the system is retired.
There's No Need to Wait
You'll probably agree that waiting until the last minute to begin learning a new technology is not a good idea—it's challenging to teach while simultaneously trying to learn a new system. So you'll want to become familiar with Canvas and start migrating or creating your courses before you need to start using the new LMS for classes. The Teaching Center provides more details at teaching.pitt.edu/canvas.
Faculty Can Access Canvas Now
Faculty can log in to canvas.pitt.edu at any time and explore the system to become comfortable with the interface and menu structure. If you currently have classes in CourseWeb that you'll be teaching again, migrating the course into Canvas eliminates most of the work. You can also create courses from scratch, if you'll be offering a new class.
Note for Faculty Not Teaching in the Spring or Summer
The Teaching Center and Pitt IT want to ensure that faculty are prepared to start teaching with Canvas. If you will be on sabbatical or not teaching until the summer or fall term, working in Canvas probably isn't at the top of your to-do list. But if you wait until CourseWeb is retired, creating courses will be much harder. That's why Canvas is accessible in December—so you can get started while you're still on campus.
-- By Karen Beaudway, Pitt IT Blogger