Cyber Security Awareness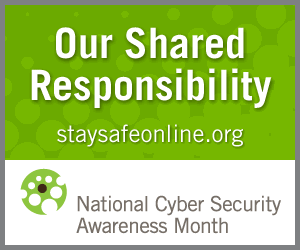 October is National Cyber Security Awareness Month, sponsored by the United States Department of Homeland Security. Each week we will be focusing on a different security topic and providing tips and resources that you can use to help keep your computing experience at Pitt safe and secure. So be sure to check back each week!
We also have a special event planned for Halloween on Tuesday, October 31. It's our fifth annual Cyber Security Scarehouse, an event where students can learn vital security tips while having a scary good time. The Scarehouse features t-shirts, snacks, and giveaways. Save the date and we hope to see you there!
Event
Event
Cyber Security Scarehouse for Students: October 31
Our Cyber Security Scarehouse for students offers an opportunity to learn essential security tips and tools while having a scary good time. This year's Scarehouse takes place on Halloween (Tuesday, October 31) from 11:00 a.m. to 3:00 p.m. in the William Pitt Union Assembly Room and Ballroom.
Stop by for free T-shirts and other great giveaways. We'll also have delicious refreshments and some spooky guests. Students who attend the event will receive OCC credit and can enter a raffle to win an iPad Pro. Stay tuned for details.
If you are brave enough to make it all the way through our Scarehouse, you will be better prepared to ward off some of the really scary stuff that we see every day: viruses, hackers, phishing scammers, laptop thieves, and more.

Weekly Security Topics
Weekly Security Topics
Week 1: Passwords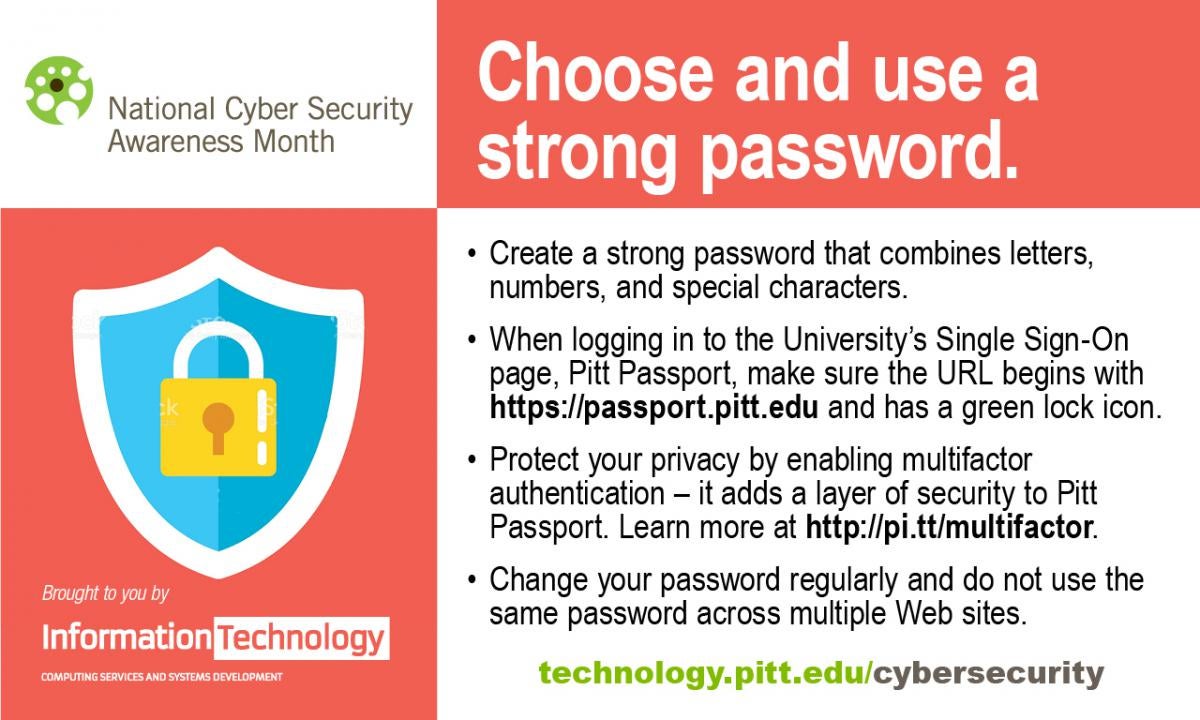 Week 2: Phishing Awareness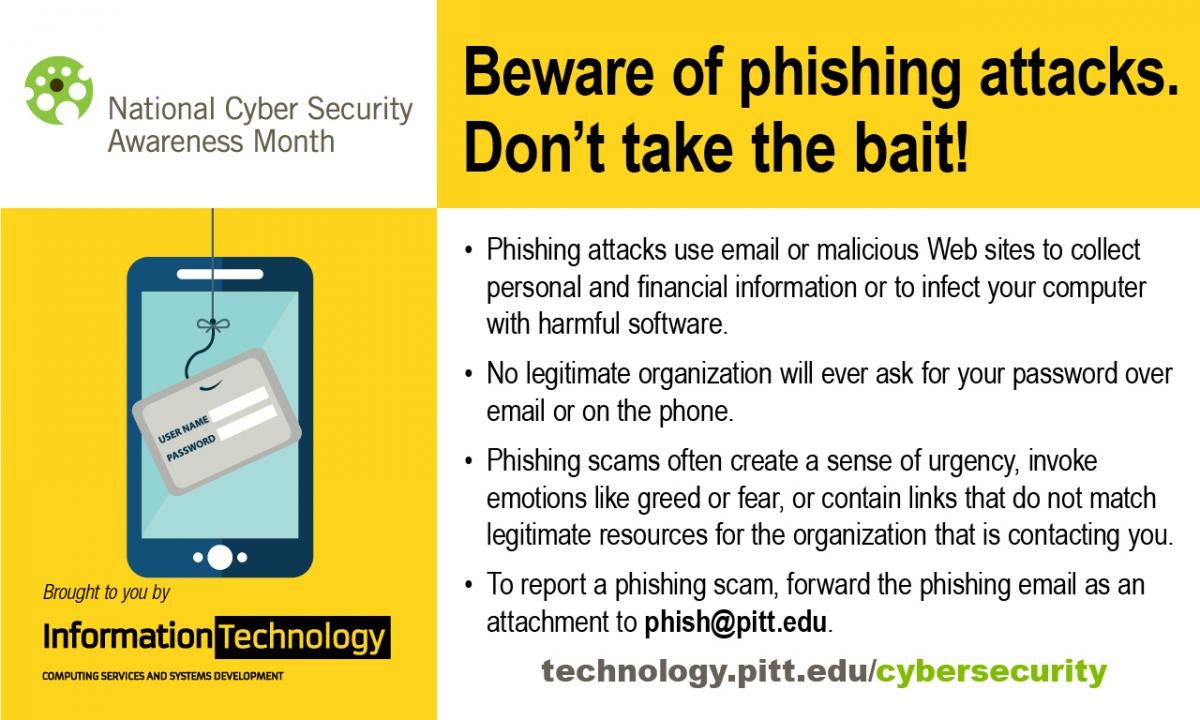 Week 3: Spotting Scams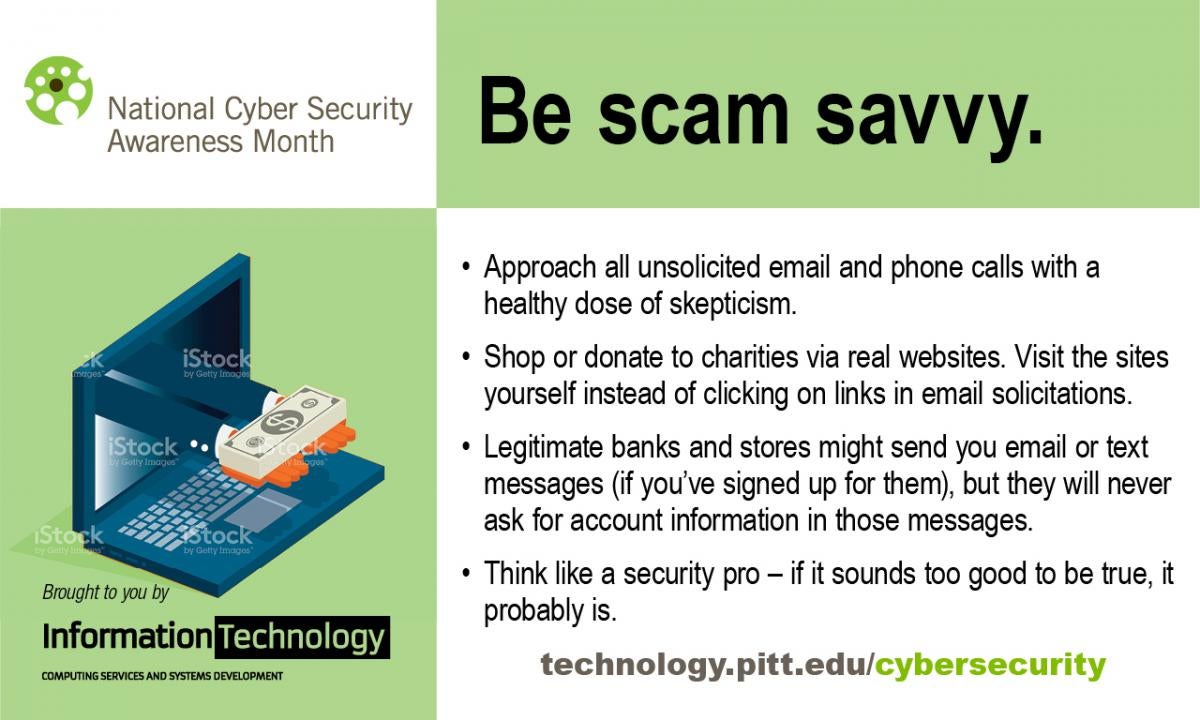 Week 4: Device Protection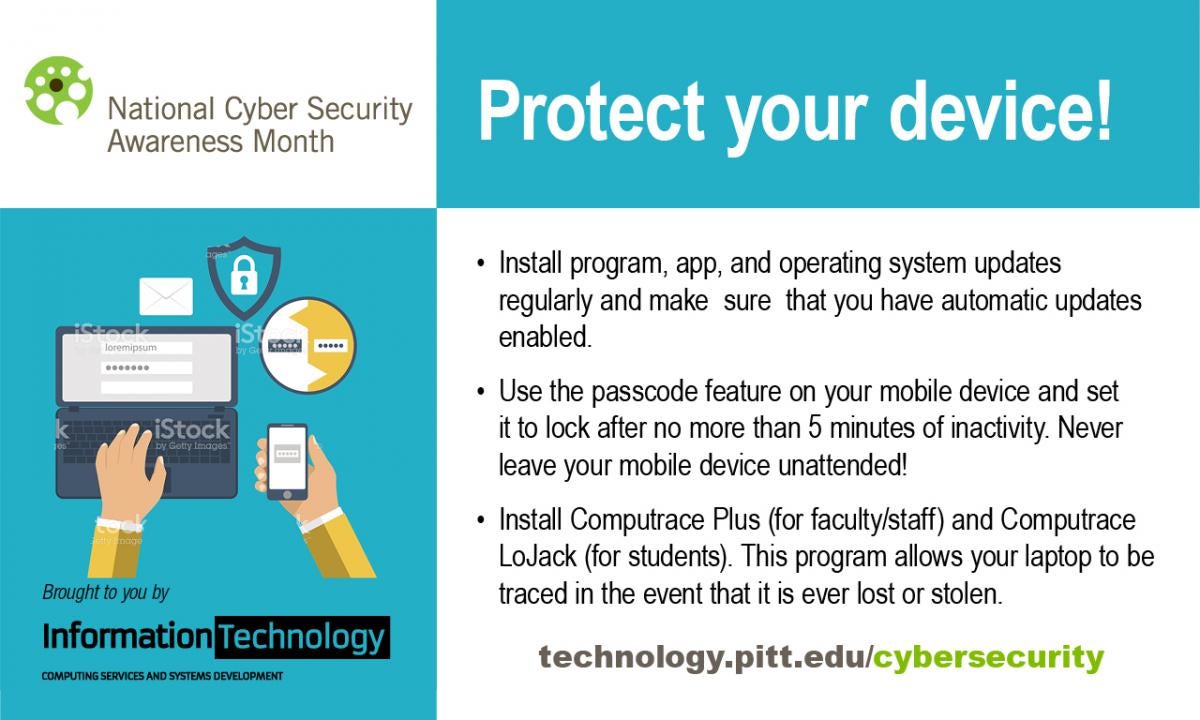 Security Tips of the Day
Security Tips of the Day
Monday, Oct. 3: October is National Cyber Security Awareness Month. Visit http://technology.pitt.edu/cybersecurity for tips, resources, and upcoming events.
Tuesday, Oct. 4: Create a strong password that combines letters, numbers, and special characters. Learn more at http://pi.tt/passwordprotection
Wednesday, Oct. 5: When logging in to the University's Single Sign-On page, Pitt Passport, make sure the URL begins with passport.pitt.edu
Thursday, Oct. 6: Change your password regularly and do not use the same password across multiple Web sites.
Friday, Oct. 7: Add a layer of protection to your password by enabling multifactor authentication for University services: http://pi.tt/multifactor.
Monday, Oct. 10: Phishing scams use fake emails or Web sites to attempt to trick you into divulging personal information. Don't take the bait.
Tuesday, Oct. 11: Remember: no legitimate organization will ever ask you to divulge your password by email, over the phone, or via an unfamiliar Web site.
Wednesday, Oct. 12: To report a phishing scam, forward the phishing email as an attachment to phish@pitt.edu.
Thursday, Oct. 13: Phishing scams often create a sense of urgency and invoke emotions like fear or greed to persuade you to provide sensitive information
Friday, Oct. 14: Be suspicious of emails that request personal information, contain spelling errors, or claim your account will be reset.
Monday, Oct. 17: You can keep tabs on recent scams (phishing and otherwise) on our Alerts & Notifications page.
Tuesday, Oct. 18: A common tech support scam starts with a pop-up on your computer asking you to call a number to fix your computer. Don't take the bait!
Wednesday, Oct. 19: A new phone scam by a tuition payment processor claims that paying through them will save students 5% on their tuition. Don't fall for it!
Thursday, Oct. 20: A phone call that claims to be from the FBI or IRS that says you owe money is probably a scam. Don't take the bait!
Friday, Oct. 21: Your Federal Student Aid ID (FSAID) is used to sign documents electronically. Be suspicious of any phone call or email asking for it.
Monday, Oct. 24: Download Malwarebytes (http://pi.tt/mbytes) and use it in tandem with Symantec Endpoint Protection to guard against harmful software.
Tuesday, Oct. 25: USB drives and other external devices can be infected by viruses. Do not accept USB drives unless they come from a known, trusted source.
Wednesday, Oct. 26: Security flaws in the software you use can allow hackers to attack your computer or steal data. Keep your operating system & apps updated.
Thursday, Oct. 27: Install Computrace LoJack to help trace and recover your laptop if it is ever lost or stolen. http://pi.tt/lostlaptop.
Friday, Oct. 28: Lock your smartphone. Use the passcode feature on your smartphone or tablet and set up the phone to lock after 5 minutes of inactivity.
Monday, Oct. 31: Don't hack your phone. Your reason for jailbreaking or rooting it (increased access to modifications) is also why it is no longer secure.
Learn More
Learn More
Previous Cyber Security Awareness Videos
Stop. Think. Connect.